1.11.2.3 BUCKY BALLS AND NANOTUBES.
In 1986 at Rice University, Houston, Texas, a third allotrope of carbon was discovered. It was fcc crystal structure as shown in Figure 1.57. At each lattice point there was a giant molecule. Each giant molecule C 60 consisted of 60 carbon atoms and it was of soccer ball type geometry. Within this giant molecule there are 12 pentagons and 20 hexagons. Since soccer ball type geometry resembles Geodesic Dome designed by Architect R. Buckminster Fuller[Appendix XXXXV] hence in his honour it is called 'Buckminsterfullerene' or bucky ball in short. These are stable and chemically unreactive. It can be made from graphite in the laboratory. It is found in small quantities in soot and in carbon rich found in Russia. Fullerene molecules are held in a solid form by Van der Waals attraction just as hexagonal carbon layers of graphene are held in stack in graphite. Fullerene come in groups of 28, 32, 50 70. There can be still larger fullerene molecules. K 3 C 60 yield a superconductor at room temperature.
Carbon Nanotubes is a variant of bucky balls. It contains tiny cylinders of rolled up grapheme. The hexagon of carbon atoms may be arranged straight along the tube or wind around like a helix. In the former case nanotube is a conductor and in the latter case it behaves like a semi-conductor. If nano tubes can be fabricated in longer lengths they hold promise as very strong fibers ten times stronger than stel and six times lighter and flexible. They will act as ideal material for reinforcing epoxy resin giving rise to unusually strong composite mnmaterial.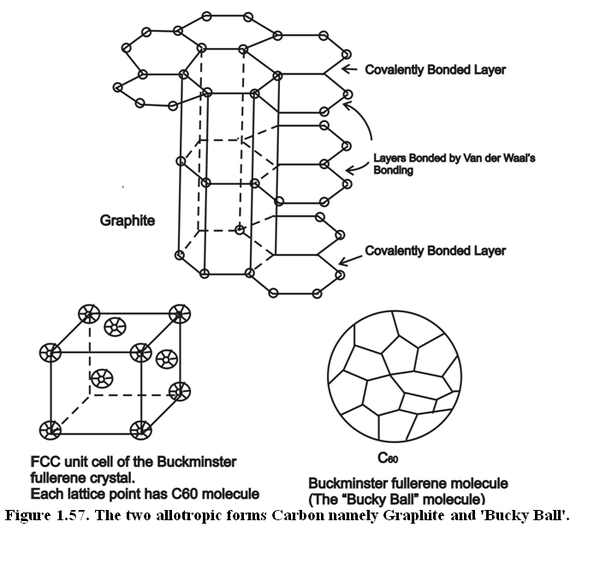 Table 1.22. Crystalline allotropes of Carbon(ρ is the density and Y is elastic modulus or Young's modulus)
[From Principles of Electronic Materials and Devices, Second Edition, S. O. Kasap(© McGraw- Hill, 2002)]
| | | | |
| --- | --- | --- | --- |
| | Graphite | Diamond | BuckminsterfullereneCrystal |
| Structure | Covalent bonding within layers.Van der Waals bonding between layers.Hexagonal unit cell. | Covalent bonded network.Diamond crystal structure. | Covalently bonded C 60 spheroidal molecules held in an FCC crystal structure by van der Waals bonding. |
| Electrical and Thermal Properties | Good electricalConductor.Thermal conductivity comparable to metals. | Very good insulator. Excellent thermal conductor, about 5 times more than that of silver or copper. | Semiconductor. Compounds with alkali metals (e.g. K 3 C 60 ) exhibit superconductivity. |
| Mechanical Properties | Lubricating agent.Machinable.Bulk graphite:Y≈ 27GPa ρ = 2.25 gm/cm 3 | The hardest material. Y = 827GPa, ρ = 3.5 gm/cm 3 | Mechanically soft.Y≈ 18GPa ρ = 1.65 gm/cm 3 |
| Comment | Stable allotrope at atmospheric pressure. | High pressure allotrope. | Laboratory synthesized. Occurs in the soot of partial combustion. |
| Uses and potential uses | Metalurgical crucibles, Welding electrodes heating elements,Electrical contacts,Refractory applications. | Cutting tool applications.Diamond anvils. Diamond film coated drills, blades, bearings etc. Jewellry. Heat conductor for IC's.Possible thin film semiconductor devices as the charge carrier drift mobilities are large. | Possible future semiconductors or superconductivity applications. |