A traditional lullaby from Uganda to teach to students.
Here is a traditional lullaby from Buganda - central Uganda - as collected by music teacher Robinah Nazziwa, for use in music classes for young students, for multicultural concerts, or to include in a social studies unit on Uganda or Africa. The words translate into English as "My dear mother's child, keep quiet (Mwana wa nnyabo, weesirikire); I will keep for you whatever I will happen to eat (Kye nnaalyako nja kuterekera)". You may wish to print out the PDF version .
Performance notes

"Close enough" pronunciation for English speakers: pronounce "a" and "aa" as in "hall", "e" as in "let", "ee" as in "week", "i" as in "sip" "o" as in "hope", "u" as in "June".
If you can't read music, listen to the tune.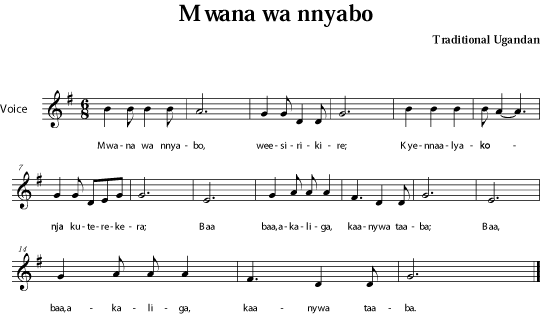 Questions & Answers
Receive real-time job alerts and never miss the right job again
Source:  OpenStax, Musical travels for children. OpenStax CNX. Jan 06, 2010 Download for free at http://cnx.org/content/col10221/1.11
Google Play and the Google Play logo are trademarks of Google Inc.
Notification Switch
Would you like to follow the 'Musical travels for children' conversation and receive update notifications?