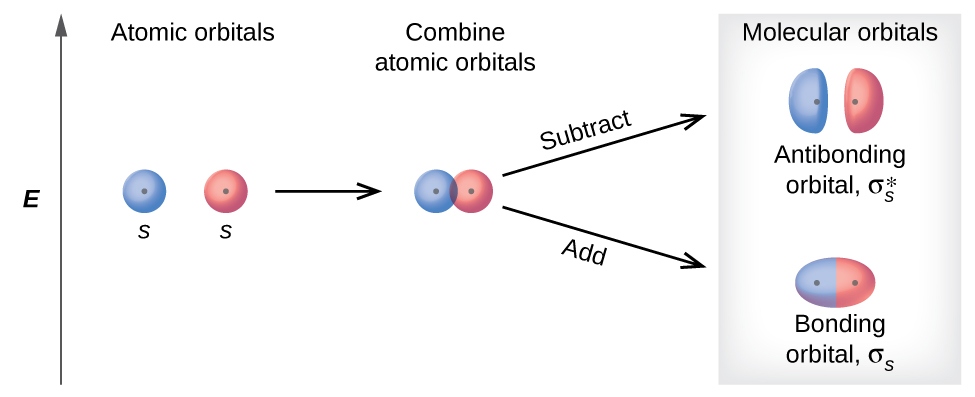 You can watch animations visualizing the calculated atomic orbitals combining to form various molecular orbitals at the Orbitron website.
In p orbitals, the wave function gives rise to two lobes with opposite phases, analogous to how a two-dimensional wave has both parts above and below the average. We indicate the phases by shading the orbital lobes different colors. When orbital lobes of the same phase overlap, constructive wave interference increases the electron density. When regions of opposite phase overlap, the destructive wave interference decreases electron density and creates nodes. When p orbitals overlap end to end, they create σ and σ* orbitals ( [link] ). If two atoms are located along the x -axis in a Cartesian coordinate system, the two p x orbitals overlap end to end and form σ px (bonding) and (antibonding) (read as "sigma-p-x" and "sigma-p-x star," respectively). Just as with s -orbital overlap, the asterisk indicates the orbital with a node between the nuclei, which is a higher-energy, antibonding orbital.

The side-by-side overlap of two p orbitals gives rise to a pi (π) bonding molecular orbital and a π* antibonding molecular orbital , as shown in [link] . In valence bond theory, we describe π bonds as containing a nodal plane containing the internuclear axis and perpendicular to the lobes of the p orbitals, with electron density on either side of the node. In molecular orbital theory, we describe the π orbital by this same shape, and a π bond exists when this orbital contains electrons. Electrons in this orbital interact with both nuclei and help hold the two atoms together, making it a bonding orbital. For the out-of-phase combination, there are two nodal planes created, one along the internuclear axis and a perpendicular one between the nuclei.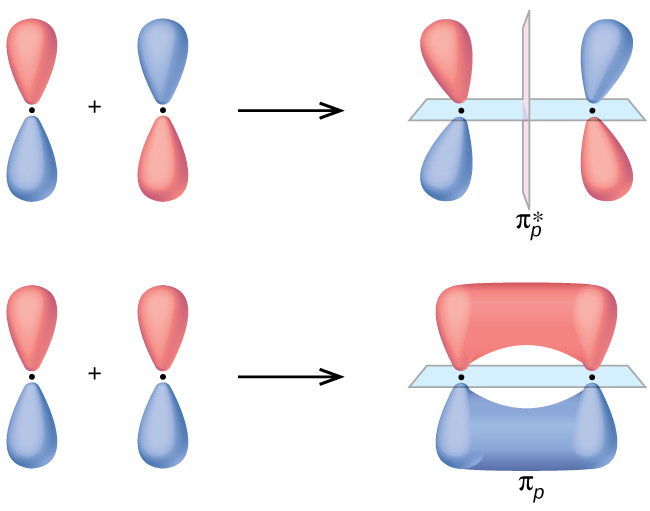 In the molecular orbitals of diatomic molecules, each atom also has two sets of p orbitals oriented side by side ( p y and p z ), so these four atomic orbitals combine pairwise to create two π orbitals and two π* orbitals. The π py and orbitals are oriented at right angles to the π pz and orbitals. Except for their orientation, the π py and π pz orbitals are identical and have the same energy; they are degenerate orbitals . The and antibonding orbitals are also degenerate and identical except for their orientation. A total of six molecular orbitals results from the combination of the six atomic p orbitals in two atoms: σ px and π py and π pz and