Procedure

For each kazoo, cut out of tissue paper a rectangle with a length slightly longer than the comb and a width slightly wider than twice the width of the comb.
Fold the tissue paper in half over the teeth of the comb.
Holding the tissue paper in place over both sides of the comb, play the kazoo by placing the lips lightly against the tissue paper and humming.
Encourage the students to use common and easily recognizable phrases (for example, an expression or slang phrase that is very popular at the moment), and to put as much expression as possible into the phrase. Explain that the goal is to communicate, not to stump their audience. When a phrase is successfully guessed, the student that hummed it has succeeded.
Using the kazoos, the students take turns humming familiar phrases to each other and trying to guess the phrase based simply on its rhythm and inflections.
Activity: the rhythms of language
Objectives and standards

Objectives - Using body percussion or simple drums provided or made for the purpose, the student will turn the rhythm of a given sentence into a two-toned drum rhythm.
Music Standards Addressed - National Standards for Music Education standard 8 (understanding relationships between music, the other arts, and disciplines outside the arts) and 9 (understanding music in relation to history and culture).
Other Subjects Addressed - The activity also addresses National Standards in the Social Studies standard 1 (culture), and National Standards for the English Language Arts standards 4 (Students adjust their use of spoken, written, and visual language (e.g., conventions, style, vocabulary) to communicate effectively with a variety of audiences and for different purposes.) and 9 (Students develop an understanding of and respect for diversity in language use, patterns, and dialects across cultures, ethnic groups, geographic regions, and social roles).
Evaluation - Assess student learning by evaluating class participation.
Tonal inflections are not the only part of language that talking drums mimic. In any language, words, phrases and sentences have a natural rhythm. Here is an activity that helps students appreciate the rhythm of language. For a more complete exploration of this concept, see the activity in Message Drums .
Materials and preparation

This activity can be done with any two drums that sound different from each other. You can use toy drums, real drums, or homemade drums.
Or turn ordinary objects into drums (pots, bowls, desks, books) and drumsticks (pencils, rulers, sticks). See Percussion Fast and Cheap for other suggestions.
Or if you do not want to bother with drums, use clapping, finger-snapping, thigh slapping, stomping, or other "body percussion."
Procedure

If necessary, introduce or review the concept of strong and weak syllables.
Assign one drum or sound (e.g. clapping) for strong syllables, and one drum or sound (e.g. finger snapping) for weak syllables.
Let the students take turns.
One student says a sentence. Encourage long, creative sentences. ("I wish we could have pizza for lunch today" rather than "I want pizza".)
Another student beats or claps out the rhythm of the sentence (da-DUM-da-da-da-DUM-da-da-DUM-da-da). Encourage them to mimic the natural rhythm of the sentence as much as possible. After one person has played the rhythm, see if the entire group can "play" the sentence together.
Ask the students: Is there a particular length or type of sentence that is easiest to turn into a rhythm that everyone can agree on? Do the rhythms of the sentences sound alike or different? If two sentences sound too much alike, what could be done to make them sound different?
If you are also studying poetry, try this activity with poetry. Can the students identify meter, line length, and poem type just from drum rhythms?
Further study and suggested resources
If a picture book is appropriate for your students, consider sharing with them Talking Drums of Africa by Christine Price (Charles Scribner's Sons, 1973). Featuring the Ashanti people of Ghana and the Yoruba of Nigeria, it explains how the drums are put together, how they are used, how they "talk", and the part they play in the culture.
If any members of the class speak a tonal language (Chinese, for example), or if a parent or other adult is available for a demonstration, ask them to help the class with a show-and-tell that demonstrates how the meaning of words in their language changes with inflection.
At the time of this writing, photos and sound clips of talking drums could be found at the web site of the Nigerian Talking Drum Ensemble .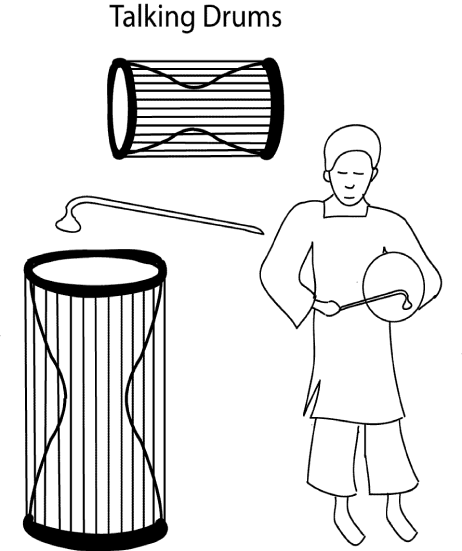 Questions & Answers
Receive real-time job alerts and never miss the right job again
Source:  OpenStax, Noisy learning: loud but fun music education activities. OpenStax CNX. May 17, 2007 Download for free at http://cnx.org/content/col10222/1.7
Google Play and the Google Play logo are trademarks of Google Inc.
Notification Switch
Would you like to follow the 'Noisy learning: loud but fun music education activities' conversation and receive update notifications?