BrucePlumstead
Discuss with your partner:
Why is Bruce writing this letter?
What does he hope to achieve?
How did Bruce change in his opinion after this event? What happened to touch Bruce?
Briefly compare the 'first' Bruce in comparison to the "second" Bruce.
What does he mean – "you have restored my faith"?
CHALLENGE!
Do you have something to say?
Do you have an opinion to air?
Write to your community newspaper and see your name in print!
For the educator: Use the above challenge as a piece of assessed writing, allowing learners to set up own criteria.
PROOFREADING
The sub-editor proofreads the copy being prepared for print. He checks errors and suggests changes.
Special attention is paid to the following:
not allowed

unnecessary facts / useless information

eliminated


correct order of events / happenings


eliminated

and the article must be written in the shortest possible way, without losing its meaning or missing the point.
Proofread the following article carefully. Rewrite the article, as you would like to see it in print.
A businesman who has just retired was yesterday arested for stealing R600 000 from his employee. Captain James Smith is the investigating officer in charge of the investigation. The man stole the money because of financial problems he was facing. His wife said that that he had been very nervus lately. Mr Jones was arrested while he was having a delicious breakfast at Marti's in Pinelands. He was seen to be waving his hands above his head when arrested. A policeman in a car arrested him. A violent scuffle was taking place when he was arrested. Mr Jones did not want to be arrested. He was taken to prison in chains in a police van. Not much damage was done.
Let us recap quickly how we go about writing -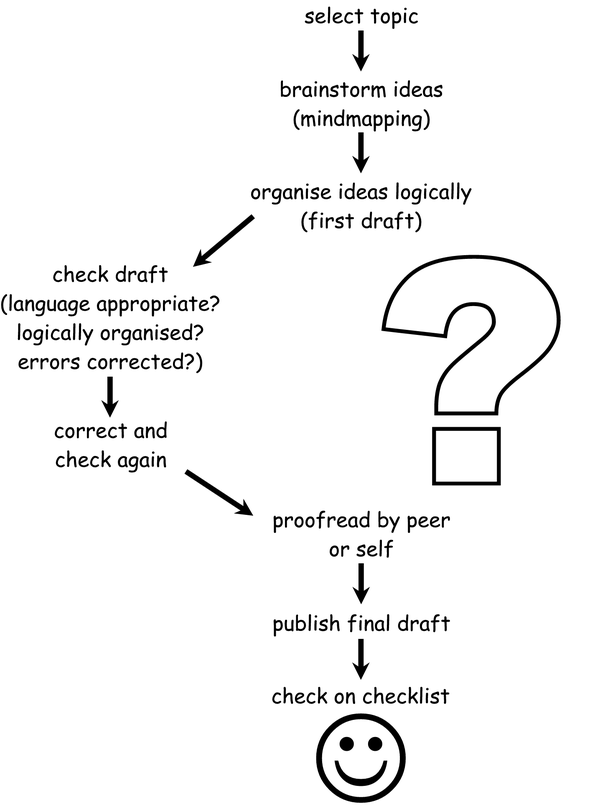 Note to the educator : Prejudice has been covered (Mod. 1) and may be discussed again with learners, making them aware of bias and slanted writing in news articles and reports.
We have investigated headlines of news articles. You also learnt that the first paragraph of a report contains the facts about the event, while the rest of the article contains opinions and interviews.
Choose from the following headlines to write a news report. (You need not use the given headlines.)
Alleged shoplifter tarred and feathered.
Blaze damages historic building.
Family saved from sinking yacht.
Hero hound honoured for bravery.
Cash in transit heist fails.
Study this checklist – follow the formula in order to write a successful report.
CHECKLIST : MY NEWS ARTICLE
YES
NO

the first sentence summarises the event (when – what – where)

the 2nd paragraph tells the reader "how?" and "to whom"

the 3rd paragraph tells of the action taken/results/consequences

writing is to the point and easy to read
BE CRITICAL!
Find a news report suitable for the following:
read it critically and identify the writer's point of view;
What is he trying to say?
is his writing slanted? Does he give both sides to the story or only his opinion? Bias? Prejudice?
How does he use words to bring his message across?