By the end of this section, you will be able to:
Describe community structure and succession
Community dynamics are the changes in community structure and composition over time. Sometimes these changes are induced by environmental disturbances such as volcanoes, earthquakes, storms, fires, and climate change. Communities with a stable structure are said to be at equilibrium. Following a disturbance, the community may or may not return to the equilibrium state.
Succession describes the sequential appearance and disappearance of species in a community over time. In primary succession , newly exposed or newly formed land is colonized by living things; in secondary succession , part of an ecosystem is disturbed and remnants of the previous community remain.
Primary succession and pioneer species
Primary succession occurs when new land is formed or rock is exposed: for example, following the eruption of volcanoes, such as those on the Big Island of Hawaii. As lava flows into the ocean, new land is continually being formed. On the Big Island, approximately 32 acres of land is added each year. First, weathering and other natural forces break down the substrate enough for the establishment of certain hearty plants and lichens with few soil requirements, known as pioneer species ( [link] ). These species help to further break down the mineral rich lava into soil where other, less hardy species will grow and eventually replace the pioneer species. In addition, as these early species grow and die, they add to an ever-growing layer of decomposing organic material and contribute to soil formation. Over time the area will reach an equilibrium state, with a set of organisms quite different from the pioneer species.
There are traits that make an organism well suited to be a pioneer species. Particularly in the case of primary succession, a pioneer species must be well suited to live and thrive in a harsh environment, where resources such as nutrients may be difficult to obtain. Often times, pioneer species are capable of obtaining nutrients in unique ways that are not typical of other species. Pioneer species typically also have a relatively short life cycle, have a high growth rate and fecundity. Plant species that have a very narrow set of conditions that they can survive in, have a large root system or can't adapt to changing conditions would not make a good pioneer species, Lichen and moss on the other hand, are ideal pioneer species after a primary succession event because they can thrive in nearly every habitat, have very low nutrient and water requirements and no root system that requires soil.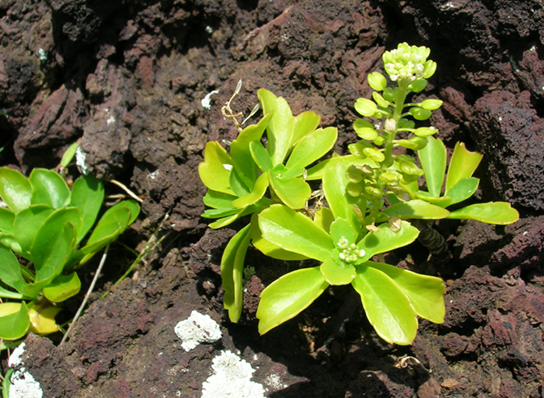 Secondary succession
A classic example of secondary succession occurs in oak and hickory forests cleared by wildfire ( [link] ). Wildfires will burn most vegetation and kill those animals unable to flee the area. Their nutrients, however, are returned to the ground in the form of ash. Thus, even when areas are devoid of life due to severe fires, the area will soon be ready for new life to take hold.