Each house had a paved platform (stoep) along the front of the house, with steps leading up to this platform. A seat was usually built at either end of the platform and the inhabitants of the house frequently sat there, particularly in the evenings, to enjoy the cool evening air.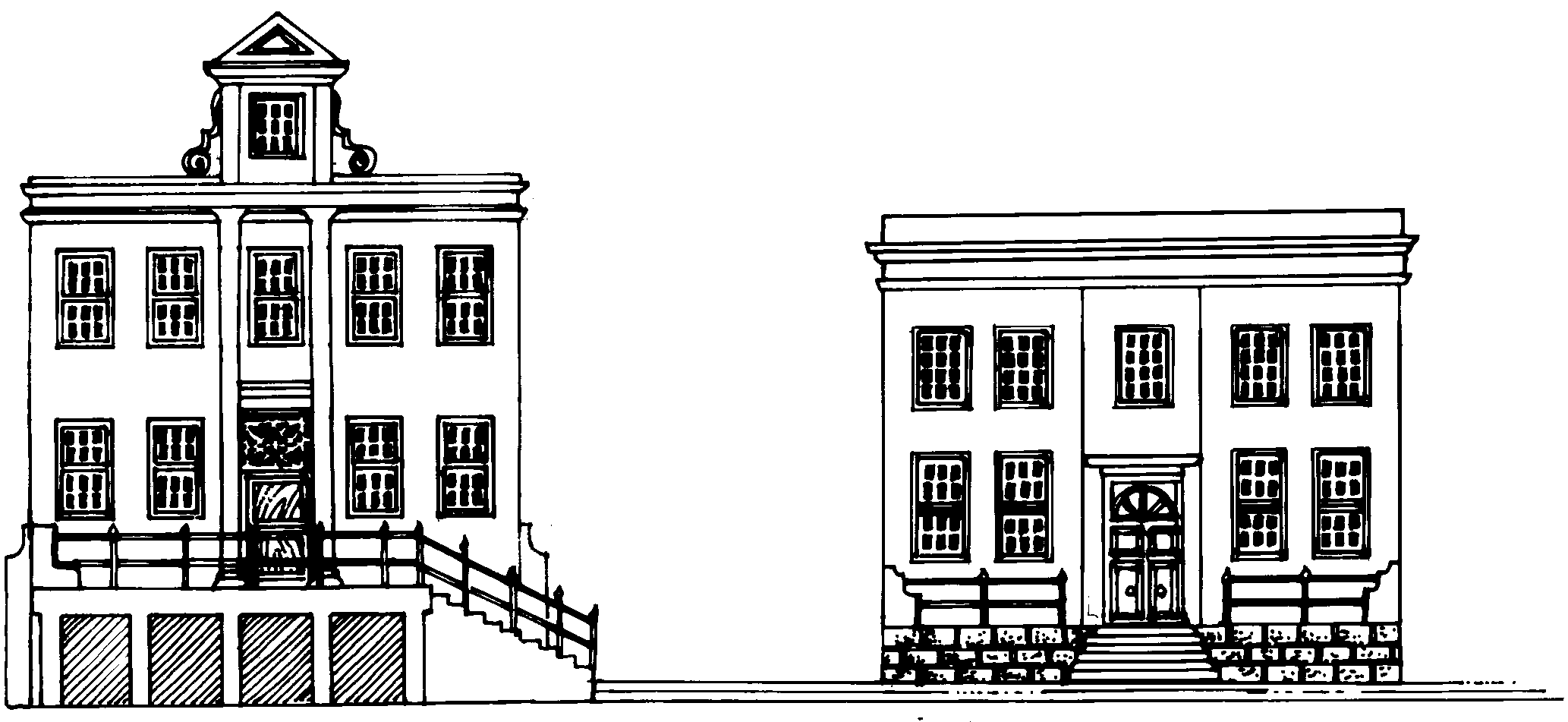 See if you can find any houses built in this style in your vicinity!
Activity 4:
To become aware of different modern views on housing
[lo 3.1]
South Africa is currently experiencing a desperate shortage of housing, especially because millions of people from the poorer country areas are moving to cities in the hope of finding work. The cities do not have enough homes for all these people, with the result that slums develop and squatters build shacks in informal housing areas. One of the results of such inadequate housing is that children escape from home conditions that are unbearable and simply live on the streets.
a) Examine the following sketch and have a class discussion on what you discover in it .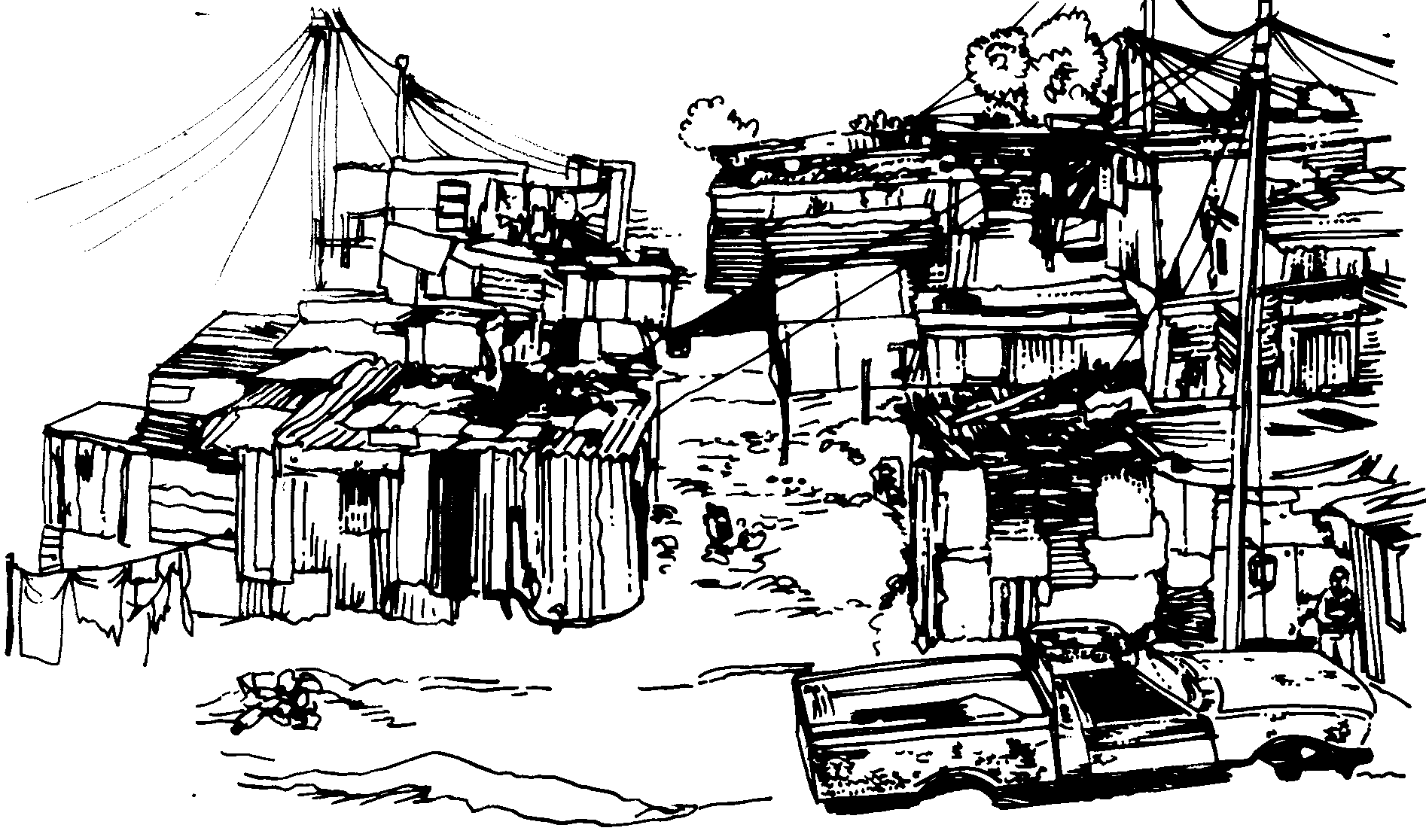 What are the causes and results (effects) of urbanisation in South Africa?
What are the views that people in South Africa express when they discuss
squatters? What is right?
Why do different people have different attitudes to this situation?
The drawings printed below were drawn by various street children. They reveal
that the environments in which people live, affect their actions. Explain how.
Would you regard these sources as reliable? Why?
Try to see how many different kinds of information you are able to gain from
these drawings.

We have found out where and how people live. Let's visit them now to find out what their eating habits are.
Assessment
LEARNING OUTCOME 2: HISTORICAL KNOWLEDGE AND UNDERSTANDING – The learner will be able to demonstrate historical knowledge and understanding
2.1 Understand chronology and time
Compilation of an historical time line with BC, AD, ancient, modern.
2.2 Supply reasons why an historical event took place (causes, effects).
Is able to supply proof orally or in written form of causes / effects of events, and to identify patterns.
2.3 Differentiate between different periods (similarities, differences).
Show differences / similarities between situations experienced at present and those of a specific period by making use of written evidence.
LEARNING OUTCOME 3: INTERPRETING HISTORY – The learner will be able to interpret aspects of history
3.1 Be aware of more than one view of the past
Understand that different views of the same issue may be right or wrong.
3.2 Distinguish between fact and opinion.
Distinguish between a fact and an opinion.
Is able to access information from maps, charts, diagrams and graphs.
3.3 Reconstruct the past
Is able to reconstruct events and understand how people feel about them.
Memorandum
Activity 1
a) The architecture was also influenced by the climate and different cultures .
(A visit to the Koopmans De Wet Museum would be worthwhile.)
Activity 2
a) 3, 4, 1, 2, 5
Activity 4
Because urbanization took place so rapidly, there is a serious shortage of houses in and around the cities. Squatter camps are an example of a lower income housing settlement. Squatters are people who have nowhere to go, and who construct "structures" (cardboard, wood, sheets of corrugated iron) on land that does not belong to them. Approximately one out of five people in SA live in squatter camps, structures in back yards, and many other temporary shelters. Most of the people moved from rural areas many years ago because they had no livelihood. The men mostly have a job but cannot afford the rent of a room in the back yard of a formal neighbourhood.
It is important that people should be able to have access to proper housing with basic conveniences such as running water. They should be encouraged to improve their houses and neighbourhoods.
To summarise: Squatter camps are a symbol of:
Failure , because the community does supply adequate housing and job opportunities;
Hope, because people live there with courage and endurance to improve their situation.