Laser surgery uses a wavelength that is strongly absorbed by the tissue it is focused upon. One example of a medical application of lasers is shown in [link] . A detached retina can result in total loss of vision. Burns made by a laser focused to a small spot on the retina form scar tissue that can hold the retina in place, salvaging the patient's vision. Other light sources cannot be focused as precisely as a laser due to refractive dispersion of different wavelengths. Similarly, laser surgery in the form of cutting or burning away tissue is made more accurate because laser output can be very precisely focused and is preferentially absorbed because of its single wavelength. Depending upon what part or layer of the retina needs repairing, the appropriate type of laser can be selected. For the repair of tears in the retina, a green argon laser is generally used. This light is absorbed well by tissues containing blood, so coagulation or "welding" of the tear can be done.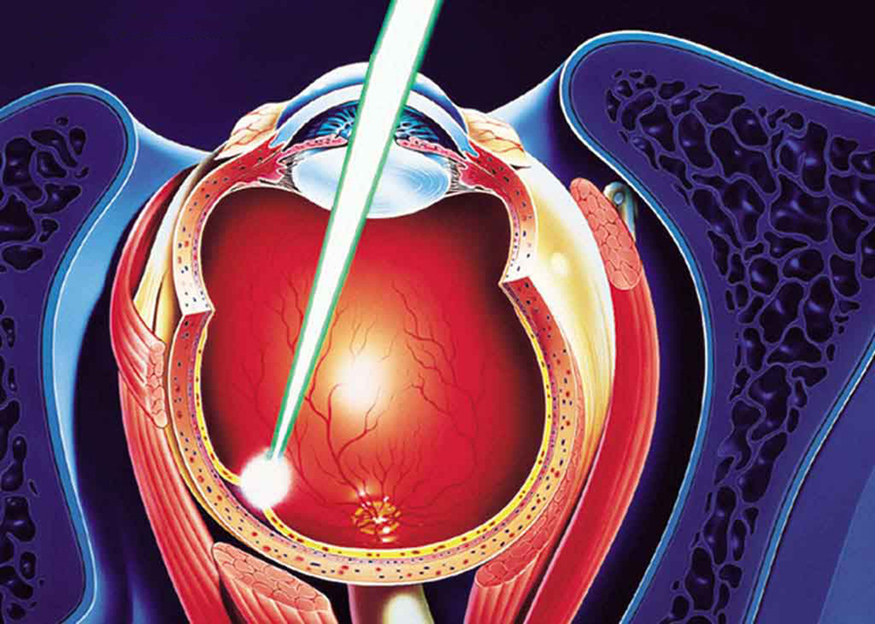 In dentistry, the use of lasers is rising. Lasers are most commonly used for surgery on the soft tissue of the mouth. They can be used to remove ulcers, stop bleeding, and reshape gum tissue. Their use in cutting into bones and teeth is not quite so common; here the erbium YAG (yttrium aluminum garnet) laser is used.
The massive combination of lasers shown in [link] can be used to induce nuclear fusion, the energy source of the sun and hydrogen bombs. Since lasers can produce very high power in very brief pulses, they can be used to focus an enormous amount of energy on a small glass sphere containing fusion fuel. Not only does the incident energy increase the fuel temperature significantly so that fusion can occur, it also compresses the fuel to great density, enhancing the probability of fusion. The compression or implosion is caused by the momentum of the impinging laser photons.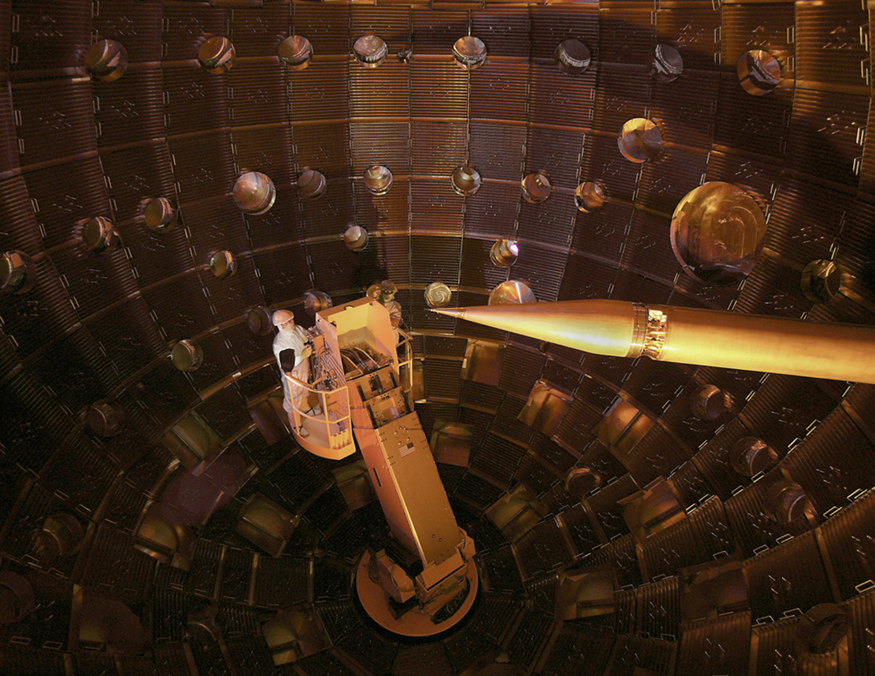 Music CDs are now so common that vinyl records are quaint antiquities. CDs (and DVDs) store information digitally and have a much larger information-storage capacity than vinyl records. An entire encyclopedia can be stored on a single CD. [link] illustrates how the information is stored and read from the CD. Pits made in the CD by a laser can be tiny and very accurately spaced to record digital information. These are read by having an inexpensive solid-state infrared laser beam scatter from pits as the CD spins, revealing their digital pattern and the information encoded upon them.