Reception of sound
In mammals, sound waves are collected by the external, cartilaginous part of the ear called the pinna, then travel through the auditory canal and cause vibration of the thin diaphragm called the tympanum or ear drum, the innermost part of the outer ear (illustrated in [link] ). Interior to the tympanum is the middle ear. The middle ear holds three small bones called the ossicles, which transfer energy from the moving tympanum to the inner ear. The three ossicles are the malleus (also known as the hammer), the incus (the anvil), and stapes (the stirrup). The aptly named stapes looks very much like a stirrup. The three ossicles are unique to mammals, and each plays a role in hearing. The malleus attaches at three points to the interior surface of the tympanic membrane. The incus attaches the malleus to the stapes. In humans, the stapes is not long enough to reach the tympanum. If we did not have the malleus and the incus, then the vibrations of the tympanum would never reach the inner ear. These bones also function to collect force and amplify sounds. The ear ossicles are homologous to bones in a fish mouth: the bones that support gills in fish are thought to have been adapted for use in the vertebrate ear over evolutionary time.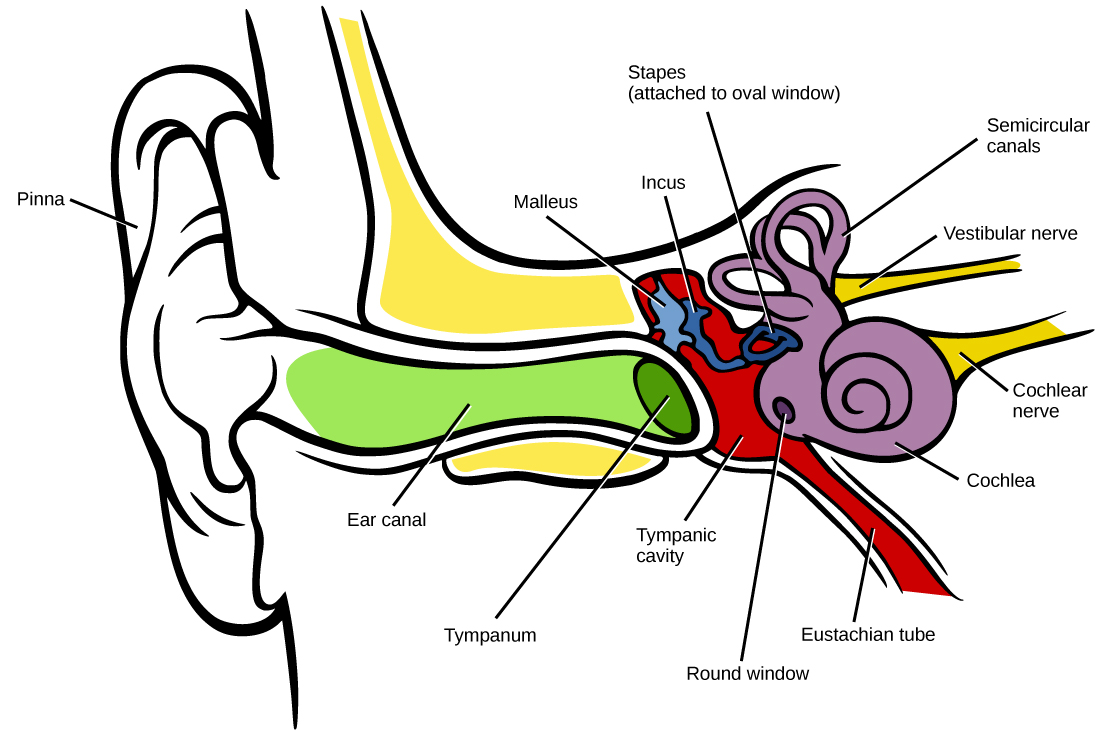 Vestibular information
The stimuli associated with the vestibular system are linear acceleration (gravity) and angular acceleration and deceleration. Gravity, acceleration, and deceleration are detected by evaluating the inertia on receptive cells in the vestibular system. Gravity is detected through head position. Angular acceleration and deceleration are expressed through turning or tilting of the head.
The vestibular system has some similarities with the auditory system. It utilizes hair cells just like the auditory system, but it excites them in different ways. There are five vestibular receptor organs in the inner ear: the utricle, the saccule, and three semicircular canals. Together, they make up what's known as the vestibular labyrinth that is shown in [link] . The utricle and saccule respond to acceleration in a straight line, such as gravity. The roughly 30,000 hair cells in the utricle and 16,000 hair cells in the saccule lie below a gelatinous layer, with their stereocilia projecting into the gelatin. Embedded in this gelatin are calcium carbonate crystals—like tiny rocks. When the head is tilted, the crystals continue to be pulled straight down by gravity, but the new angle of the head causes the gelatin to shift, thereby bending the stereocilia. The bending of the stereocilia stimulates the neurons, and they signal to the brain that the head is tilted, allowing the maintenance of balance. It is the vestibular branch of the vestibulocochlear cranial nerve that deals with balance.