Reception and transduction
Taste
Detecting a taste (gustation) is fairly similar to detecting an odor (olfaction), given that both taste and smell rely on chemical receptors being stimulated by certain molecules. The primary organ of taste is the taste bud. A taste bud is a cluster of gustatory receptors (taste cells) that are located within the bumps on the tongue called papillae (singular: papilla) (illustrated in [link] ).

Each taste bud's taste cells are replaced every 10 to 14 days. These are elongated cells with hair-like processes called microvilli at the tips that extend into the taste bud pore (illustrate in [link] ). Food molecules (tastants) are dissolved in saliva, and they bind with and stimulate the receptors on the microvilli. The receptors for tastants are located across the outer portion and front of the tongue, outside of the middle area where the filiform papillae are most prominent.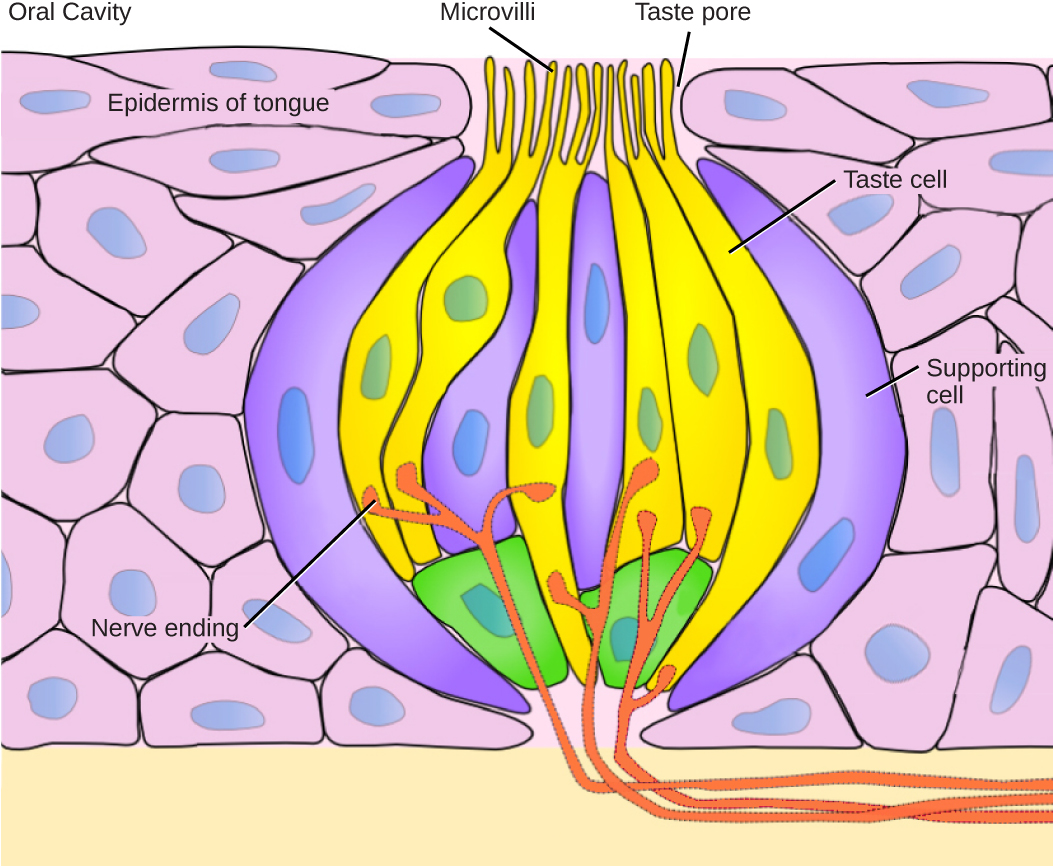 In humans, there are five primary tastes, and each taste has only one corresponding type of receptor. Thus, like olfaction, each receptor is specific to its stimulus (tastant). Both tasting abilities and sense of smell change with age. In humans, the senses decline dramatically by age 50 and continue to decline. A child may find a food to be too spicy, whereas an elderly person may find the same food to be bland and unappetizing.
Hearing and equilibrium
Audition, or hearing, is important to humans and to other animals for many different interactions. It enables an organism to detect and receive information about danger, such as an approaching predator, and to participate in communal exchanges like those concerning territories or mating. On the other hand, although it is physically linked to the auditory system, the vestibular system is not involved in hearing. Instead, an animal's vestibular system detects its own movement, both linear and angular acceleration and deceleration, and balance.
Sound
Auditory stimuli are sound waves, which are mechanical, pressure waves that move through a medium, such as air or water. There are no sound waves in a vacuum since there are no air molecules to move in waves. The speed of sound waves differs, based on altitude, temperature, and medium, but at sea level and a temperature of 20º C (68º F), sound waves travel in the air at about 343 meters per second.
As is true for all waves, there are four main characteristics of a sound wave: frequency, wavelength, period, and amplitude. Frequency is the number of waves per unit of time, and in sound is heard as pitch. High-frequency (≥15.000Hz) sounds are higher-pitched (short wavelength) than low-frequency (long wavelengths; ≤100Hz) sounds. Frequency is measured in cycles per second, and for sound, the most commonly used unit is hertz (Hz), or cycles per second. Most humans can perceive sounds with frequencies between 30 and 20,000 Hz. Women are typically better at hearing high frequencies, but everyone's ability to hear high frequencies decreases with age. Dogs detect up to about 40,000 Hz; cats, 60,000 Hz; bats, 100,000 Hz; and dolphins 150,000 Hz, and American shad ( Alosa sapidissima ), a fish, can hear 180,000 Hz. Those frequencies above the human range are called ultrasound.