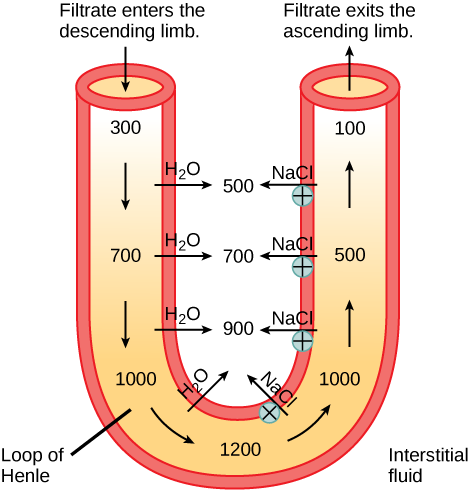 Hypertension (high blood pressure) is a common problem for humans, and is usually treated with a variety of drugs that act on various processes occurring in the kidney. One class of hypertension drugs is the so-called "loop diuretics", which inhibit the reabsorption of Na + and Cl - ions by the ascending limb of the loop of Henle. A side effect is that they increase urination. Why do you think this is the case?
By the time the filtrate reaches the DCT, most of the urine and solutes have been reabsorbed. If the body requires additional water, all of it can be reabsorbed at this point. Further reabsorption is controlled by hormones, which will be discussed in a later section. Excretion of wastes occurs due to lack of reabsorption combined with tubular secretion. Undesirable products like metabolic wastes, urea, uric acid, and certain drugs, are excreted by tubular secretion. Most of the tubular secretion happens in the DCT, but some occurs in the early part of the collecting duct. Kidneys also maintain an acid-base balance by secreting excess H + ions.
Nitrogenous waste
Of the four major macromolecules in biological systems, both proteins and nucleic acids contain nitrogen. During the catabolism, or breakdown, of nitrogen-containing macromolecules, carbon, hydrogen, and oxygen are extracted and stored in the form of carbohydrates and fats. Excess nitrogen is excreted from the body. Nitrogenous wastes tend to form toxic ammonia , which raises the pH of body fluids. The formation of ammonia itself requires energy in the form of ATP and large quantities of water to dilute it out of a biological system. It is quite toxic even at relatively low concentrations. Animals that live in aquatic environments tend to release ammonia directly into the water in the urine; they have access to sufficient water to dilute this waste product to non-toxic levels. Animals that excrete ammonia are said to be ammonotelic. Terrestrial organisms have evolved other mechanisms to process and excrete nitrogenous wastes. The animals first detoxify ammonia by converting it into a relatively nontoxic form such as urea or uric acid. Mammals, including humans, produce urea, whereas reptiles and many terrestrial invertebrates produce uric acid. Animals that secrete urea as the primary nitrogenous waste material are called ureotelic animals.
Nitrogenous waste in terrestrial animals: urea
Urea formation is the primary mechanism by which mammals convert ammonia to urea. Urea is made in the liver and excreted in urine. The overall chemical reaction by which ammonia is converted to urea is 2 NH 3 (ammonia) + CO 2 + 3 ATP + H 2 O → H 2 N-CO-NH 2 (urea) + 2 ADP + 4 P i + AMP.
Evolution connection
Excretion of nitrogenous waste
The theory of evolution proposes that life started in an aquatic environment. It is not surprising to see that biochemical pathways like the urea cycle evolved to adapt to a changing environment when terrestrial life forms evolved. Arid conditions probably led to the evolution of the uric acid pathway as a means of conserving water.
Nitrogenous waste in birds and reptiles: uric acid
Birds, reptiles, and most terrestrial arthropods convert toxic ammonia to uric acid or the closely related compound guanine (guano) instead of urea. Mammals also form some uric acid during breakdown of nucleic acids. Uric acid is a compound similar to purines found in nucleic acids. It is water insoluble and tends to form a white paste or powder; it is excreted by birds, insects, and reptiles. Conversion of ammonia to uric acid requires more energy and is much more complex than conversion of ammonia to urea [link] , but the pay off is that uric acid requires much less water when excreted.

Gout
In some animals, uric acid can build up under certain conditions, or as consequence of a diet high in nitrogenous compounds (e.g. nucleotides). In those situations, uric acid tends to crystallize and form kidney stones. Uric acid buildup may also cause a painful condition called gout, where uric acid crystals accumulate in the joints, as illustrated in [link] . Food choices that reduce the amount of nitrogenous compounds in the diet help reduce the risk of gout. For example, tea, coffee, and chocolate have purine-like compounds, called xanthines, and should be avoided by people with gout and kidney stones.