Rays and skates include more than 500 species and are closely related to sharks. They can be distinguished from sharks by their flattened bodies, pectoral fins that are enlarged and fused to the head, and gill slits on their ventral surface ( [link] b ). Like sharks, rays and skates have a cartilaginous skeleton. Most species are marine and live on the sea floor, with nearly a worldwide distribution.
Bony fishes
Members of the clade Osteichthyes, or bony fishes, are characterized by a bony skeleton. The vast majority of present-day fishes belong to this group, which consists of approximately 30,000 species, making it the largest class of vertebrates in existence today.

Amphibians
Amphibians are vertebrate tetrapods. Amphibia includes the familiar frogs, toads, and salamanders, as well as the caecilians, limbless amphibians that superficially resemble worms and snakes. The term amphibian means "dual life," which is a reference to the metamorphosis that many frogs undergo from a tadpole to an adult and the mixture of aquatic and terrestrial environments in their life cycle. Amphibians evolved in the Devonian period and were the earliest terrestrial tetrapods.
Amphibian diversity
Amphibia comprise an estimated 6,500 extant species that inhabit tropical and temperate regions around the world. Amphibians can be divided into three clades: Urodela ("tailed-ones"), the salamanders and newts; Anura ("tail-less ones"), the frogs and toads; and Apoda ("legless ones"), the caecilians.

Caecilians comprise an estimated 185 species. They lack external limbs and resemble giant earthworms. They inhabit soil and are found primarily in the tropics of South America, Africa, and southern Asia where they are adapted for a soil-burrowing lifestyle and are nearly blind. Unlike most of the other amphibians that breed in or near water, reproduction in a drier soil habitat means that caecilians must utilize internal fertilization, and most species give birth to live young ( [link] ).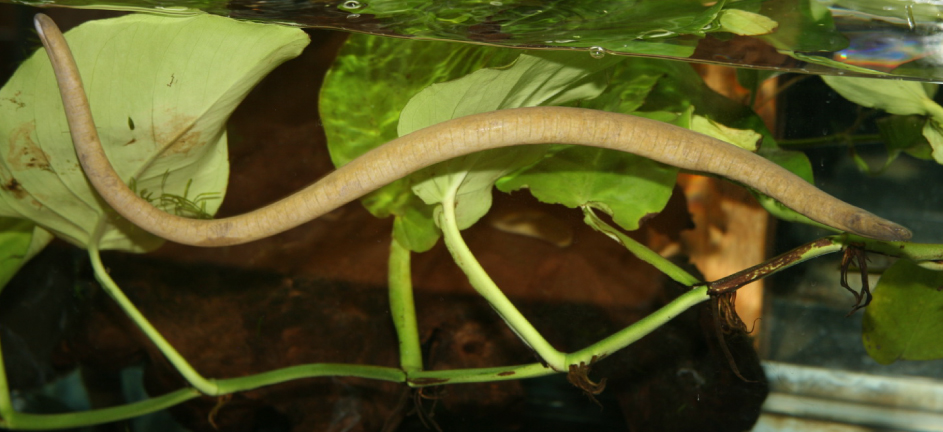 Reptiles and birds
The amniotes—reptiles, birds, and mammals—are distinguished from amphibians by their terrestrially adapted (shelled) egg and an embryo protected by amniotic membranes. The evolution of amniotic membranes meant that the embryos of amniotes could develop within an aquatic environment inside the egg. This led to less dependence on a water environment for development and allowed the amniotes to invade drier areas. This was a significant evolutionary change that distinguished them from amphibians, which were restricted to moist environments due to their shell-less eggs. Although the shells of various amniotic species vary significantly, they all allow retention of water. The membranes of the amniotic egg also allowed gas exchange and sequestering of wastes within the enclosure of an eggshell. The shells of bird eggs are composed of calcium carbonate and are hard and brittle, but possess pores for gas and water exchange. The shells of reptile eggs are more leathery and pliable. Most mammals do not lay eggs; however, even with internal gestation, amniotic membranes are still present.