Describe different forms of collective behavior
Differentiate between types of crowds
Discuss emergent norm, value-added, and assembling perspective analyses of collective behavior
Flash mobs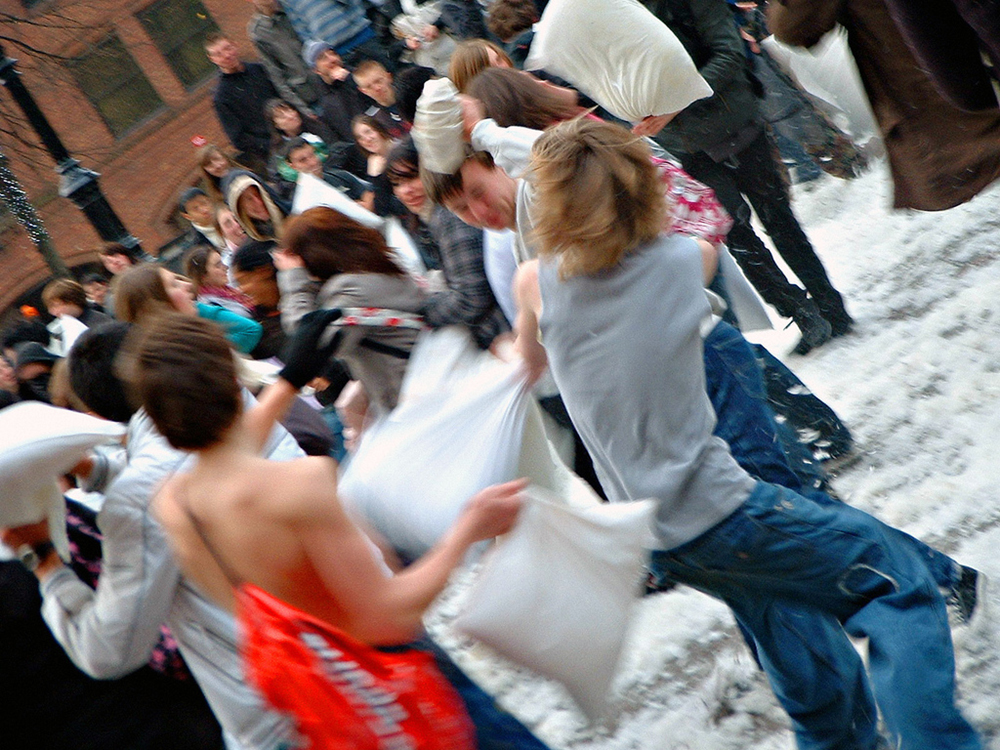 People sitting in a café in a touristy corner of Rome might expect the usual sights and sounds of a busy city. They might be more surprised when, as they sip their espressos, hundreds of young people start streaming into the picturesque square clutching pillows, and when someone gives a signal, they start pummeling each other in a massive free-for-all pillow fight. Spectators might lean forward, coffee forgotten, as feathers fly and more and more people join in. All around the square, others hang out of their windows or stop on the street, transfixed, to watch. After several minutes, the spectacle is over. With cheers and the occasional high five, the crowd disperses, leaving only destroyed pillows and clouds of fluff in its wake.
This is a flash mob , a large group of people who gather together in a spontaneous activity that lasts a limited amount of time before returning to their regular routines. Technology plays a big role in the creation of a flash mob: select people are texted or emailed, and the message spreads virally until a crowd has grown. But while technology might explain the "how" of flash mobs, it does not explain the "why." Flash mobs often are captured on video and shared on the internet; frequently they go viral and become well-known. So what leads people to want to flock somewhere for a massive pillow fight? Or for a choreographed dance? Or to freeze in place? Why is this appealing? In large part, it is as simple as the reason humans have bonded together around fires for storytelling, or danced together, or joined a community holiday celebration. Humans seek connections and shared experiences. And a flash mob, pillows included, provides a way to make that happen.
Forms of collective behavior
Flash mobs are examples of collective behavior , non-institutionalized activity in which several people voluntarily engage. Other examples of collective behavior can include anything from a group of commuters traveling home from work to the trend toward adopting the Justin Bieber hair flip. In short, it can be any group behavior that is not mandated or regulated by an institution. There are four primary forms of collective behavior: the crowd, the mass, the public, and social movements.
It takes a fairly large number of people in close proximity to form a crowd (Lofland 1993). Examples include a group of people attending an Ani DiFranco concert, tailgating at a Patriots game, or attending a worship service. Turner and Killian (1993) identified four types of crowds. Casual crowds consist of people who are in the same place at the same time, but who aren't really interacting, such as people standing in line at the post office. Conventional crowds are those who come together for a scheduled event occurring regularly, like a religious service. Expressive crowds are people who join together to express emotion, often at funerals, weddings, or the like. The final type, acting crowds , focus on a specific goal or action, such as a protest movement or riot.