Note that if we use the absolute value function and create a new function we can extend the domain of the natural logarithm to include Then This gives rise to the familiar integration formula.
Integral of (1/ u ) du
The natural logarithm is the antiderivative of the function
Although we have called our function a "logarithm," we have not actually proved that any of the properties of logarithms hold for this function. We do so here.
Properties of the natural logarithm
If and is a rational number, then
Proof
By definition,
We have



Use on the last integral in this expression. Let Then Furthermore, when and when So we get


Note that



Furthermore,



Since the derivatives of these two functions are the same, by the Fundamental Theorem of Calculus, they must differ by a constant. So we have



for some constant Taking we get



Thus and the proof is complete. Note that we can extend this property to irrational values of later in this section.
Part iii. follows from parts ii. and iv. and the proof is left to you.
□
Defining the number e
Now that we have the natural logarithm defined, we can use that function to define the number
Definition
The number is defined to be the real number such that
To put it another way, the area under the curve between and is ( [link] ). The proof that such a number exists and is unique is left to you. ( Hint : Use the Intermediate Value Theorem to prove existence and the fact that is increasing to prove uniqueness.)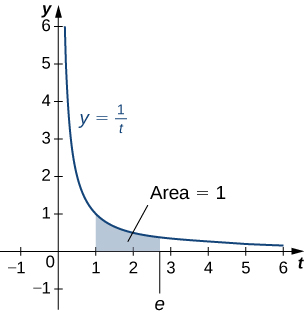 The number can be shown to be irrational, although we won't do so here (see the Student Project in Taylor and Maclaurin Series ). Its approximate value is given by
The exponential function
We now turn our attention to the function Note that the natural logarithm is one-to-one and therefore has an inverse function. For now, we denote this inverse function by Then,