Amino acids
Amino acids are the monomers that make up proteins. Each amino acid has the same fundamental structure, which consists of a central carbon atom, also known as the alpha ( α ) carbon, bonded to an amino group (NH 2 ), a carboxyl group (COOH), and to a hydrogen atom. Every amino acid also has another atom or group of atoms bonded to the central atom known as the R group ( [link] ).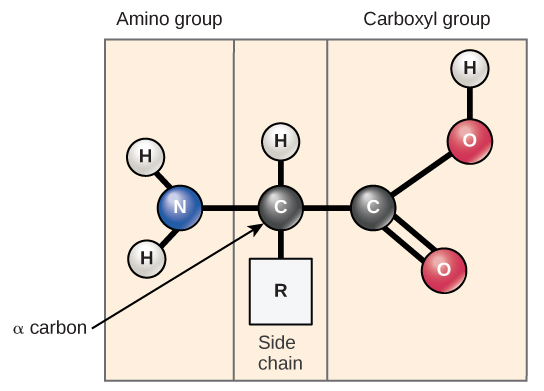 The name "amino acid" is derived from the fact that they contain both amino group and carboxyl-acid-group in their basic structure. As mentioned, there are 20 amino acids present in proteins. Ten of these are considered essential amino acids in humans because the human body cannot produce them and they are obtained from the diet. For each amino acid, the R group (or side chain) is different ( [link] ).
Art connection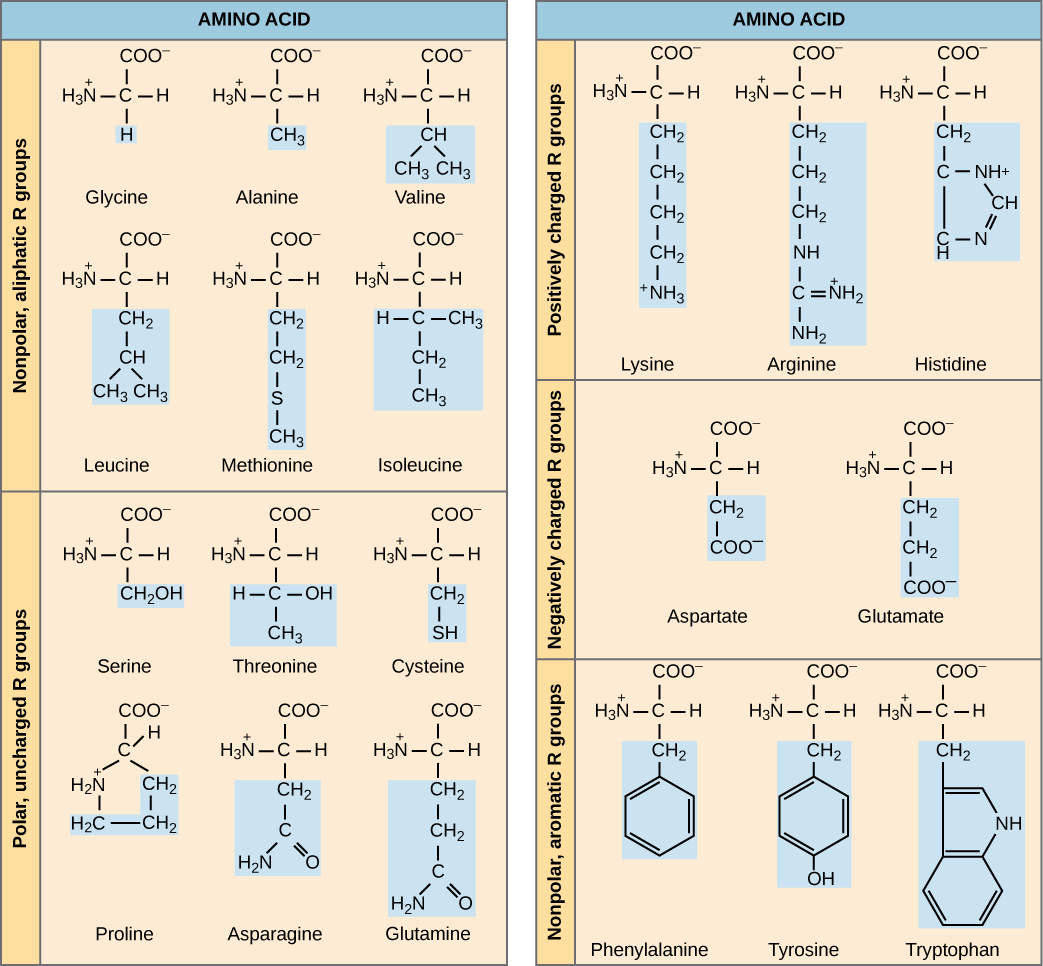 Which categories of amino acid would you expect to find on the surface of a soluble protein, and which would you expect to find in the interior? What distribution of amino acids would you expect to find in a protein embedded in a lipid bilayer?
The chemical nature of the side chain determines the nature of the amino acid (that is, whether it is acidic, basic, polar, or nonpolar). For example, the amino acid glycine has a hydrogen atom as the R group. Amino acids such as valine, methionine, and alanine are nonpolar or hydrophobic in nature, while amino acids such as serine, threonine, and cysteine are polar and have hydrophilic side chains. The side chains of lysine and arginine are positively charged, and therefore these amino acids are also known as basic amino acids. Proline has an R group that is linked to the amino group, forming a ring-like structure. Proline is an exception to the standard structure of an animo acid since its amino group is not separate from the side chain ( [link] ).
Amino acids are represented by a single upper case letter or a three-letter abbreviation. For example, valine is known by the letter V or the three-letter symbol val. Just as some fatty acids are essential to a diet, some amino acids are necessary as well. They are known as essential amino acids, and in humans they include isoleucine, leucine, and cysteine. Essential amino acids refer to those necessary for construction of proteins in the body, although not produced by the body; which amino acids are essential varies from organism to organism.
The sequence and the number of amino acids ultimately determine the protein's shape, size, and function. Each amino acid is attached to another amino acid by a covalent bond, known as a peptide bond , which is formed by a dehydration reaction. The carboxyl group of one amino acid and the amino group of the incoming amino acid combine, releasing a molecule of water. The resulting bond is the peptide bond ( [link] ).