PREREQUISITES FOR THINKING AND LEARNING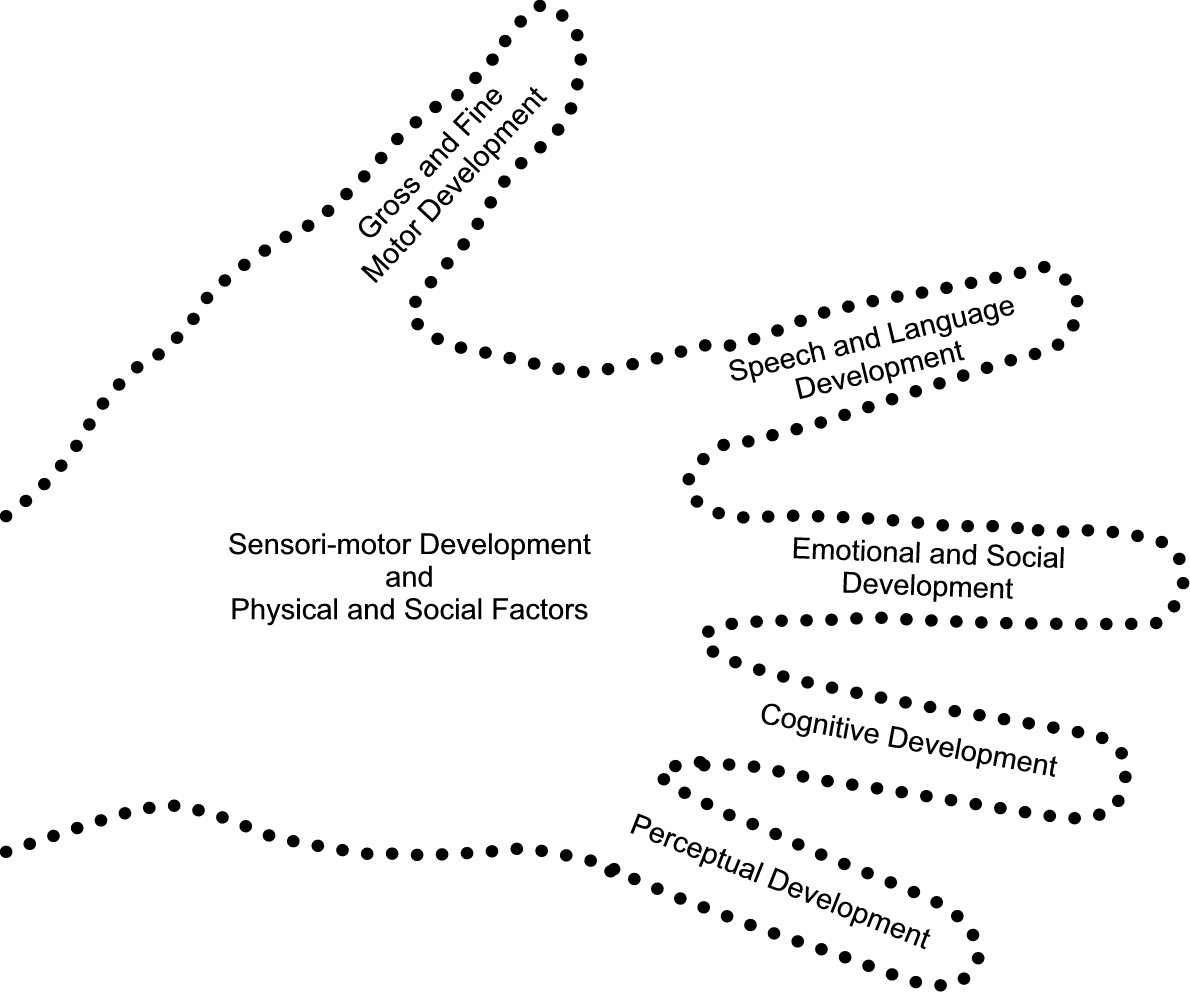 BASIC COMPONENTS OFDEVELOPMENT AND GENERALACTIVITIES THAT STIMULATEDEVELOPMENT
Integration occurs when the above-mentioned basic components of development operate in an integrated manner.
The palm forms the basis for the hand.
The above sketch represents the basic components of development. This is important because it provides information regarding the learner's development.
Sensori-motor development:
Has the learner attained the motor development milestones at the expected age? Are there serious developmental handicaps?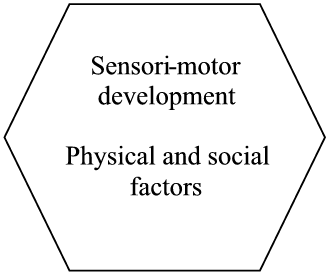 Physical and social factors
Does the learner suffer from any physical disabilities that retard his progress, e.g. deafness? Does the learner have developmental handicaps, e.g. deprivation or differences related to background?

The motor development of the child helps him / her to maintain a healthy and balanced lifestyle. A motor development handicap can lead to tiredness, which may contribute to restlessness, distractibility, poor concentration and problems with coordination. His / her physical body position on the carpet or at the desk may also be unsatisfactory.
GROSS MOTOR SKILLS (coordination of the large muscles of the body)
Examples of activities:
Climbing activities
Jumping activities (ball games and skipping with a rope)
Balancing activities (skipping, balancing on one leg, hopping on one leg, walking along a line)
FINE MOTOR DEVELOPMENT (coordination of the small muscles of the body)
Examples of activities:
Crumpling paper
Using a pair of scissors for cutting, and colouring in
Stringing beads, using clothes-pegs
Playing with clay / tying shoe-laces
MOTOR PLANNING (Understanding instructions with a motor component and the automatic execution of non-habitual tasks)
Poor motor planning can result in poor working tempo and clumsiness and can extend the time that the learner needs to master new learning skills.
SPEECH AND LANGUAGE DEVELOPMENT
Development of verbal language commences at an early age, well before reading and writing are possible. The young child thinks in language and expresses thoughts through language. This is important for social relationships, as well as for academic achievement, and forms part of cognitive development.
Examples of activities:
Retelling of stories / own experiences
Development of vocabulary with the help of excursions followed by appropriate class discussions
Discussion of world events
Songs and rhymes
Correct employment of verbal capability in different situations, e.g. for answering the telephone correctly and communicating a message precisely.
Grade R learners must be able to communicate effectively by means of language, art, movement, music and dramatisation of experienced fantasy.
EMOTIONAL AND SOCIAL DEVELOPMENT

Grade R learners need to be taught a clear code of behaviour and need opportunities to develop pure values and attitudes and a strong moral code to promote relationships within the immediate and wider family and community. They need a variety of social experiences and opportunities to learn to cooperate effectively when they are involved with groups.