LIFE SKILLS
A Learning Programme for Grade R
Module 2
LOGICAL THINKING AND REASONING
EDUCATORS SECTION
Memorandum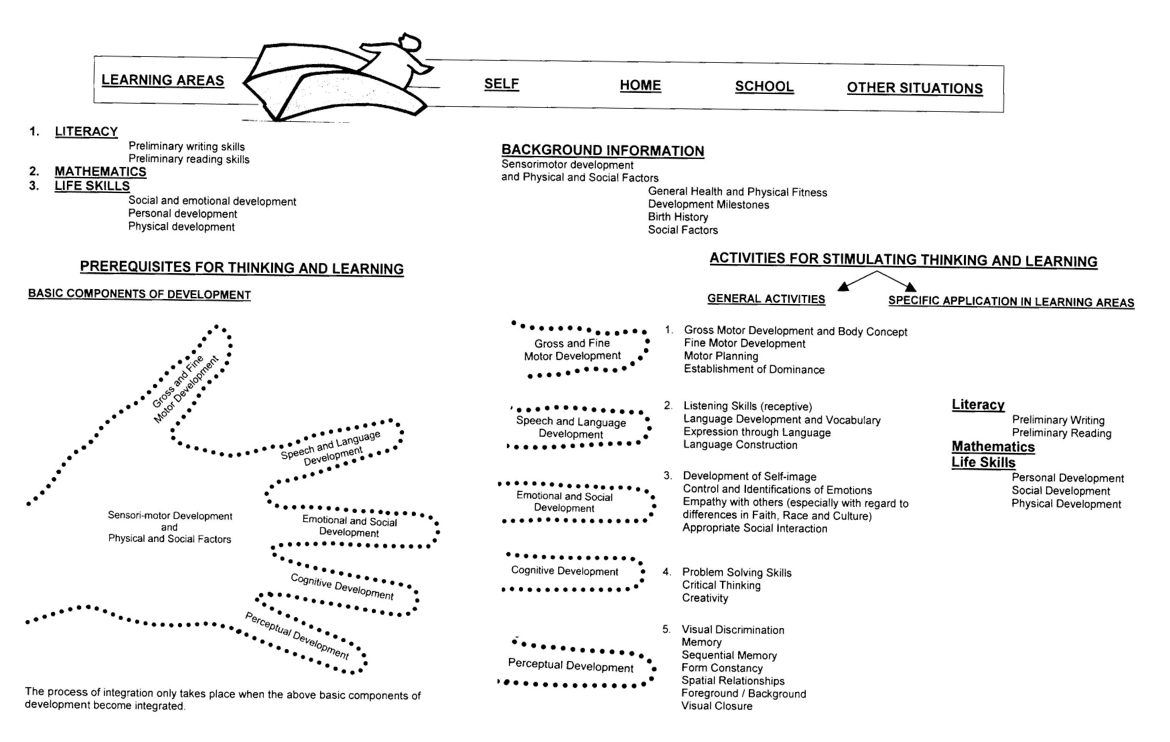 FOR THE EDUCATOR
GUIDELINES FOR THE USE OF THE PROGRAMME
The activities of this programme have been designed in accordance with the requirements of outcomes based education. It therefore provides the learners with opportunities to develop their full potential in becoming active, responsible, fulfilled citizens of a democratic, non-racial and equal society. Grade R provides the bridge between the learner's preschool experiences and the formal school system. Grade R educators use learning outcomes and the accompanying assessment standards to meet the specific needs of their learners. They accordingly plan learning opportunities and activities by which these outcomes can be attained.
The activities in this programme comprise
general activities that are aimed at stimulation of the basic components of development, the prerequisites for thinking and learning;
specific activities that can be applied in the various learning areas (Literacy, Mathematics and Life Skills).
The programme is divided into five modules . The tempo at which learners will complete the first four modules may be determined by the educator. The fifth module is an enrichment module that can be used at the discretion of the educator, but is not suitable for all learners. Each module incorporates all areas of development and reveals an increasing level of difficulty (i.e. it ranges from easy to difficult).
The learning area is indicated in the frame in the upper left-hand corner of each worksheet, while the prerequisite for thinking and learning is indicated in the frame on the right. Specific questions for bridging and assessment are provided at the bottom of the worksheet.
ASSESSMENT
The assessment standards related to the learning content of each module, together with the relevant learning outcomes, are indicated in the module framework of each module, as well as at the beginning of each learning unit. Hereby the educator, as well as the learner and his/her parents, can know what the standards are according to which the continuous assessment of the learner takes place. Each activity and assignment in a learning unit can be assessed. The average mark for the activity that is relevant to each learning outcome is then indicated on the assessment grid, which will indicate the learner's capability profile at the end of each learning unit.
Assessment takes place according to a 4-point scale :
does not complies with the requirements;
complies impart with the requirements;
complies with the requirements;
exceeds the requirements.
An assessment frame that indicates the learning area as well as the learning outcome is included at the top of each worksheet (see the example that follows). This means that the activity must be evaluated according to the relevant learning outcome. The educator must assess the learner's response and mark it according to the 4-point scale.
Example:
An assessment rubric for each of the three learning areas, namely Literacy, Mathematics and Life Skills, is included at the end of each module. The educator considers the results from the preceding assessment frames and indicates an average for the learner's achievement over the longer period on the assessment rubric.