"En hierdie blinkleer stewel behoort seker aan Blink Bennie. Sies, kyk hierdie flenter toiings. Dit moet ou suinige Sarie se skoen wees".
So het hy aangehou en die mense het al hoe kwater geword, totdat hy uiteindelik uitgeroep het: "Aandag dames en here. Die grootste grap is dat almal nou hulle skoene moet kry." Hy het die tou deurgesny en die skoene het op die mense gereën!
Daar tuimel die mense, pa's, ma's, seuns, dogters, oupas en oumas oormekaar en tussen mekaar se bene deur om by hulle skoene te kom. Dis 'n geplukkery en gebakleiery en gerukkery soos wat almal probeer om hulle skoene in die hande te kry.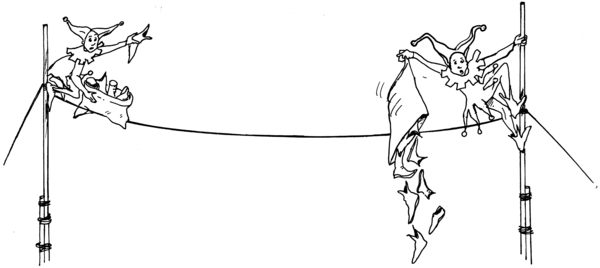 En Uilspieël? Hy het tog te lekker gelag. Vir weke lank daarna kon hy dit egter nie waag om op straat te kom nie. Sy ma was baie bly dat haar seun liewers by die huis wou bly. Sy was mos nie daar toe hy die mense 'n streep getrek het nie en het nie geweet dat hy dit nie kon waag om sy neus by die deur uit te steek nie!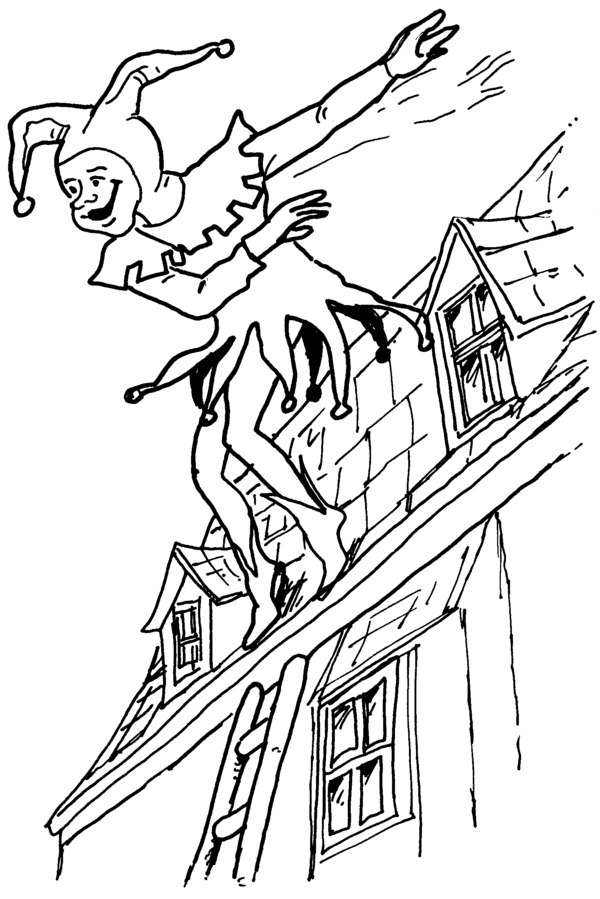 Julle gaan nou ook 'n beurt kry om hierdie verhaal hardop te lees. Onthou, dis 'n humoristiese verhaal en moet met die regte stemtoon en gevoel voorgelees word.
2. Uilspieël kon, deur net na die skoene te kyk, raai aan wie die skoene behoort. Dit is so dat ons skoene en ook ons klere meer omtrent onsself verklap. Is dit skoon, netjies versorg en word dit opgepas?
Gesels gou vir twee minute in julle groepe daaroor!
MONDELING
Julle moet elkeen 'n skoen van die huis af bring. Julle opvoeder sal sorg vir 'n lang tou. Al die skoene word aan die tou geryg deur die vetergaatjies, of andersins vasgemaak aan die tou. Span hierdie tou nou oor die klas of bind dit vas aan twee stoele wat 'n ent uitmekaar staan.
Elkeen kry nou 'n beurt om iets oor 'n skoen te sê. Beskryf eers presies hoe die skoen lyk (kleur, tipe, styl, ens.). Daarna kan jy iets sê oor die toestand waarin die skoen is en laastens aan watter tipe persoon jy dink die skoen behoort. Julle kan ongelukkig nie kies watter skoen julle wil bespreek nie en moet maar in die ry af gaan.
Julle hoef nie langer as 'n minuut te praat nie.
Skryf die name neer van die maats wie se beskrywing na jou mening baie goed was.
3. Kyk na die ses voorwerpe hieronder: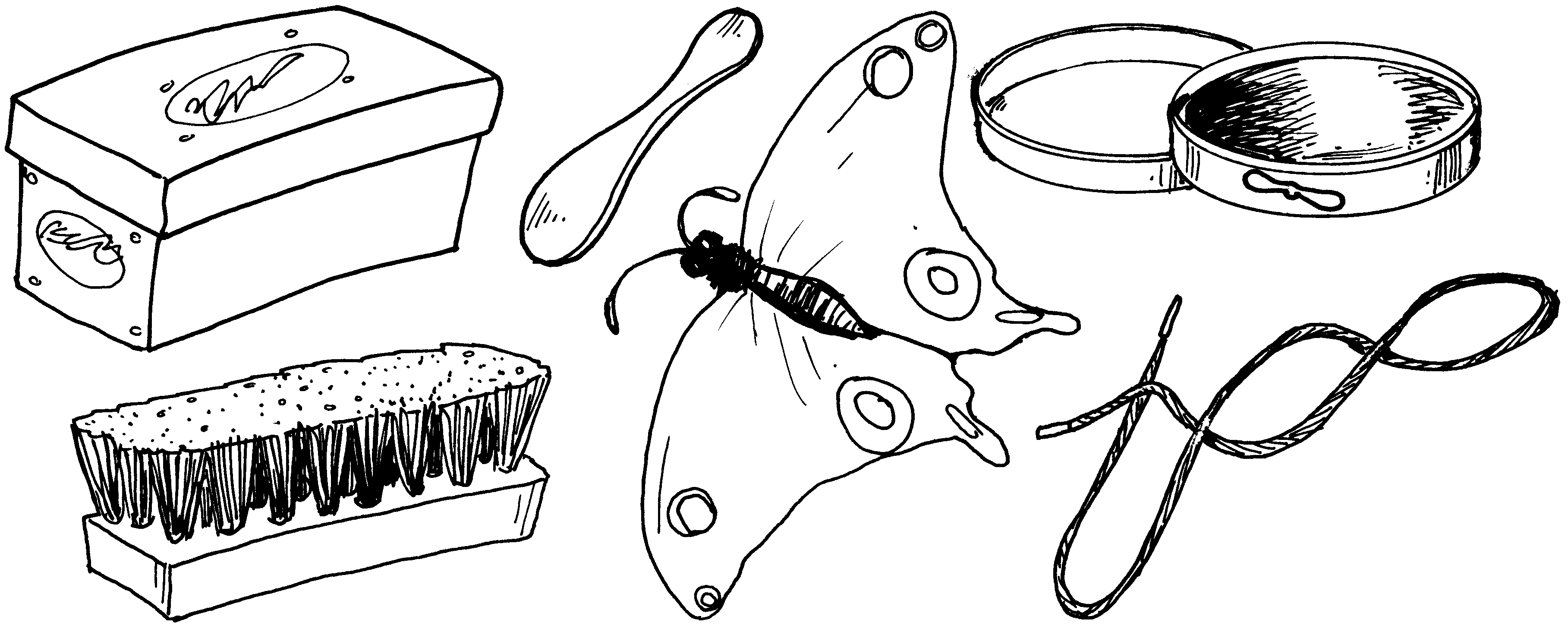 Skryf elke voorwerp se naam neer:

Watter een pas nie? ...............................................................................

Hoekom nie? .............................................................

4.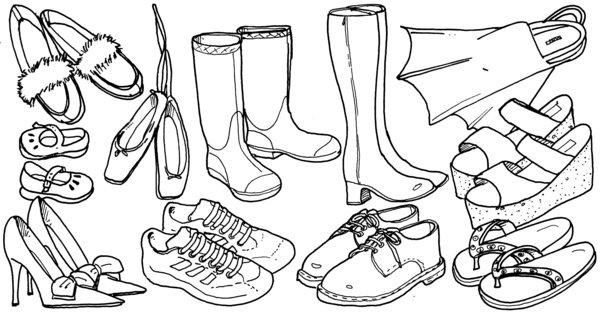 Hier sien julle elf pare skoene. Hulle is egter almal verskillende soorte skoene vir verskillende geleenthede. Kan julle hulle almal identifiseer.
Jy en jou maat kan mekaar help. Twee koppe is altyd beter as een!
Kies nou vir jou enige paar skoene. Sê eers watter tipe skoene dit is. Watter uitrusting sal jy by hierdie skoene dra? Beskryf die uitrusting en die geleentheid of plek waarheen jy hierdie skoene en uitrusting sal dra.
5. Teenoorgestelde geslag
In die leesstuk oor Uilspieël lees ons van "dames en here", ma's en pa's, oupas en oumas, seuns en dogters.
Ons noem dit die teenoorgestelde geslag of manlik en vroulik.