The most important social function of graphic design is to give identity through visual forms. Design therefore creates a "personality" for institutions like schools and businesses, as well as for products and certain groups of people who have shared interests. Over the years literacy for the eye has been created; a commercial alphabet of symbols and styles known to the consumer. Activists use designs to promote certain issues, for example feminism and AIDS, while designers in the subcultures of rave, hip-hop and skateboarding brought about a change in visual literacy through the mixture of styles and symbols of the mass media and city underground.
To which subculture do you belong? Motivate your answer.
To which music do members of the subculture to which you belong, listen? Give examples.
Do members of the subculture to which you belong wear any specific clothes, jewellery or hairstyles? Mention a few examples.
Which brand names are associated with your subculture? Name them.
Exchange information in your group to enable you to complete the table below. If all the members of a group belong to the same subculture, they must do research on other subcultures to be able to complete the table.
| | | | | |
| --- | --- | --- | --- | --- |
| Subculture | Music | Dance(s) | Visual Art | Clothing |
| | | | | |
| | | | | |
| | | | | |
| | | | | |
| | | | | |
As homework, write an essay of between 200 and 250 words (pictures and/or illustrations are not compulsory, but are recommended) on the following topic:
THE INFLUENCE OFART ON CULTURES, LIFE STYLES AND FASHIONS
Activity 2 (Individual)
To design a t-shirt
STEP 1
Draw your design on paper. This first design must represent your subculture. Well-known symbols and brand names may be used, but must be mixed or changed to create an original design. This design can be used for the front and/or the back. A second design must be a repetition of the first, modelled on different lines and simpler, but the two must form a pattern. The second design must be used for the neck, bottom and/or sleeves of the T-shirt.
Example: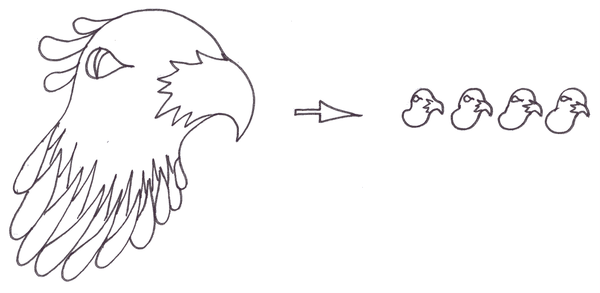 STEP 2
After the preliminary sketches for the second design have been made, the design must be done in coloured pencils or ink on a T-shirt format.
Example: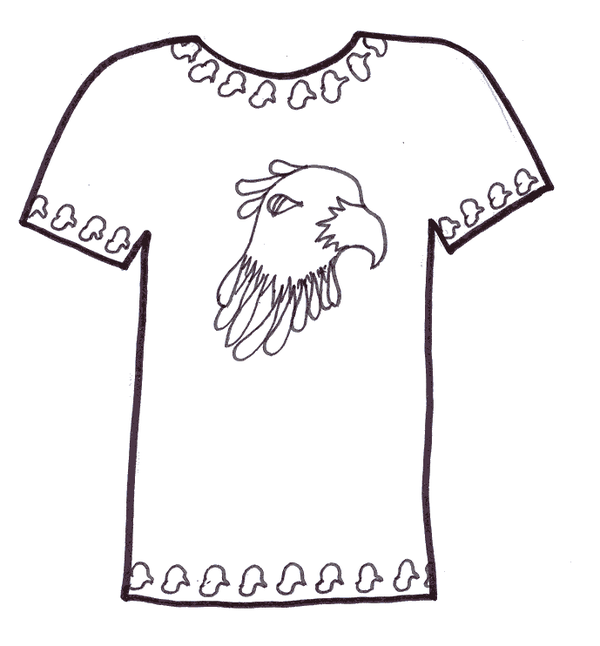 STEP 3 (OPTIONAL)
You may bring old T-shirts from home and use fabric paints to paint the designs on the T-shirts.
Over-arching activity
To integrate the content of the four learning areas you can now present a performance where the rap of Learning Unit 1, is combined with the movement of Learning Unit 3, the characters of Learning Unit 2 and the T-shirt or clothing of Learning Unit 4.
Assessment
Learning Outcome(LOs)
LO 4
expressing and communicatingThe learner will be able to analyse and use multiple forms of communication and expression in Arts and Culture.
Assessment Standards(ASs)
We know this when the learner:
MUSIC
4.3 explains how technology has influenced music over time;
DRAMA
4.2 uses a drama presentation to critique the impact of soap operas, radio shows or other available forms of performance media on people's values and behaviour;
DANCE
4.1 explains how dance is shaped by and reflects the values of the times and is influenced by music, place, fashion and technology;
VISUAL ARTS
4.4 explains how art reflects and affects cultures, lifestyles, beliefs and fashion;
4.5 applies skills of media production, while considering target group, purpose and design elements (e.g. create an advertisement, class newsletter, poster, T-shirt, logo or jingle);
COMPOSITE
4.6 combines individual art forms to create a new form of artistic expression.