Arts and culture
Grade 9
Expression and communication
Module 8
Subcultures in terms of arts and culture
VISUAL ART
Activity 1 (individual/group work)
to IDENTIFY subcultures in terms of arts and culture, and to discuss how they influence fashions
READING THE PASSAGE BELOW AND ANSWER THE QUESTIONS THAT FOLLOW.
A subculture is a subsection of a specific culture. In traditional Western culture, there are several subcultures whose members have their own way of dressing and talking, specific music preferences and a certain type of pastime. Subcultures are not restricted by religious preferences or religions.
The teen culture of today includes a variety of subcultures such as 'ravers', 'skaters', 'surfers', 'punkers', 'grungers', 'metalheads', and 'hackers'.
One of the most popular and influential subcultures amongst teenagers is the hip-hop culture.
During the late 1970's, a new and distinctive sound was heard in the streets of New York. It was the sound of hip-hop and now, more than twenty years later, it has become a world wide cultural force. Hip-hop, to make it simple, is when the DJ mixes rhythmical sections of different albums on the turntable while a rapper raps.
Hip-hop is, however, a culture of its own, with its own language, lyrical style, graffiti, dance movements and clothing.
Just like various other subcultures, hip-hop is not limited to certain cultural groups. It flourishes in cities or rural areas.
Hip-hop fashions feature a variety of colours, styles and creativity. In the hip-hop culture, this is known as 'fragrance' (taste). To have fragrance you have to dress according to the latest fashions. The clothing includes huge, baggy pants, massive sports sweaters, and very expensive training shoes/sneakers, usually Nikes. Other big brand names also associated with hip-hop are Versace, Tommy Hilfiger, Guess en Polo by Ralph Lauren. In 1994 Snoop Doggy Dogg performed in Saturday Night Live dressed in Tommy Hilfiger clothes from top to bottom. The sales of Tommy Hilfiger escalated with $90 million that year. Other rap artists like Q-Tip of A Tribe Called Quest sang in their lyrics, "And others couldn't figga, How me and Hilfigga, Used to move through with vigga."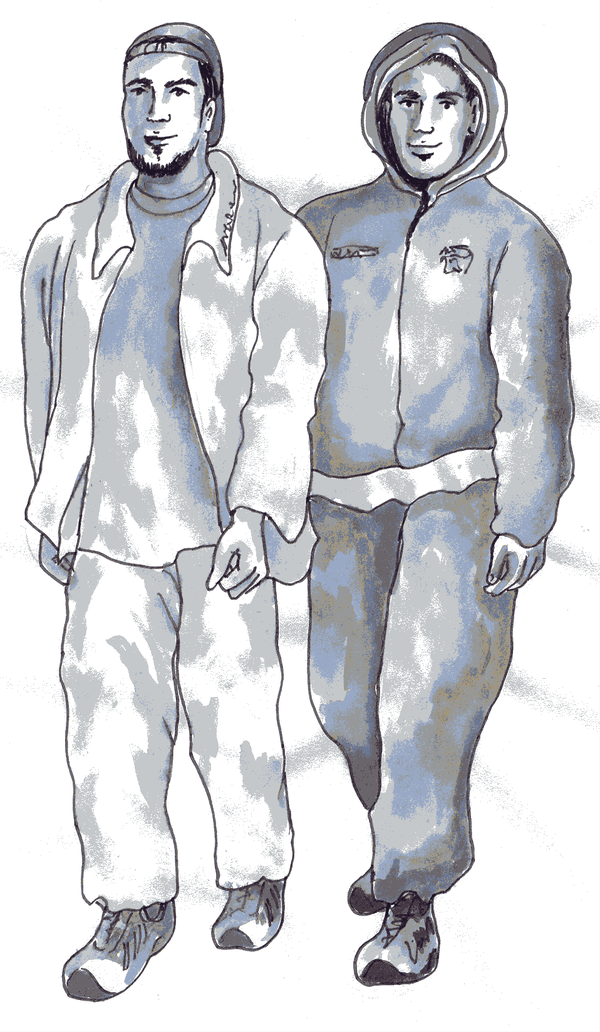 By 1993 the rave culture, which had originated in Manchester England, had become a national phenomenon in the United States. The music for rave, almost like hip-hop, is also a mixture of existing recordings, which are mixed by the DJ. Mike Szabo, a New York raver, summarised the music in the following words: "The music at raves is live. Although the music is pre-recorded, a disk jockey working at the mixing table is performing the music for a live audience." This mixing technique had a huge influence on art, especially graphic design.
Designers increasingly began to manipulate existing images of pictures and letter types. Typical rave designers took the material of advertisements, television, commercial packaging and cartoon strips to provide the manufactures with "new" designs. Designers of flyers often used well-known brand names, which are therefore known to the public, to make fun of and to promote underground quasi "secret" rave events. This process they "borrowed" from Pop Art (a movement of the 1960's and 1970's) and the younger generation in the rave culture "re"-discovered it. They were fascinated by what commercial icons could do to influence the attitude of a subculture.