SALINISATION indicates an increase of natural minerals in water or in the soil. Fresh water becomes saltier when minerals like sodium, potassium, magnesium, chloride, etc. build up in the water because of evaporation. Global calculations show that one million hectares of soil become unsuitable for agricultural use annually because of salinisation.
Rivers do have the capacity to be restored, but the degree of pollution plays an important role in the extent to which complete restoration is possible.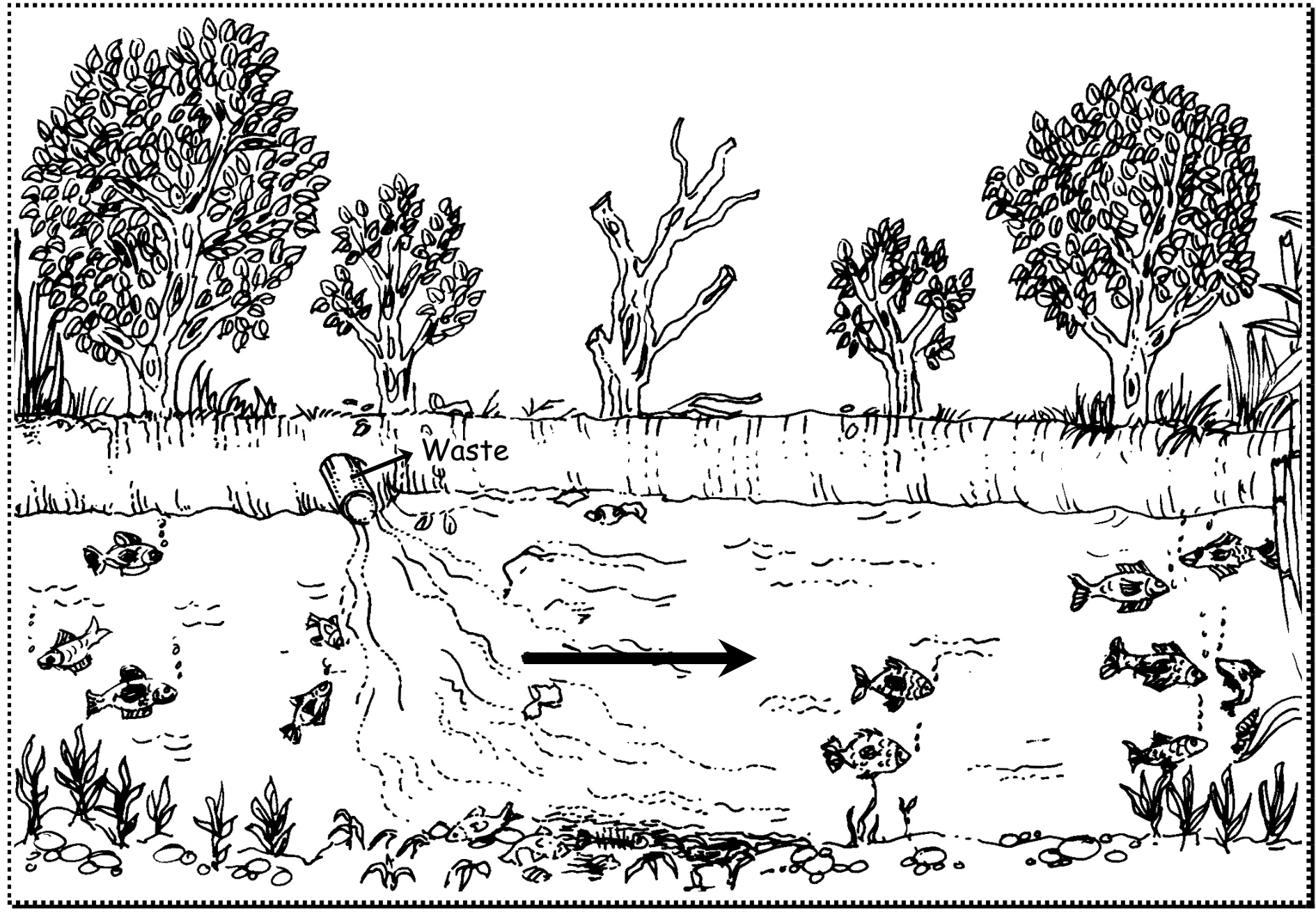 "Self-restoration" of a river
| | | | | |
| --- | --- | --- | --- | --- |
| z | Problems | Serious problems | On the way to recovery | Clear water |
| Much lifeMuch oxygenNo smellClean water | Fungi developLittle oxygenSlightly smellyGrey or dark water | Organisms that do not need oxygenNo oxygenA smell of rotten eggsBlack water | A little sign of lifeA little oxygenSlightly smellyWater becoming clearer | Much lifeSufficient oxygenNo smellClear water |
A river can regain its original unpolluted condition provided that it is not diverted into a canal and that interference by people is not too serious.
ASSIGNMENT 10
Go for a walk along a river. What do you observe? Collect samples of shells, feathers, plants, etc. from along the route, but take care to avoid doing damage. Find out whether some parts of the river are more polluted than other parts and whether there are parts that have been restored after being exposed to pollution.
Write notes in a notebook, take photographs and present your findings to the class.
If you identify an area where the levels of pollution are high, you could also return to it and launch a cleaning operation.

ASSIGNMENT 11
Listen to the song "Acid Rain" by Wendy Oldfield. There are more songs that have messages concerning the environment. Draw up a list of such songs and have a class discussion on the issues that are addressed in them.
ASSIGNMENT 12
Write a composition (280 words) on life in a polluted river.
_____________________________________________________________________
_____________________________________________________________________
_____________________________________________________________________
_____________________________________________________________________
_____________________________________________________________________
_____________________________________________________________________
_____________________________________________________________________
_____________________________________________________________________
_____________________________________________________________________
_____________________________________________________________________
_____________________________________________________________________
_____________________________________________________________________
_____________________________________________________________________
_____________________________________________________________________
_____________________________________________________________________
_____________________________________________________________________
_____________________________________________________________________