Economic models are also readily applied to the behavior of Australian redback spiders. Experiments consistently show that when a male somersaults into the female's mouth (thus inducing cannibalism), the length of the copulation period doubles (Andrade 2003). Male redbacks, like many organisms, can sexually function long after females start to consume them. While females are occupied with their meal, the male profits from 15-20 minutes extra insemination time. Studies show that cannibalized males usually insert emboli twice, and in one experiment, self-sacrificing redbacks fertilized twice the number of eggs as non-eaten males (Andrade 1996). Self-sacrifice also gives males an advantage in terms of sperm competition , because females tend to spurn other males directly after they copulate with, and cannibalize, their first mate (Andrade 2003). In economic terms, the male redback reaps high paternity benefit from increasing the proportion of offspring he sires in the female's brood. Meanwhile, the cost inherent in redback self-sacrifice is extremely low, because males live in a hostile environment that often precludes them from second matings. In fact, there is an 85% mortality rate for males after they leave natal webs [Chart 1], so each male is destined to encounter very few females during his lifetime (Andrade 2003). Therefore, the fitness benefit to post-copulation survivorship is low (Andrade 1997). Based on economic models, male complicity in redbacks makes sense.
Success at finding a mate in male australian redback spiders: surviving versus perishing on trip to find mate (modified from andrade 2003).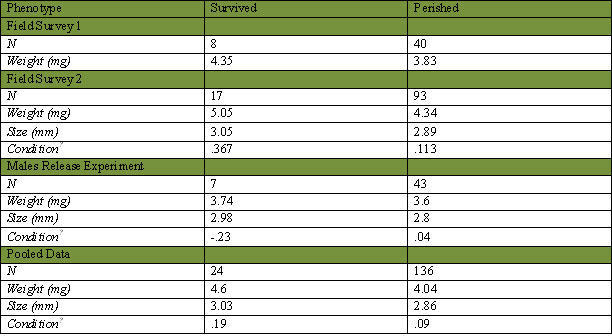 Weight and size values are mean. n represents total number of organisms monitored in given trial. "Residuals from a regression of male weight on size. Weight/size regressions were highly significant ( ) (Andrade 2003)
Economic models are further verified by evidence from the orb-weaving spider. Males of the genus Argiope often die directly after copulation, regardless of female cannibalism (Sasaki and Iwahashi 1995). In the species Argiope aurantia , mating triggers the inflation of the male's second palp when increased haemolymph pressure causes its distal bulb to expand. Palp swelling catalyzes a cascade of reactions that culminates in the male's death 15 minutes later (Foellmer and Fairbairn 2003). Since the male willingly engages in mating and evolution has not selected against the spontaneous death mechanism, terminal reproductive investment appears ultimately beneficial. It is unusual to think of dying as a prime fitness strategy, but two morbid processes actually benefit males. The first is familiar: the male soma provides nutrients to the female and increases the quantity and quality of her offspring. Additionally, the dead male can prevent female polyandry. Several male spiders often wrestle vigorously for access to a mate, and even try to dislodge males already in the copulatory position. If the mating male's pedipalp is in the inflated state, he is more difficult to remove, so his corpse serves as a genital plug to block his rivals' access to the female (Foellmer and Fairbairn 2003). Thus, evidence from the orb-weaving spider indicates that the costs of foregoing future mating opportunities can be overcome by the direct benefit of increased female nutrition and the male's confidence in paternity .