Mating interactions are prime arenas for adaptation/counteradaptation, since they often involve a conflict of interest between the sexes. Males evolve traits that promote their confidence in paternity and sperm viability, while females develop mechanisms for selecting only optimum sperm (sexual selection)(Siller 2001). While sexual selection is easily recognized before mating (females choose to mate with males who display attractive characteristics and/or fitness indicators), it can also occur post-insemination through sperm ejection or a mechanism called cryptic female choice-the differential selection at the hidden level of the gamete(Eberhard 2000). Cryptic female choice can be passive, as when eggs are fertilized by sperm that win the "race" to the gamete. Or, the choice can be active: a female's sperm storage system can be designed to give priority to the last sperm she receives, allowing her to annul the representation of previous mates if she meets a superior male (Eberhard 2004).
One intriguing example of cryptic female choice exists in Australian redback spiders. The female redback has developed multiple sperm storage sites, which promote post-copulatory sperm management by the female. The male has two palpal emboli, so he could potentially inseminate both sites (the fitness optimizing strategy for males), but the larger female can physically control where the male injects sperm (in one or two sites, or in an empty site versus one occupied by previous males' sperm) (Andrade and Snow 2005).
The male redback thus appears at a disadvantage for two reasons. Firstly, if he manages the rare deal of finding a mate, his control over paternity is minimal. Also, if takes more time to inseminate two sites as opposed to one, and females usually cannibalize doubly inserting males before copulation is complete (Andrade and Snow 2005). Thus, the male redback has developed an important counteradaptation: a constriction of the abdominal exoskeleton during mating that protects male organs from wounds inflicted by the female mandible. In one study, males displaying constriction had improved survival, heightened physical endurance, and greater mating success with new males (Andrade and Snow 2005). Multiple sperm storage units in females and the constriction mechanism in males illustrate how mating interactions can disproportionately benefit a single sex, driving a progression of counteradaptations.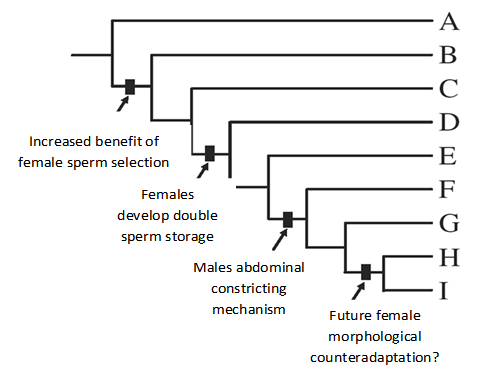 The question of female fecundity benefit
Even a conflict of interest hypothesis, a claim that females gain disproportionate benefits from eating males, is insufficient to explain the majority of sexual cannibalism cases. The behavior is prominently observed in spider species that are highly sexual size dimorphic , such as wolf spiders. In contrast with mantises, male spiders are frequently diminutive compared to females. The consumption of male bodies can contribute little substance to the mother's nutrient store, so cannibalism does not measurably increase female body condition or ootheca mass (Wilder and Rypstra 2008). If female fecundity does not increase from sexual cannibalism (which obviously precludes the male from gaining fitness), then how can this behavior have evolved? Perhaps there is a context in which males alone profit from their own self-sacrifice.