Sosiale wetenskappe: aardrykskunde
Graad 7
Natuurgevare
Module 5
Droogtes
1. Droogtes
1.1 Die voorkoms en ontstaan van droogtes
1.1.1 Wat is droogtes?
'n Droogte is 'n aanhoudende en langdurige tydperk waartydens daar geen neerslag voorkom nie. Dit hang dus saam met 'n gebrek aan water, maar dit lei nie altyd tot 'n ramp nie. Dit is die verhouding tussen die gemeenskap en sy omgewing wat bepaal of 'n droogte in 'n ramp sal ontaard of nie. Eenmalige droogtes kom selde skielik voor. Dit bekruip 'n gemeenskap gewoonlik oor 'n tydperk van jare.
1.1.2 Waar kom droogtes voor?
Bestudeer figuur 1 op bl. 2. Dit is 'n wêreldkaart wat aandui waar die meeste droogtes voorkom. Jy sal opmerk dat sekere lande meer deur droogtes getref word as ander, maar dat die Afrika-kontinent, Indië, China, Suid-Amerika en Australië die swaarste gebuk gaan onder ernstige droogtes.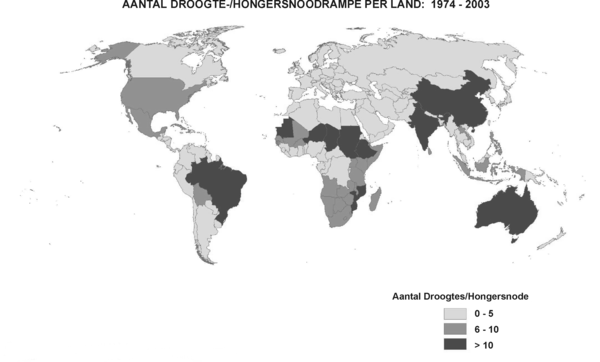 Aktiwiteit 1:
Om die droë streke van suid-afrika te bestudeer
[lu 2.1]
Bestudeer figuur 2 oor die droë streke van Suid-Afrika en beantwoord dan die vrae wat volg.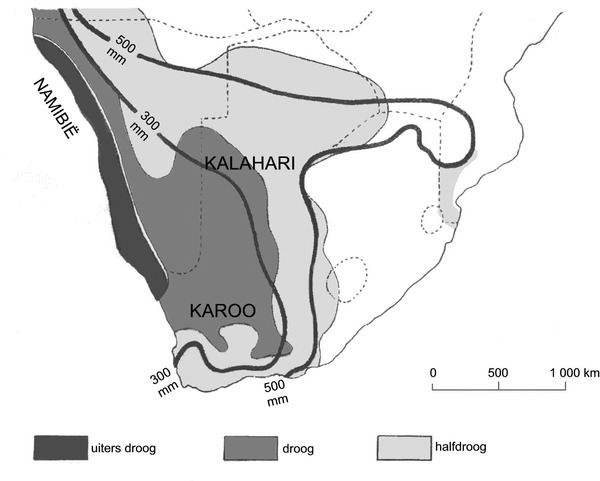 a) Maak 'n skatting watter persentasie van Suid-Afrika 'n neerslag van minder as 500 mm per jaar kry.
b) Waar in Suid-Afrika is die waarskynlikheid die grootste dat droogtes sal voorkom? Hoekom?
c) Waar in Suid-Afrika is dit die minste waarskynlik dat droogtes sal voorkom? Hoekom?
d) Noem die maniere waarop 'n boer in die Noord-Kaap voorsorg kan tref vir toekomstige droogtes.
1.1.3 Wat veroorsaak droogtes?
Water is noodsaaklik vir lewe op aarde. 'n Droogte ontstaan as gevolg van 'n tekort aan water. Baie mense dink dat 'n droogte net ontstaan omdat dit nie reën nie. 'n Afname in neerslag veroorsaak wel droogtes, maar dit is nie die enigste oorsaak nie.
Bestudeer tabel 1 wat aantoon hoe ander faktore rampspoedige toestande wat met droogtes verband hou, kan veroorsaak.
Tabel 1:

Klimaatsverandering het dus wel te doen met droogtes, maar swak omgewingsbestuur het 'n groter invloed op die rampspoedige invloed van 'n droogte.
1.2 Die uitwerking (gevolge) van droogtes op die lewens van mense en hul sosio-ekonomiese aktiwiteite
Gedurende 'n tydperk van ongeveer 10 jaar word ongeveer 60 miljoen mense wêreldwyd deur droogtes geaffekteer en hierdie syfer is steeds besig om te styg. In die 1990's is 35 miljoen mense in Afrika alleen deur droogtes geraak. Wat sal die situasie wees in die jare wat voorlê?
Bestudeer die volgende lys van gevolge van droogtes:
geen wisselbou
misoeste
hongersnood: minder voedsel geproduseer
lewensverlies
putte droog op as gevolg van verlaagde watertafel
lewende hawe word op groot skaal geslag: vleispryse daal
hidro-elektriese aanlegte kan ophou werk: kragpryse styg
ongeskoolde arbeiders verdien min inkomste: armoede
waterbeperkings word ingestel
nywerhede word deur 'n gebrek aan water benadeel
plantegroei vrek en verdwyn
stofkomme ontstaan op kaal grond en lugbesoedeling vererger
werkers verloor hul poste en het geen inkomste om van te lewe nie: werkloosheid veroorsaak misdaad
groeiende bevolking plaas meer druk op die omgewing en 'n rampspoedige mallemeule ontwikkel