With so many jobs being outsourced or eliminated by automation, what kind of jobs are there a demand for in the United States? While fishing and forestry jobs are in decline, in several markets jobs are increasing. These include community and social service, personal care and service, finance, computer and information services, and health care. The chart below, from the U.S. Bureau of Labor Statistics, illustrates areas of projected growth.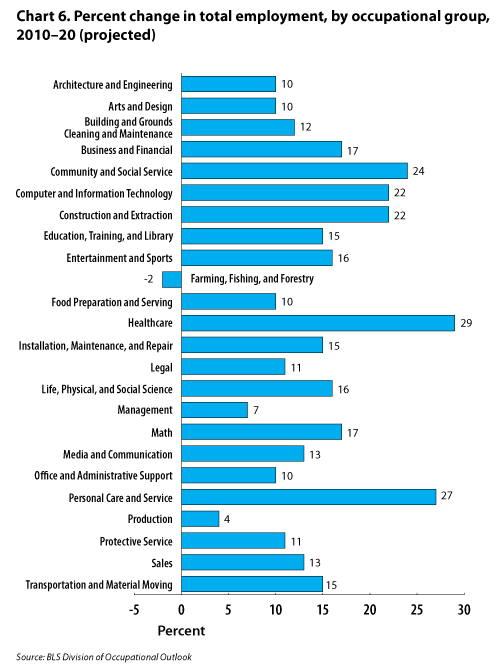 The professional and related jobs, which include any number of positions, typically require significant education and training and tend to be lucrative career choices. Service jobs, according to the Bureau of Labor Statistics, can include everything from jobs with the fire department to jobs scooping ice cream (Bureau of Labor Statistics 2010). There is a wide variety of training needed, and therefore an equally large wage potential discrepancy. One of the largest areas of growth by industry, rather than by occupational group (as seen above), is in the health field. This growth is across occupations, from associate-level nurse's aides to management-level assisted-living staff. As baby boomers age, they are living longer than any generation before, and the growth of this population segment requires an increase in capacity throughout our country's elder care system, from home health care nursing to geriatric nutrition.
Notably, jobs in farming are in decline. This is an area where those with less education traditionally could be assured of finding steady, if low-wage, work. With these jobs disappearing, more and more workers will find themselves untrained for the types of employment that are available.
Another projected trend in employment relates to the level of education and training required to gain and keep a job. As the chart below shows us, growth rates are higher for those with more education. Those with a professional degree or a master's degree may expect job growth of 20 and 22 percent respectively, and jobs that require a bachelor's degree are projected to grow 17 percent. At the other end of the spectrum, jobs that require a high school diploma or equivalent are projected to grow at only 12 percent, while jobs that require less than a high school diploma will grow 14 percent. Quite simply, without a degree, it will be more difficult to find a job. It is worth noting that these projections are based on overall growth across all occupation categories, so obviously there will be variations within different occupational areas. However, once again, those who are the least educated will be the ones least able to fulfill the American Dream.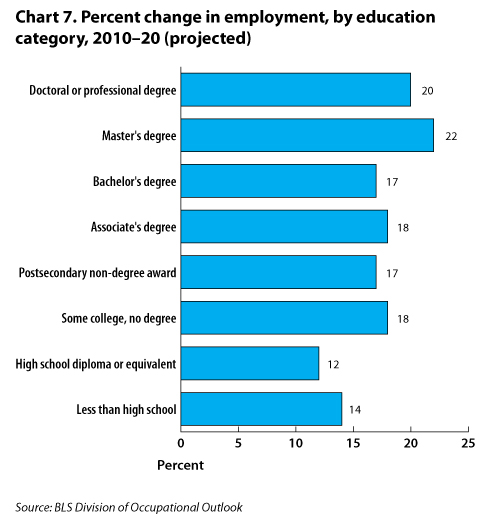 In the past, rising education levels in the United States had been able to keep pace with the rise in the number of education-dependent jobs. However, since the late 1970s, men have been enrolling in college at a lower rate than women, and graduating at a rate of almost 10 percent less. The lack of male candidates reaching the education levels needed for skilled positions has opened opportunities for women, minorities, and immigrants (Wang 2011).