Potential energy is not only associated with the location of matter (such as a child sitting on a tree branch), but also with the structure of matter. A spring on the ground has potential energy if it is compressed; so does a rubber band that is pulled taut. The very existence of living cells relies heavily on structural potential energy. On a chemical level, the bonds that hold the atoms of molecules together have potential energy. Remember that anabolic cellular pathways require energy to synthesize complex molecules from simpler ones, and catabolic pathways release energy when complex molecules are broken down. The fact that energy can be released by the breakdown of certain chemical bonds implies that those bonds have potential energy. In fact, there is potential energy stored within the bonds of all the food molecules we eat, which is eventually harnessed for use. This is because these bonds can release energy when broken. The type of potential energy that exists within chemical bonds, and is released when those bonds are broken, is called chemical energy ( [link] ). Chemical energy is responsible for providing living cells with energy from food. The release of energy is brought about by breaking the molecular bonds within fuel molecules.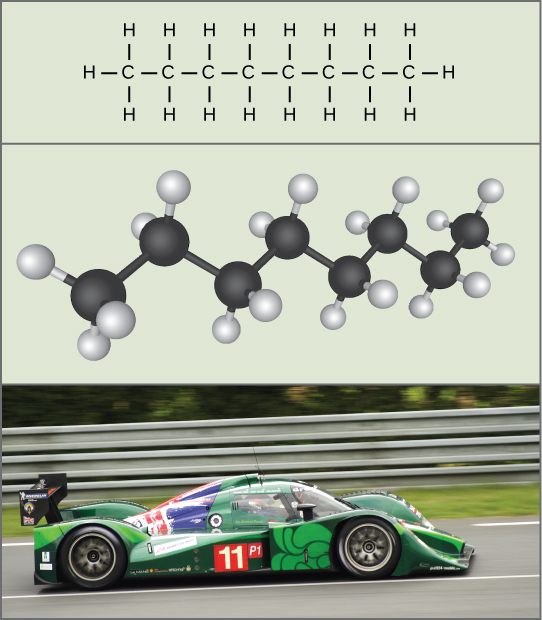 Free energy
After learning that chemical reactions release energy when energy-storing bonds are broken, an important next question is how is the energy associated with chemical reactions quantified and expressed? How can the energy released from one reaction be compared to that of another reaction? A measurement of free energy is used to quantitate these energy transfers. Free energy is called Gibbs free energy (abbreviated with the letter G) after Josiah Willard Gibbs, the scientist who developed the measurement. Recall that according to the second law of thermodynamics, all energy transfers involve the loss of some amount of energy in an unusable form such as heat, resulting in entropy. Gibbs free energy specifically refers to the energy associated with a chemical reaction that is available after entropy is accounted for. In other words, Gibbs free energy is usable energy, or energy that is available to do work. So, every chemical reaction involves a change in free energy, called delta G (∆G).
Endergonic reactions and exergonic reactions
If energy is released during a chemical reaction, then the resulting value from the above equation will be a negative number. In other words, reactions that release energy have a ∆G<0. A negative ∆G also means that the products of the reaction have less free energy than the reactants, because they gave off some free energy during the reaction. Reactions that have a negative ∆G and consequently release free energy are called exergonic reactions . Think: ex ergonic means energy is ex iting the system. These reactions are also referred to as spontaneous reactions, because they can occur without the addition of energy into the system. Understanding which chemical reactions are spontaneous and release free energy is extremely useful for biologists, because these reactions can be harnessed to perform work inside the cell. An important distinction must be drawn between the term spontaneous and the idea of a chemical reaction that occurs immediately. Contrary to the everyday use of the term, a spontaneous reaction is not one that suddenly or quickly occurs. The rusting of iron is an example of a spontaneous reaction that occurs slowly, little by little, over time.