Building phylogenetic trees
How do scientists construct phylogenetic trees? After the homologous and analogous traits are sorted, scientists often organize the homologous traits using a system called cladistics . This system sorts organisms into clades: groups of organisms that descended from a single ancestor. For example, in [link] , all of the organisms in the orange region evolved from a single ancestor that had amniotic eggs. Consequently, all of these organisms also have amniotic eggs and make a single clade, also called a monophyletic group . Clades must include all of the descendants from a branch point.
Art connection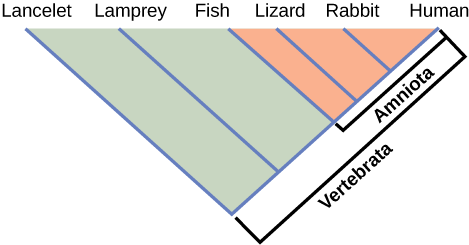 Which animals in this figure belong to a clade that includes animals with hair? Which evolved first, hair or the amniotic egg?
Clades can vary in size depending on which branch point is being referenced. The important factor is that all of the organisms in the clade or monophyletic group stem from a single point on the tree. This can be remembered because monophyletic breaks down into "mono," meaning one, and "phyletic," meaning evolutionary relationship. [link] shows various examples of clades. Notice how each clade comes from a single point, whereas the non-clade groups show branches that do not share a single point.
Art connection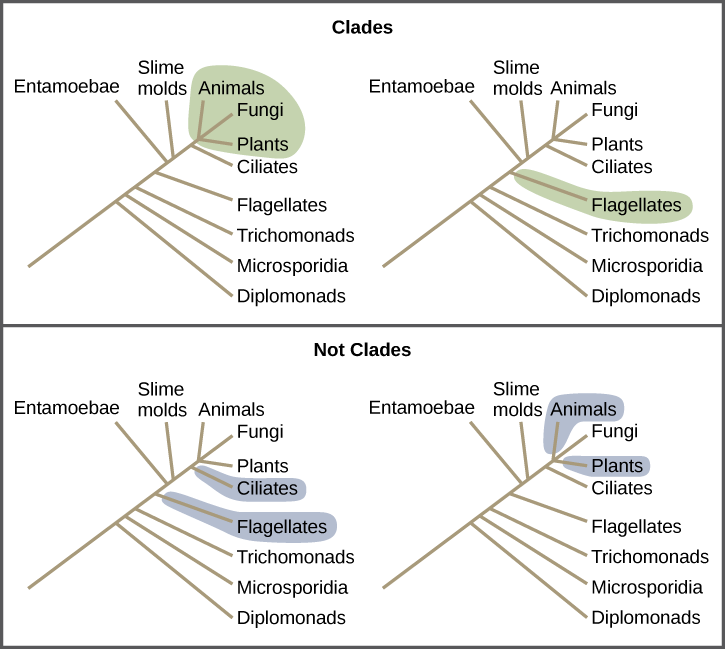 What is the largest clade in this diagram?
Shared characteristics
Organisms evolve from common ancestors and then diversify. Scientists use the phrase "descent with modification" because even though related organisms have many of the same characteristics and genetic codes, changes occur. This pattern repeats over and over as one goes through the phylogenetic tree of life:
A change in the genetic makeup of an organism leads to a new trait which becomes prevalent in the group.
Many organisms descend from this point and have this trait.
New variations continue to arise: some are adaptive and persist, leading to new traits.
With new traits, a new branch point is determined (go back to step 1 and repeat).
If a characteristic is found in the ancestor of a group, it is considered a shared ancestral character because all of the organisms in the taxon or clade have that trait. The vertebrate in [link] is a shared ancestral character. Now consider the amniotic egg characteristic in the same figure. Only some of the organisms in [link] have this trait, and to those that do, it is called a shared derived character because this trait derived at some point but does not include all of the ancestors in the tree.