Fires, mainly caused by lightning, are a natural disturbance in temperate grasslands. When fire is suppressed in temperate grasslands, the vegetation eventually converts to scrub and dense forests. Often, the restoration or management of temperate grasslands requires the use of controlled burns to suppress the growth of trees and maintain the grasses.
Temperate forests
Temperate forests are the most common biome in eastern North America, Western Europe, Eastern Asia, Chile, and New Zealand ( [link] ). This biome is found throughout mid-latitude regions. Temperatures range between -30 °C and 30 °C (-22 °F to 86 °F) and drop to below freezing on an annual basis. These temperatures mean that temperate forests have defined growing seasons during the spring, summer, and early fall. Precipitation is relatively constant throughout the year and ranges between 75 cm and 150 cm (29.5–59 in).
Because of the moderate annual rainfall and temperatures, deciduous trees are the dominant plant in this biome ( [link] ). Deciduous trees lose their leaves each fall and remain leafless in the winter. Thus, no photosynthesis occurs in the deciduous trees during the dormant winter period. Each spring, new leaves appear as the temperature increases. Because of the dormant period, the net primary productivity of temperate forests is less than that of tropical wet forests. In addition, temperate forests show less diversity of tree species than tropical wet forest biomes.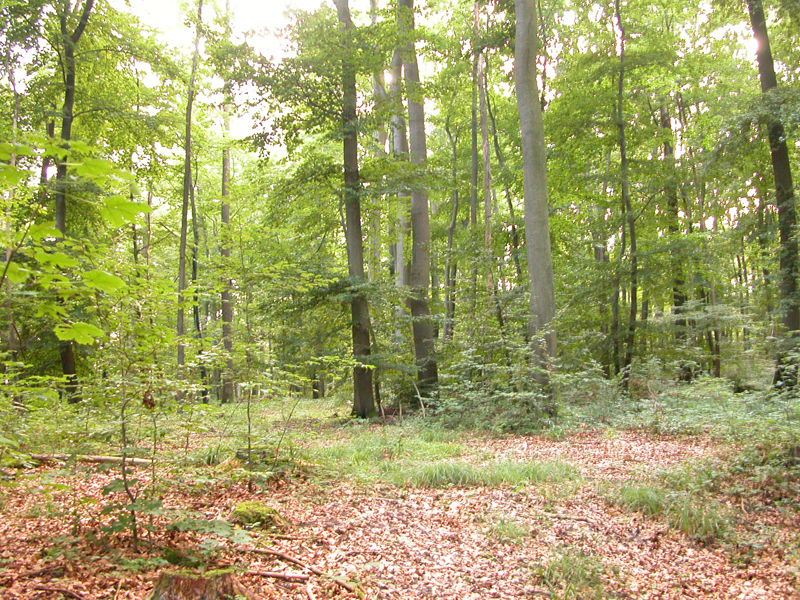 The trees of the temperate forests leaf out and shade much of the ground; however, this biome is more open than tropical wet forests because trees in the temperate forests do not grow as tall as the trees in tropical wet forests. The soils of the temperate forests are rich in inorganic and organic nutrients. This is due to the thick layer of leaf litter on forest floors. As this leaf litter decays, nutrients are returned to the soil. The leaf litter also protects soil from erosion, insulates the ground, and provides habitats for invertebrates (such as the pill bug or roly-poly, Armadillidium vulgare ) and their predators, such as the red-backed salamander ( Plethodon cinereus ).
Boreal forests
The boreal forest, also known as taiga or coniferous forest, is found south of the Arctic Circle and across most of Canada, Alaska, Russia, and northern Europe ( [link] ). This biome has cold, dry winters and short, cool, wet summers. The annual precipitation is from 40 cm to 100 cm (15.7–39 in) and usually takes the form of snow. Little evaporation occurs because of the cold temperatures.
The long and cold winters in the boreal forest have led to the predominance of cold-tolerant cone-bearing plants. These are evergreen coniferous trees like pines, spruce, and fir, which retain their needle-shaped leaves year-round. Evergreen trees can photosynthesize earlier in the spring than deciduous trees because less energy from the sun is required to warm a needle-like leaf than a broad leaf. This benefits evergreen trees, which grow faster than deciduous trees in the boreal forest. In addition, soils in boreal forest regions tend to be acidic with little available nitrogen. Leaves are a nitrogen-rich structure and deciduous trees must produce a new set of these nitrogen-rich structures each year. Therefore, coniferous trees that retain nitrogen-rich needles may have a competitive advantage over the broad-leafed deciduous trees.