These laws against discrimination have reduced the gender wage gap. A study by the Department of Labor in 2007 compared salaries of men and women who have similar educational achievement, work experience, and occupation and found that the gender wage gap is only 5%.
In the case of the earnings gap between blacks and whites (and also between Hispanics and whites), probably the single largest step that could be taken at this point in U.S. history to close the earnings gap would be to reduce the gap in educational achievement. Part of the answer to this issue involves finding ways to improve the performance of schools, which is a highly controversial topic in itself. In addition, the education gap is unlikely to close unless black and Hispanic families and peer groups strengthen their culture of support for educational achievement.
Affirmative action is the name given to active efforts by government or businesses that give special rights to minorities in hiring and promotion to make up for past discrimination. Affirmative action, in its limited and not especially controversial form, means making an effort to reach out to a broader range of minority candidates for jobs. In its more aggressive and controversial form, affirmative action required government and companies to hire a specific number or percentage of minority employees. However, the U.S. Supreme Court has ruled against state affirmative action laws. Today, affirmative action policies are applied only to federal contractors who have lost a discrimination lawsuit. This type of redress is enforced by the federal Equal Employment Opportunity Commission (EEOC) .
An increasingly diverse workforce
Racial and ethnic diversity is on the rise in the U.S. population and work force. As [link] shows, while the white Americans composed 78% of the population in 2012, the U.S. Bureau of the Census projects that whites will be 69% of the U.S. population by 2060. The proportion of U.S. citizens who are of Hispanic background is predicted to rise substantially. Moreover, in addition to expected changes in the population, diversity is being increased in the workforce as the women who entered the workforce in the 1970s and 1980s are now moving up the promotion ladders within their organizations.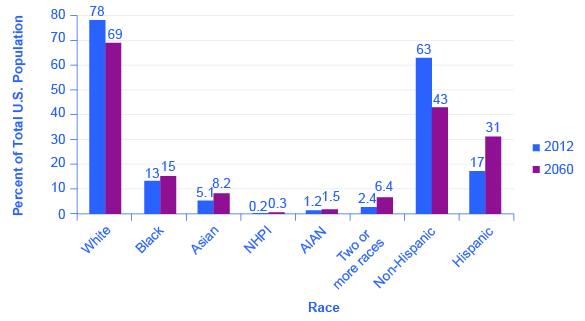 Fortune-telling is not economics, but it still can be clarifying to speculate about the future. Optimists argue that the growing proportions of minority workers will knock over remaining discriminatory barriers. The economy will benefit as an increasing proportion of workers from traditionally disadvantaged groups have a greater opportunity to fulfill their potential. Pessimists worry that the social tensions between men and women and between ethnic groups will rise and that workers will be less productive as a result. Anti-discrimination policy, at its best, seeks to help society move toward the more optimistic outcome.