The carbon cycle is most easily studied as two interconnected sub-cycles: one dealing with rapid carbon exchange among living organisms and the other dealing with the long-term cycling of carbon through geologic processes. The entire carbon cycle is shown in [link] .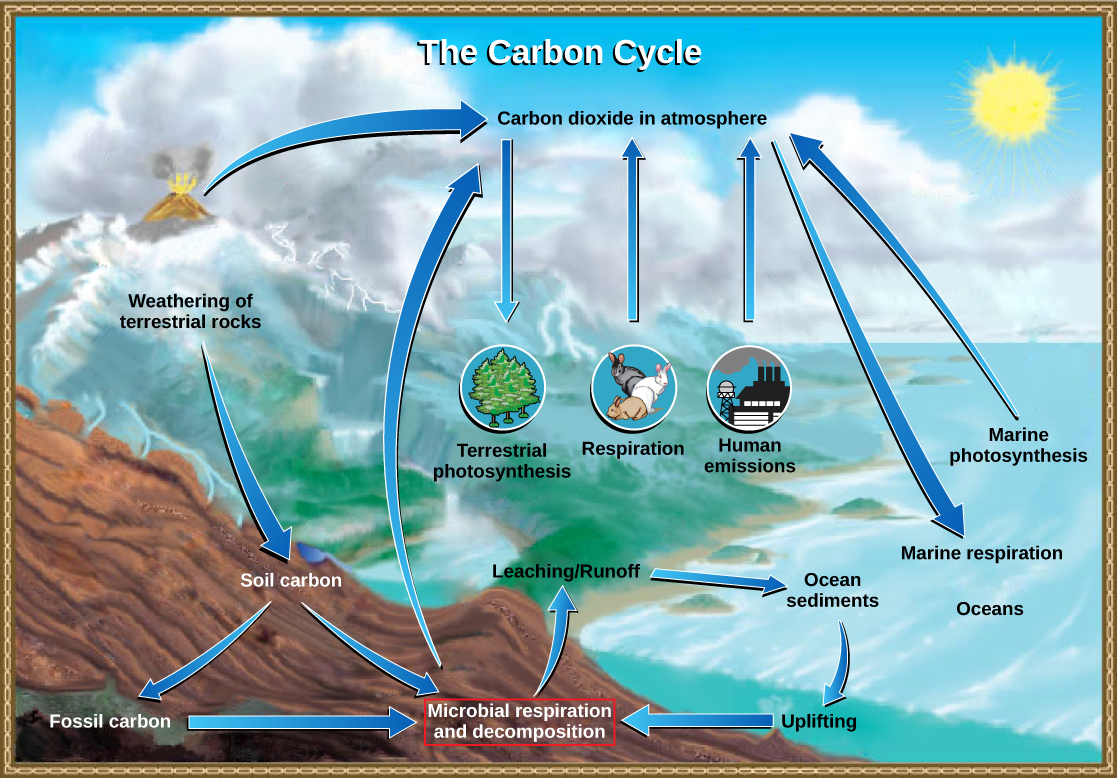 Link to learning
Click this link to read information about the United States Carbon Cycle Science Program.
The biological carbon cycle
Living organisms are connected in many ways, even between ecosystems. A good example of this connection is the exchange of carbon between autotrophs and heterotrophs within and between ecosystems by way of atmospheric carbon dioxide. Carbon dioxide is the basic building block that most autotrophs use to build multi-carbon, high energy compounds, such as glucose. The energy harnessed from the sun is used by these organisms to form the covalent bonds that link carbon atoms together. These chemical bonds thereby store this energy for later use in the process of respiration. Most terrestrial autotrophs obtain their carbon dioxide directly from the atmosphere, while marine autotrophs acquire it in the dissolved form (carbonic acid, H 2 CO 3 − ). However carbon dioxide is acquired, a by-product of the process is oxygen. The photosynthetic organisms are responsible for depositing approximately 21 percent oxygen content of the atmosphere that we observe today.
Heterotrophs and autotrophs are partners in biological carbon exchange (especially the primary consumers, largely herbivores). Heterotrophs acquire the high-energy carbon compounds from the autotrophs by consuming them, and breaking them down by respiration to obtain cellular energy, such as ATP. The most efficient type of respiration, aerobic respiration, requires oxygen obtained from the atmosphere or dissolved in water. Thus, there is a constant exchange of oxygen and carbon dioxide between the autotrophs (which need the carbon) and the heterotrophs (which need the oxygen). Gas exchange through the atmosphere and water is one way that the carbon cycle connects all living organisms on Earth.
The biogeochemical carbon cycle
The movement of carbon through the land, water, and air is complex, and in many cases, it occurs much more slowly geologically than as seen between living organisms. Carbon is stored for long periods in what are known as carbon reservoirs, which include the atmosphere, bodies of liquid water (mostly oceans), ocean sediment, soil, land sediments (including fossil fuels), and the Earth's interior.
As stated, the atmosphere is a major reservoir of carbon in the form of carbon dioxide and is essential to the process of photosynthesis. The level of carbon dioxide in the atmosphere is greatly influenced by the reservoir of carbon in the oceans. The exchange of carbon between the atmosphere and water reservoirs influences how much carbon is found in each location, and each one affects the other reciprocally. Carbon dioxide (CO 2 ) from the atmosphere dissolves in water and combines with water molecules to form carbonic acid, and then it ionizes to carbonate and bicarbonate ions ( [link] )