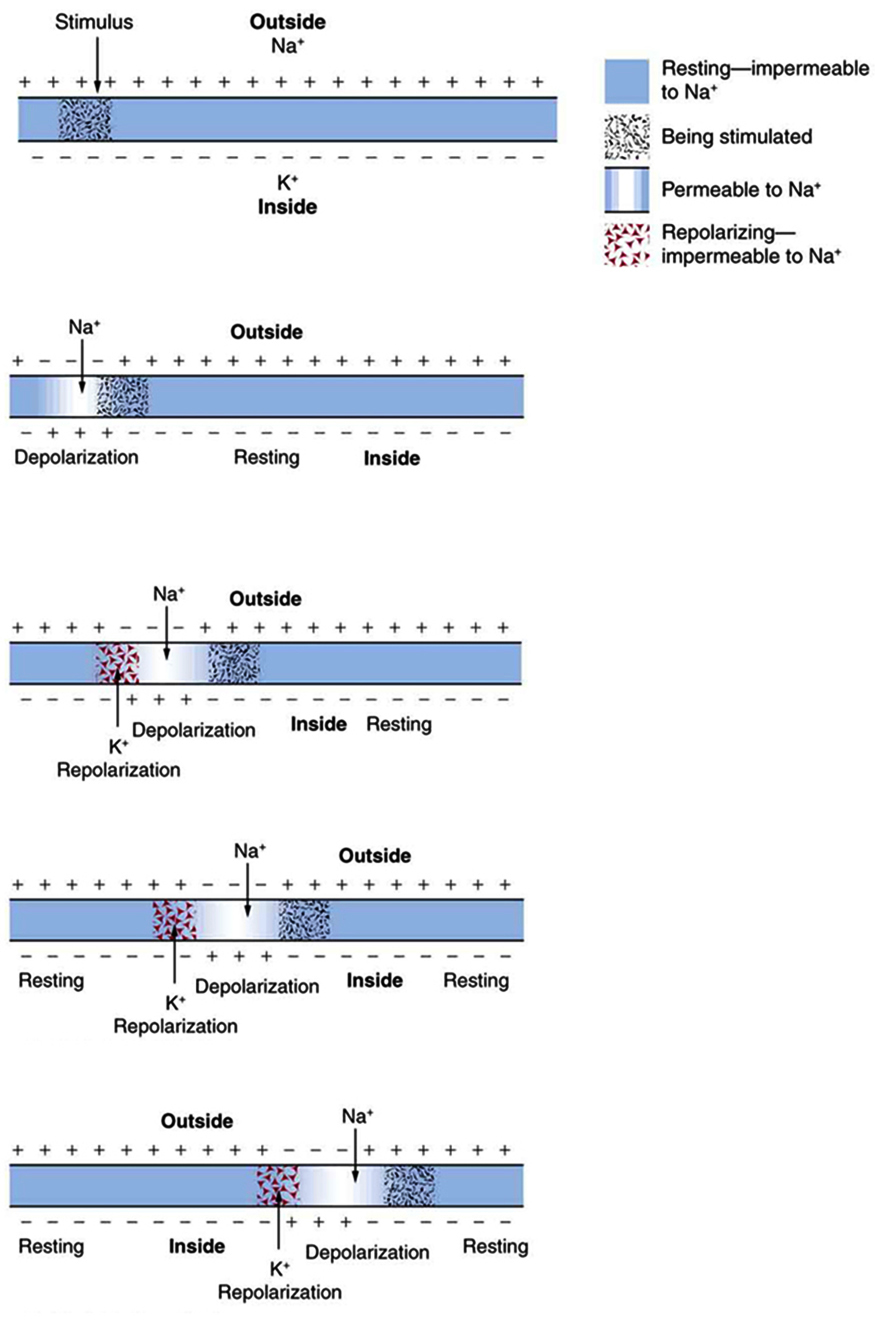 Some axons, like that in [link] , are sheathed with myelin , consisting of fat-containing cells. [link] shows an enlarged view of an axon having myelin sheaths characteristically separated by unmyelinated gaps (called nodes of Ranvier). This arrangement gives the axon a number of interesting properties. Since myelin is an insulator, it prevents signals from jumping between adjacent nerves (cross talk). Additionally, the myelinated regions transmit electrical signals at a very high speed, as an ordinary conductor or resistor would. There is no action potential in the myelinated regions, so that no cell energy is used in them. There is an signal loss in the myelin, but the signal is regenerated in the gaps, where the voltage pulse triggers the action potential at full voltage. So a myelinated axon transmits a nerve impulse faster, with less energy consumption, and is better protected from cross talk than an unmyelinated one. Not all axons are myelinated, so that cross talk and slow signal transmission are a characteristic of the normal operation of these axons, another variable in the nervous system.
The degeneration or destruction of the myelin sheaths that surround the nerve fibers impairs signal transmission and can lead to numerous neurological effects. One of the most prominent of these diseases comes from the body's own immune system attacking the myelin in the central nervous system—multiple sclerosis. MS symptoms include fatigue, vision problems, weakness of arms and legs, loss of balance, and tingling or numbness in one's extremities (neuropathy). It is more apt to strike younger adults, especially females. Causes might come from infection, environmental or geographic affects, or genetics. At the moment there is no known cure for MS.
Most animal cells can fire or create their own action potential. Muscle cells contract when they fire and are often induced to do so by a nerve impulse. In fact, nerve and muscle cells are physiologically similar, and there are even hybrid cells, such as in the heart, that have characteristics of both nerves and muscles. Some animals, like the infamous electric eel (see [link] ), use muscles ganged so that their voltages add in order to create a shock great enough to stun prey.