Compare and contrast sociological theoretical perspectives on aging
What roles do individual senior citizens play in your life? How do you relate to and interact with older people? What role do they play in neighborhoods and communities, in cities and in states? Sociologists are interested in exploring the answers to questions such as these through three different perspectives: functionalism, symbolic interactionism, and conflict theory.
Functionalism
Functionalists analyze how the parts of society work together. Functionalists gauge how society's parts are working together to keep society running smoothly. How does this perspective address aging? The elderly, as a group, are one of society's vital parts.
Functionalists find that people with better resources who stay active in other roles adjust better to old age (Crosnoe and Elder 2002). Three social theories within the functional perspective were developed to explain how older people might deal with later-life experiences.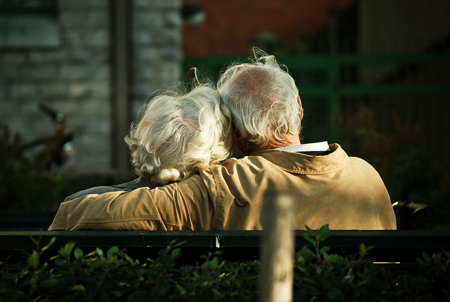 The earliest gerontological theory in the functionalist perspective is disengagement theory , which suggests that withdrawing from society and social relationships is a natural part of growing old. There are several main points to the theory. First, because everyone expects to die one day, and because we experience physical and mental decline as we approach death, it is natural to withdraw from individuals and society. Second, as the elderly withdraw, they receive less reinforcement to conform to social norms. Therefore, this withdrawal allows a greater freedom from the pressure to conform. Finally, social withdrawal is gendered, meaning it is experienced differently by men and women. Because men focus on work and women focus on marriage and family, when they withdraw they will be unhappy and directionless until they adopt a role to replace their accustomed role that is compatible with the disengaged state (Cummings and Henry 1961).
The suggestion that old age was a distinct state in the life course, characterized by a distinct change in roles and activities, was groundbreaking when it was first introduced. However, the theory is no longer accepted in its classic form. Criticisms typically focus on the application of the idea that seniors universally naturally withdraw from society as they age, and that it does not allow for a wide variation in the way people experience aging (Hothschild 1975).
The social withdrawal that Cummings and Henry recognized (1961), and its notion that elderly people need to find replacement roles for those they've lost, is addressed anew in activity theory . According to this theory, activity levels and social involvement are key to this process, and key to happiness (Havinghurst 1961; Neugarten 1964; Havinghurst, Neugarten, and Tobin 1968). According to this theory, the more active and involved an elderly person is, the happier he or she will be. Critics of this theory point out that access to social opportunities and activity are not equally available to all. Moreover, not everyone finds fulfillment in the presence of others or participation in activities. Reformulations of this theory suggest that participation in informal activities, such as hobbies, are what most effect later life satisfaction (Lemon, Bengtson, and Petersen 1972).