During the recession, older people lost some of the financial advantages that they'd gained in the 1980s and 1990s. From October 2007 to October 2009 the values of retirement accounts for people over age 50 lost 18 percent of their value. The sharp decline in the stock market also forced many to delay their retirement (Administration on Aging 2009).
Ageism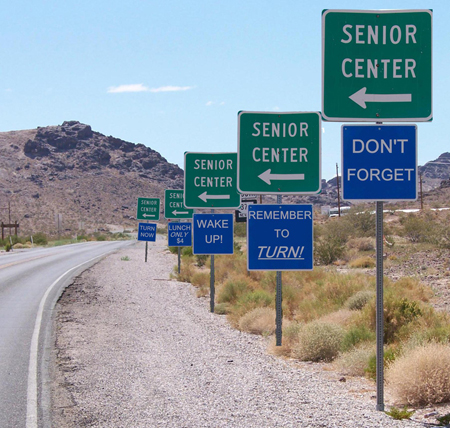 Driving to the grocery store, Peter, 23, got stuck behind a car on a four-lane main artery through his city's business district. The speed limit was 35 miles per hour, and while most drivers sped along at 40 to 45 mph, the driver in front of him was going the minimum speed. Peter tapped on his horn. He tailgated the driver. Finally, Peter had a chance to pass the car. He glanced over. Sure enough, Peter thought, a gray-haired old man guilty of "DWE," driving while elderly.
At the grocery store, Peter waited in the checkout line behind an older woman. She paid for her groceries, lifted her bags of food into her cart, and toddled toward the exit. Peter, guessing her to be about 80, was reminded of his grandmother. He paid for his groceries and caught up with her.
"Can I help you with your cart?" he asked.
"No, thank you. I can get it myself," she said and marched off toward her car.
Peter's responses to both older people, the driver and the shopper, were prejudiced. In both cases, he made unfair assumptions. He assumed the driver drove cautiously simply because the man was a senior citizen, and he assumed the shopper needed help carrying her groceries just because she was an older woman.
Responses like Peter's toward older people are fairly common. He didn't intend to treat people differently based on personal or cultural biases, but he did. Ageism is discrimination (when someone acts on a prejudice) based on age. Dr. Robert Butler coined the term in 1968, noting that ageism exists in all cultures (Brownell). Ageist attitudes and biases based on stereotypes reduce elderly people to inferior or limited positions.
Ageism can vary in severity. Peter's attitudes are probably seen as fairly mild, but relating to the elderly in ways that are patronizing can be offensive. When ageism is reflected in the workplace, in health care, and in assisted-living facilities, the effects of discrimination can be more severe. Ageism can make older people fear losing a job, feel dismissed by a doctor, or feel a lack of power and control in their daily living situations.
In early societies, the elderly were respected and revered. Many preindustrial societies observed gerontocracy , a type of social structure wherein the power is held by a society's oldest members. In some countries today, the elderly still have influence and power and their vast knowledge is respected.
In many modern nations, however, industrialization contributed to the diminished social standing of the elderly. Today wealth, power, and prestige are also held by those in younger age brackets. The average age of corporate executives was 59 in 1980. In 2008, the average age had lowered to 54 (Stuart 2008). Some older members of the workforce felt threatened by this trend and grew concerned that younger employees in higher level positions would push them out of the job market. Rapid advancements in technology and media have required new skill sets that older members of the workforce are less likely to have.