By the end of this section, you will be able to:
Discuss the axial and appendicular parts of the skeletal system
Explain the role of joints in skeletal movement
Explain the role of muscles in locomotion
The muscular and skeletal systems provide support to the body and allow for movement. The bones of the skeleton protect the body's internal organs and support the weight of the body. The muscles of the muscular system contract and pull on the bones, allowing for movements as diverse as standing, walking, running, and grasping items.
Injury or disease affecting the musculoskeletal system can be very debilitating. The most common musculoskeletal diseases worldwide are caused by malnutrition, which can negatively affect development and maintenance of bones and muscles. Other diseases affect the joints, such as arthritis, which can make movement difficult and, in advanced cases, completely impair mobility.
Progress in the science of prosthesis design has resulted in the development of artificial joints, with joint replacement surgery in the hips and knees being the most common. Replacement joints for shoulders, elbows, and fingers are also available.
Skeletal system
The human skeleton is an endoskeleton that consists of 206 bones in the adult. An endoskeleton develops within the body rather than outside like the exoskeleton of insects. The skeleton has five main functions: providing support to the body, storing minerals and lipids, producing blood cells, protecting internal organs, and allowing for movement. The skeletal system in vertebrates is divided into the axial skeleton (which consists of the skull, vertebral column, and rib cage), and the appendicular skeleton (which consists of limb bones, the pectoral or shoulder girdle, and the pelvic girdle).
Concept in action
Explore the human skeleton by viewing the following video with digital 3D sculpturing.
The axial skeleton forms the central axis of the body and includes the bones of the skull, ossicles of the middle ear, hyoid bone of the throat, vertebral column, and the thoracic cage (rib cage) ( [link] ).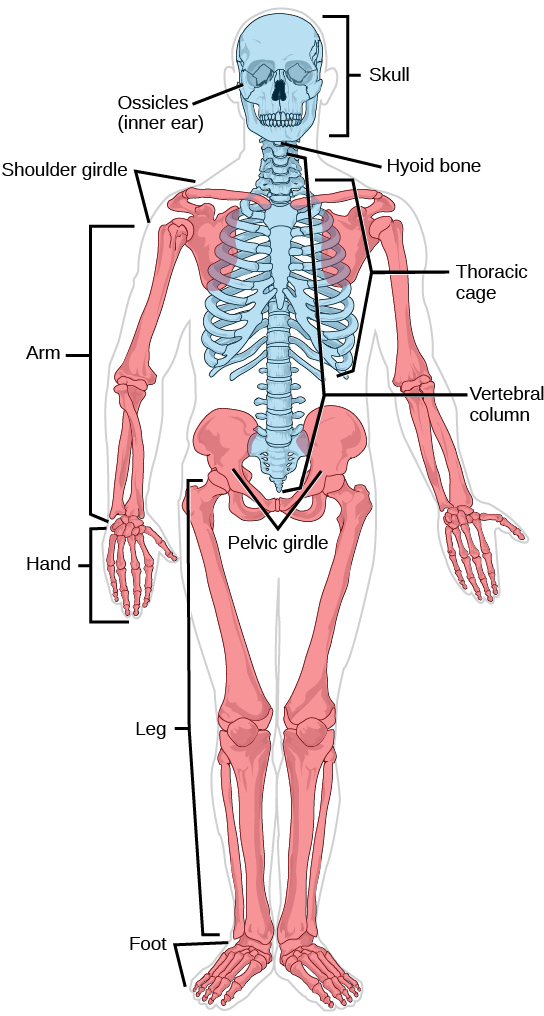 The bones of the skull support the structures of the face and protect the brain. The skull consists of cranial bones and facial bones. The cranial bones form the cranial cavity, which encloses the brain and serves as an attachment site for muscles of the head and neck. In the adult they are tightly jointed with connective tissue and adjoining bones do not move.
The auditory ossicles of the middle ear transmit sounds from the air as vibrations to the fluid-filled cochlea. The auditory ossicles consist of two malleus (hammer) bones, two incus (anvil) bones, and two stapes (stirrups), one on each side. Facial bones provide cavities for the sense organs (eyes, mouth, and nose), and serve as attachment points for facial muscles.