Everyday connection
Incompatibility genes in flowers
In recent decades, incompatibility genes—which prevent pollen from germinating or growing into the stigma of a flower—have been discovered in many angiosperm species. If plants do not have compatible genes, the pollen tube stops growing. Self-incompatibility is controlled by the S (sterility) locus. Pollen tubes have to grow through the tissue of the stigma and style before they can enter the ovule. The carpel is selective in the type of pollen it allows to grow inside. The interaction is primarily between the pollen and the stigma epidermal cells. In some plants, like cabbage, the pollen is rejected at the surface of the stigma, and the unwanted pollen does not germinate. In other plants, pollen tube germination is arrested after growing one-third the length of the style, leading to pollen tube death. Pollen tube death is due either to apoptosis (programmed cell death) or to degradation of pollen tube RNA. The degradation results from the activity of a ribonuclease encoded by the S locus. The ribonuclease is secreted from the cells of the style in the extracellular matrix, which lies alongside the growing pollen tube.
In summary, self-incompatibility is a mechanism that prevents self-fertilization in many flowering plant species. The working of this self-incompatibility mechanism has important consequences for plant breeders because it inhibits the production of inbred and hybrid plants.
Pollination by insects
Bees are perhaps the most important pollinator of many garden plants and most commercial fruit trees ( [link] ). The most common species of bees are bumblebees and honeybees. Since bees cannot see the color red, bee-pollinated flowers usually have shades of blue, yellow, or other colors. Bees collect energy-rich pollen or nectar for their survival and energy needs. They visit flowers that are open during the day, are brightly colored, have a strong aroma or scent, and have a tubular shape, typically with the presence of a nectar guide. A nectar guide includes regions on the flower petals that are visible only to bees, and not to humans; it helps to guide bees to the center of the flower, thus making the pollination process more efficient. The pollen sticks to the bees' fuzzy hair, and when the bee visits another flower, some of the pollen is transferred to the second flower. Recently, there have been many reports about the declining population of honeybees. Many flowers will remain unpollinated and not bear seed if honeybees disappear. The impact on commercial fruit growers could be devastating.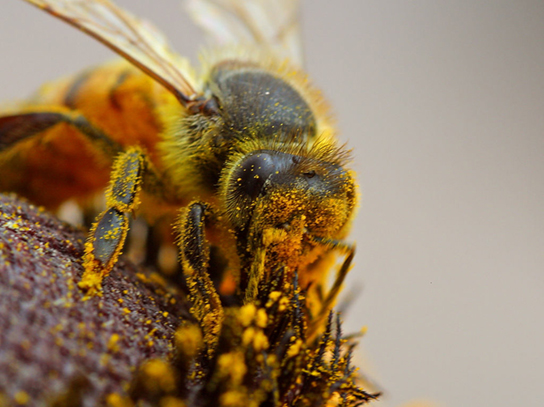 Many flies are attracted to flowers that have a decaying smell or an odor of rotting flesh. These flowers, which produce nectar, usually have dull colors, such as brown or purple. They are found on the corpse flower or voodoo lily ( Amorphophallus ), dragon arum ( Dracunculus ), and carrion flower ( Stapleia , Rafflesia ). The nectar provides energy, whereas the pollen provides protein. Wasps are also important insect pollinators, and pollinate many species of figs.