Link to learning
Watch "The Pale Pitcher Plant" episode of the video series Plants Are Cool, Too, a Botanical Society of America video about a carnivorous plant species found in Louisiana.
Evolution connection
Plant adaptations in resource-deficient environments
Roots, stems, and leaves are structured to ensure that a plant can obtain the required sunlight, water, soil nutrients, and oxygen resources. Some remarkable adaptations have evolved to enable plant species to thrive in less than ideal habitats, where one or more of these resources is in short supply.
In tropical rainforests, light is often scarce, since many trees and plants grow close together and block much of the sunlight from reaching the forest floor. Many tropical plant species have exceptionally broad leaves to maximize the capture of sunlight. Other species are epiphytes: plants that grow on other plants that serve as a physical support. Such plants are able to grow high up in the canopy atop the branches of other trees, where sunlight is more plentiful. Epiphytes live on rain and minerals collected in the branches and leaves of the supporting plant. Bromeliads (members of the pineapple family), ferns, and orchids are examples of tropical epiphytes ( [link] ). Many epiphytes have specialized tissues that enable them to efficiently capture and store water.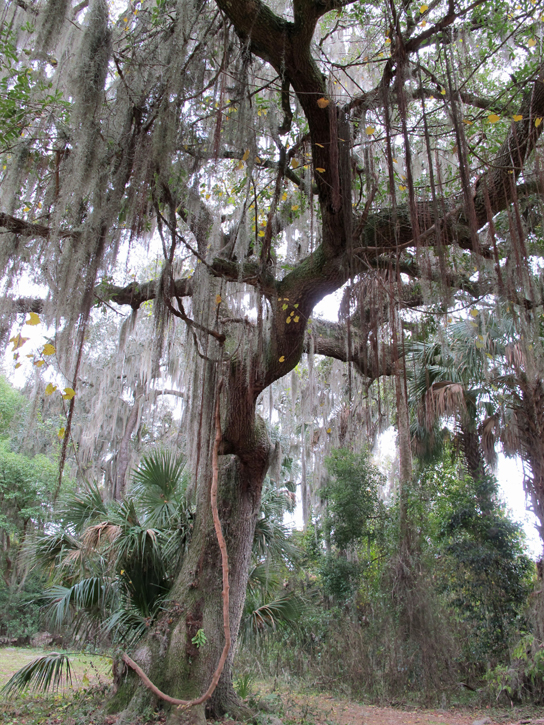 Some plants have special adaptations that help them to survive in nutrient-poor environments. Carnivorous plants, such as the Venus flytrap and the pitcher plant ( [link] ), grow in bogs where the soil is low in nitrogen. In these plants, leaves are modified to capture insects. The insect-capturing leaves may have evolved to provide these plants with a supplementary source of much-needed nitrogen.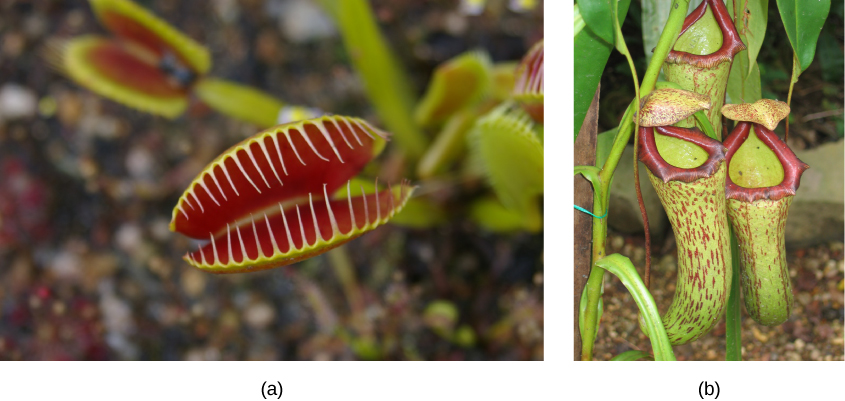 Many swamp plants have adaptations that enable them to thrive in wet areas, where their roots grow submerged underwater. In these aquatic areas, the soil is unstable and little oxygen is available to reach the roots. Trees such as mangroves ( Rhizophora sp.) growing in coastal waters produce aboveground roots that help support the tree ( [link] ). Some species of mangroves, as well as cypress trees, have pneumatophores: upward-growing roots containing pores and pockets of tissue specialized for gas exchange. Wild rice is an aquatic plant with large air spaces in the root cortex. The air-filled tissue—called aerenchyma—provides a path for oxygen to diffuse down to the root tips, which are embedded in oxygen-poor bottom sediments.

Leaves are the main site of photosynthesis. A typical leaf consists of a lamina (the broad part of the leaf, also called the blade) and a petiole (the stalk that attaches the leaf to a stem). The arrangement of leaves on a stem, known as phyllotaxy, enables maximum exposure to sunlight. Each plant species has a characteristic leaf arrangement and form. The pattern of leaf arrangement may be alternate, opposite, or spiral, while leaf form may be simple or compound. Leaf tissue consists of the epidermis, which forms the outermost cell layer, and mesophyll and vascular tissue, which make up the inner portion of the leaf. In some plant species, leaf form is modified to form structures such as tendrils, spines, bud scales, and needles.