Bohr's solution for hydrogen
Bohr was able to derive the formula for the hydrogen spectrum using basic physics, the planetary model of the atom, and some very important new proposals. His first proposal is that only certain orbits are allowed: we say that the orbits of electrons in atoms are quantized . Each orbit has a different energy, and electrons can move to a higher orbit by absorbing energy and drop to a lower orbit by emitting energy. If the orbits are quantized, the amount of energy absorbed or emitted is also quantized, producing discrete spectra. Photon absorption and emission are among the primary methods of transferring energy into and out of atoms. The energies of the photons are quantized, and their energy is explained as being equal to the change in energy of the electron when it moves from one orbit to another. In equation form, this is
Here, is the change in energy between the initial and final orbits, and is the energy of the absorbed or emitted photon. It is quite logical (that is, expected from our everyday experience) that energy is involved in changing orbits. A blast of energy is required for the space shuttle, for example, to climb to a higher orbit. What is not expected is that atomic orbits should be quantized. This is not observed for satellites or planets, which can have any orbit given the proper energy. (See [link] .)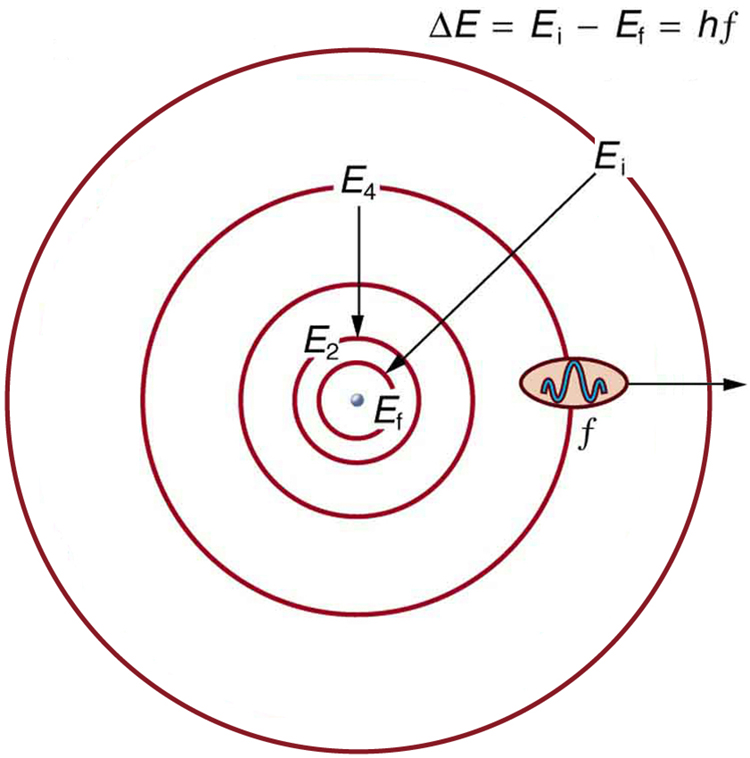 [link] shows an energy-level diagram , a convenient way to display energy states. In the present discussion, we take these to be the allowed energy levels of the electron. Energy is plotted vertically with the lowest or ground state at the bottom and with excited states above. Given the energies of the lines in an atomic spectrum, it is possible (although sometimes very difficult) to determine the energy levels of an atom. Energy-level diagrams are used for many systems, including molecules and nuclei. A theory of the atom or any other system must predict its energies based on the physics of the system.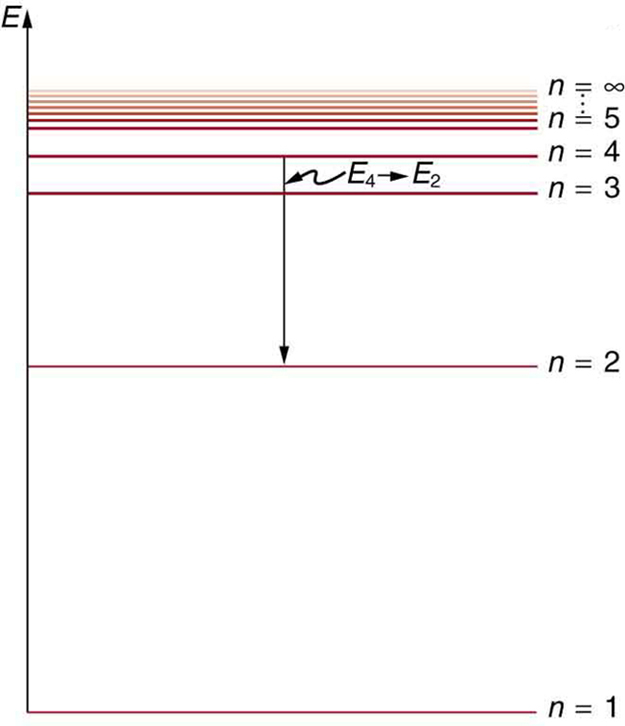 Bohr was clever enough to find a way to calculate the electron orbital energies in hydrogen. This was an important first step that has been improved upon, but it does correctly describe many characteristics of hydrogen. Bohr proposed that only very specific circular orbits were allowed. The radius of these orbits is calculated to be
where
is the atomic number of the element, and
is known as the Bohr radius. The value of largely determines the energy level of the atom and is called the
principal quantum number
. This equation can be used to calculate the
radii of the allowed (quantized) electron orbits in any hydrogen-like atom
. It is impressive that the formula gives the correct size of hydrogen, which is measured experimentally to be very close to the Bohr radius. This equation also tells us that the orbital radius is proportional to , as illustrated in
[link]
.