Sponges consist of 3 major types of cells. Epithelial cells create an outer layer that acts a like a skin layer. choanocytes , also known as collar cells, make up the inner layer of cells. These two layers are separated by a jelly-like substance called mesohyl . The mesohyl contains the third type of cell: the amoeboid cells. The cell body of the choanocyte has a mesh-like collar surrounding a single flagellum. The beating of flagella from all choanocytes moves water through the sponge. Food particles are trapped by the sieve-like collar of the choanocytes and are ingested. This process is called intracellular digestion . The ameboid cells, called Amoebocytes have multiple functions. They take up nutrients absorbed by the choanocytes and deliver them to other cells within the sponge, they also secrete tiny needles called spicules or protein fibers that help give the sponge its structural strength. Ameboid cells are also responsible for creating the female sex cells for the sponge.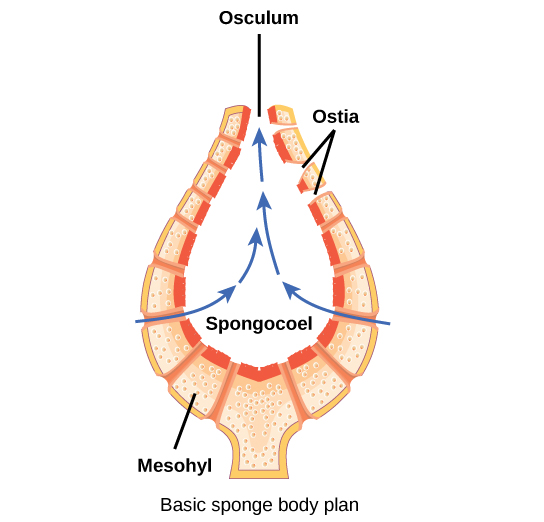 Link to learning
Take an up-close tour through the sponge and its cells.
Physiological processes in sponges
Despite their lack of complexity, sponges are clearly successful organisms, having persisted on Earth for more than half a billion years. Lacking a true digestive system, sponges depend on the intracellular digestive processes of their choanocytes for their energy intake. The limit of this type of digestion is that food particles must be smaller than individual cells. Gas exchange, circulation, and excretion occur by diffusion between cells and the water.
Digestion
Sponges lack complex digestive, respiratory, circulatory, reproductive, and nervous systems. Their food is trapped when water passes through the ostia and out through the osculum. Bacteria smaller than 0.5 microns in size are trapped by choanocytes, which are the principal cells engaged in nutrition, and are ingested by phagocytosis. Particles that are larger than the ostia may be phagocytized by pinacocytes. In some sponges, amoebocytes transport food from cells that have ingested food particles to those that do not. For this type of digestion, in which food particles are digested within individual cells, the sponge draws water through diffusion. The limit of this type of digestion is that food particles must be smaller than individual cells.
Link to learning
Watch this video that demonstrates the feeding of sponges.
All other major body functions in the sponge (gas exchange, circulation, excretion) are performed by diffusion between the cells that line the openings within the sponge and the water that is passing through those openings. All cell types within the sponge obtain oxygen from water through diffusion. Likewise, carbon dioxide is released into seawater by diffusion. In addition, nitrogenous waste produced as a byproduct of protein metabolism is excreted via diffusion by individual cells into the water as it passes through the sponge.