By the end of this section, you will be able to:
List the features that distinguish the animal kingdom from other kingdoms
Explain the processes of animal reproduction and embryonic development
Describe the hierarchy of basic animal classification
Compare and contrast the embryonic development of protostomes and deuterostomes
Even though members of the animal kingdom are incredibly diverse, animals share common features that distinguish them from organisms in other kingdoms. All animals are eukaryotic, multicellular organisms, and almost all animals have specialized tissues. Most animals are motile, at least during certain life stages. Animals require a source of food to grow and develop. All animals are heterotrophic, ingesting living or dead organic matter. This form of obtaining energy distinguishes them from autotrophic organisms, such as most plants, which make their own nutrients through photosynthesis and from fungi that digest their food externally. Animals may be carnivores, herbivores, omnivores, or parasites ( [link] ). Most animals reproduce sexually: The offspring pass through a series of developmental stages that establish a determined body plan, unlike plants, for example, in which the exact shape of the body is indeterminate. The body plan refers to the shape of an animal.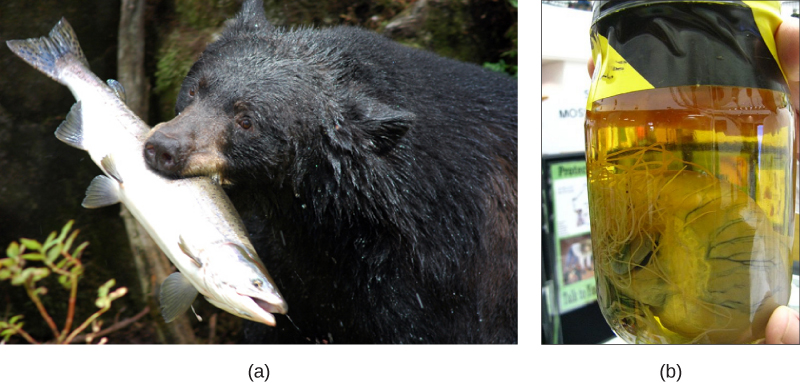 Complex tissue structure
A hallmark trait of animals is specialized structures that are differentiated to perform unique functions. As multicellular organisms, most animals develop specialized cells that group together into tissues with specialized functions. A tissue is a collection of similar cells that had a common embryonic origin. There are four main types of animal tissues: nervous, muscle, connective, and epithelial. Nervous tissue contains neurons, or nerve cells, which transmit nerve impulses. Muscle tissue contracts to cause all types of body movement from locomotion of the organism to movements within the body itself. Animals also have specialized connective tissues that provide many functions, including transport and structural support. Examples of connective tissues include blood and bone. Connective tissue is comprised of cells separated by extracellular material made of organic and inorganic materials, such as the protein and mineral deposits of bone. Epithelial tissue covers the internal and external surfaces of organs inside the animal body and the external surface of the body of the organism.
Concept in action
View this video to watch a presentation by biologist E.O. Wilson on the importance of animal diversity.
Animal reproduction and development
Most animals have diploid body (somatic) cells and a small number of haploid reproductive (gamete) cells produced through meiosis. Some exceptions exist: For example, in bees, wasps, and ants, the male is haploid because it develops from an unfertilized egg. Most animals undergo sexual reproduction, while many also have mechanisms of asexual reproduction.