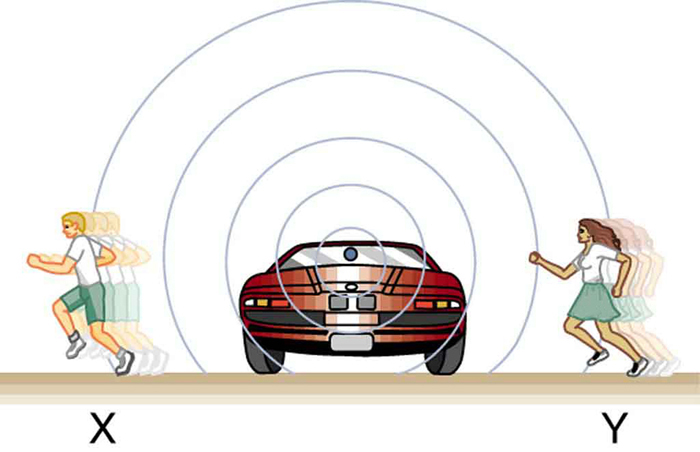 We know that wavelength and frequency are related by , where is the fixed speed of sound. The sound moves in a medium and has the same speed in that medium whether the source is moving or not. Thus multiplied by is a constant. Because the observer on the right in [link] receives a shorter wavelength, the frequency she receives must be higher. Similarly, the observer on the left receives a longer wavelength, and hence he hears a lower frequency. The same thing happens in [link] . A higher frequency is received by the observer moving toward the source, and a lower frequency is received by an observer moving away from the source. In general, then, relative motion of source and observer toward one another increases the received frequency. Relative motion apart decreases frequency. The greater the relative speed is, the greater the effect.
The doppler effect
The Doppler effect occurs not only for sound but for any wave when there is relative motion between the observer and the source. There are Doppler shifts in the frequency of sound, light, and water waves, for example. Doppler shifts can be used to determine velocity, such as when ultrasound is reflected from blood in a medical diagnostic. The recession of galaxies is determined by the shift in the frequencies of light received from them and has implied much about the origins of the universe. Modern physics has been profoundly affected by observations of Doppler shifts.
Sonic booms to bow wakes
What happens to the sound produced by a moving source, such as a jet airplane, that approaches or even exceeds the speed of sound? The answer to this question applies not only to sound but to all other waves as well.
Suppose a jet airplane is coming nearly straight at you, emitting a sound of frequency . The greater the plane's speed , the greater the Doppler shift and the greater the value observed for . Now, as approaches the speed of sound, approaches infinity. At the speed of sound, this result means that in front of the source, each successive wave is superimposed on the previous one because the source moves forward at the speed of sound. The observer gets them all at the same instant, and so the frequency is infinite. (Before airplanes exceeded the speed of sound, some people argued it would be impossible because such constructive superposition would produce pressures great enough to destroy the airplane.) If the source exceeds the speed of sound, no sound is received by the observer until the source has passed, so that the sounds from the approaching source are mixed with those from it when receding. This mixing appears messy, but something interesting happens—a sonic boom is created. (See [link] .)