Fusion of a vesicle with the presynaptic membrane causes neurotransmitter to be released into the synaptic cleft , the extracellular space between the presynaptic and postsynaptic membranes, as illustrated in [link] . The neurotransmitter diffuses across the synaptic cleft and binds to receptor proteins on the postsynaptic membrane.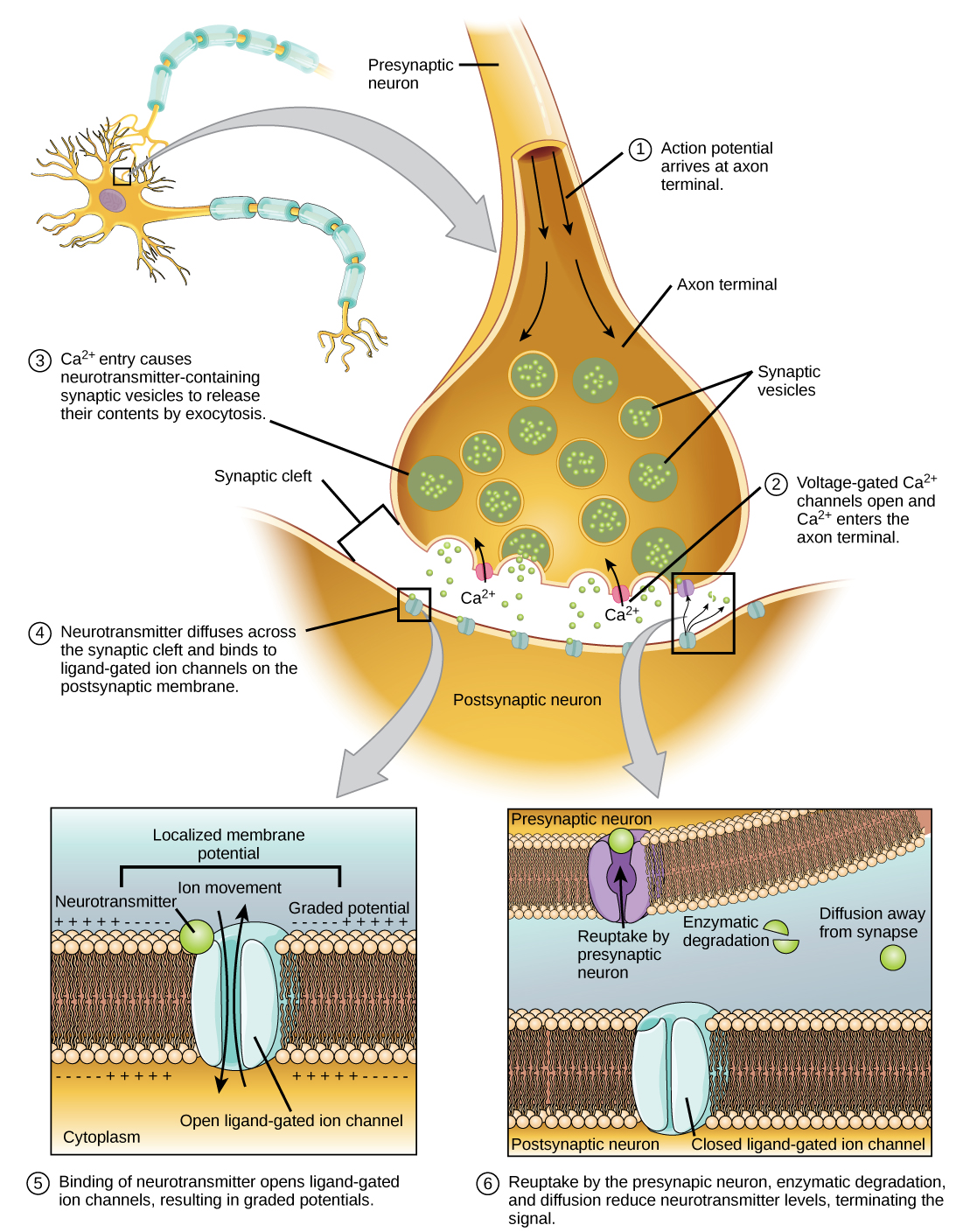 The binding of a specific neurotransmitter causes particular ion channels, in this case ligand-gated channels, on the postsynaptic membrane to open. Neurotransmitters can either have excitatory or inhibitory effects on the postsynaptic membrane, as detailed in [link] . For example, when acetylcholine is released at the synapse between a nerve and muscle (called the neuromuscular junction) by a presynaptic neuron, it causes postsynaptic Na + channels to open. Na + enters the postsynaptic cell and causes the postsynaptic membrane to depolarize. This depolarization is called an excitatory postsynaptic potential (EPSP) and makes the postsynaptic neuron more likely to fire an action potential. Release of neurotransmitter at inhibitory synapses causes inhibitory postsynaptic potentials (IPSPs) , a hyperpolarization of the presynaptic membrane. For example, when the neurotransmitter GABA (gamma-aminobutyric acid) is released from a presynaptic neuron, it binds to and opens Cl - channels. Cl - ions enter the cell and hyperpolarizes the membrane, making the neuron less likely to fire an action potential.
Once neurotransmission has occurred, the neurotransmitter must be removed from the synaptic cleft so the postsynaptic membrane can "reset" and be ready to receive another signal. This can be accomplished in three ways: the neurotransmitter can diffuse away from the synaptic cleft, it can be degraded by enzymes in the synaptic cleft, or it can be recycled (sometimes called reuptake) by the presynaptic neuron. Several drugs act at this step of neurotransmission. For example, some drugs that are given to Alzheimer's patients work by inhibiting acetylcholinesterase, the enzyme that degrades acetylcholine. This inhibition of the enzyme essentially increases neurotransmission at synapses that release acetylcholine. Once released, the acetylcholine stays in the cleft and can continually bind and unbind to postsynaptic receptors.
Neurotransmitter Function and Location
Neurotransmitter
Example
Location
Acetylcholine
—
CNS and/or PNS
Biogenic amine
Dopamine, serotonin, norepinephrine
CNS and/or PNS
Amino acid
Glycine, glutamate, aspartate, gamma aminobutyric acid
CNS
Neuropeptide
Substance P, endorphins
CNS and/or PNS