A twenty minute video, The Story of Stuff , tells the complicated story of how our "stuff" moves from extraction to sale to disposal.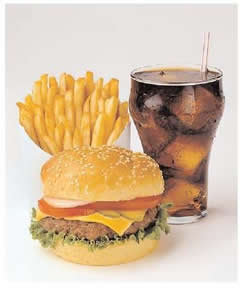 Connectivity
To think about sustainability in these terms may sound exhausting. But because we live in a world characterized by connectivity , that is, by complex chains linking our everyday lives to distant strangers and ecosystems in far flung regions of the earth, we have no choice. In the end, we must adapt our thinking to a complex, connected model of the world and our place in it. Persisting with only simple, consumerist frames of understanding—"I look great!" "This tastes delicious!"—for a complex world of remote impacts and finite resources renders us increasingly vulnerable to episodes of what ecologists call system collapse, that is, to the sudden breakdown of ecosystem services we rely upon for our life's staple provisions.
In the early twenty-first century, vulnerability to these system collapses varies greatly according to where one lives. A long-term drought in India might bring the reality of aquifer depletion or climate change home to tens of thousands of people driven from their land, while the life of a suburban American teenager is not obviously affected by any resource crisis. But this gap will narrow in the coming years. Overwhelming scientific evidence points to rapidly increasing strains this century on our systems of food, water, and energy provision as well as on the seasonable weather to which we have adapted our agricultural and urban regions. In time, no one will enjoy the luxury of remaining oblivious to the challenges of sustainability. Drought, for example, is one of the primary indices of global ecosystem stress, and arguably the most important to humans. According to the United Nations Food and Agriculture Organization, without wholesale reformation of water management practices on a global scale, two-thirds of the world's population will face water shortages by 2025, including densely populated regions of the United States.
So how did we arrive at this point? Without you or I ever consciously choosing to live unsustainably, how has it nevertheless come about that we face environmental crises of global scale, circumstances that will so decisively shape our lives and those of our children? Here's one explanatory narrative, framed by the long view of human evolution.
Since the emergence of the first proto-human communities in Africa millions of years ago, we have spent over 99% of evolutionary time as nomadic hunters and gatherers. A fraction of the balance of our time on earth spans the 10,000 years of human agriculture, since the end of the last Ice Age. In turn, only a third of that fractional period has witnessed the emergence of the institutions and technologies—writing, money, mathematics, etc.—that we associate with human "civilization." And lastly, at the very tip of the evolutionary timeline, no more than a blink of human species history, we find the development of the modern industrialized society we inhabit. Look around you. Observe for a moment all that is familiar in your immediate surroundings: the streetscape and buildings visible through the window, the plastic furnishings in the room, and the blinking gadgets within arm's length of where you sit. All of it is profoundly "new" to human beings; to all but a handful of the tens of thousands of generations of human beings that have preceded us, this everyday scene would appear baffling and frightening, as if from another planet.