Sinusoidal signals
Sinusoidal signals are perhaps the most important type of signal that we will encounter in signal processing. There are two basic types of signals, the cosine :
and the sine :
where is a real constant. Plots of the sine and cosine signals are shown in [link] . Sinusoidal signals are periodic signals. The period of the cosine and sine signals shown above is given by . The frequency of the signals is which has units of rad/sec . Equivalently, the frequency can be expressed as , which has units of , cycles/sec , or Hz . The quantity has units of radians and is often called the phase of the sinusoid. Recalling the effect of a time shift on the appearance of a signal, we can observe from [link] that the sine signal is obtained by shifting the cosine signal by seconds, i.e.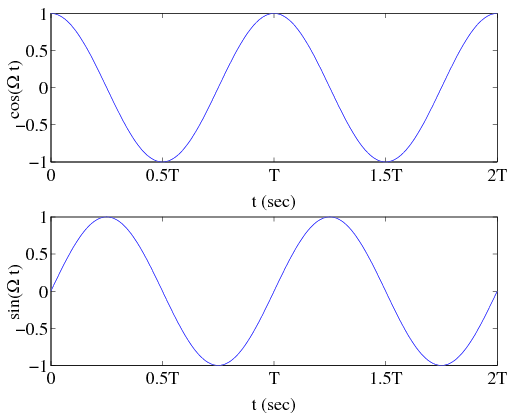 and since , we have
Similarly, we have
Using Euler's Identity, we can also write:
and
The quantity is called a complex sinusoid and can be expressed as
There are a number of trigonometric identities which are sometimes useful. These are shown in [link] . [link] shows some basic calculus operations on sine and cosine signals.
Useful trigonometric identities.
Derivatives and integrals of sinusoidal signals.
Now suppose that we have a sum of two sinusoids, say
It is of interest to know what the period of the sum of 2 sinusoids is. We must have
It follows that and , where and are integers. Solving these two equations for gives . We wish to select the shortest possible period, since any integer multiple of the period is also a period. To do this we note that since , we can write
so we seek the smallest integers and that satisfy [link] . This can be done by finding the greatest common divisor between and . For example if and , we have and , after dividing out 5, the greatest common divisor between 10 and 15. So the period is sec. On the other hand, if and , we find that and and the period increases to sec. Notice also that if the ratio of and is not a rational number, then is not periodic!
If there are more than two sinusoids, it is probably easiest to find the period of one pair of sinusoids at a time, using the two lowest frequencies (which will have a longer period). Once the frequency of the first two sinusoids has been found, replace them with a single sinusoid at the composite frequency corresponding to the first two sinusoids and compare it with the third sinusoid, and so on.