Squamous cell carcinoma
Squamous cell carcinoma is a cancer that affects the keratinocytes of the stratum spinosum and presents as lesions commonly found on the scalp, ears, and hands ( [link] ). It is the second most common skin cancer. The American Cancer Society reports that two of 10 skin cancers are squamous cell carcinomas, and it is more aggressive than basal cell carcinoma. If not removed, these carcinomas can metastasize. Surgery and radiation are used to cure squamous cell carcinoma.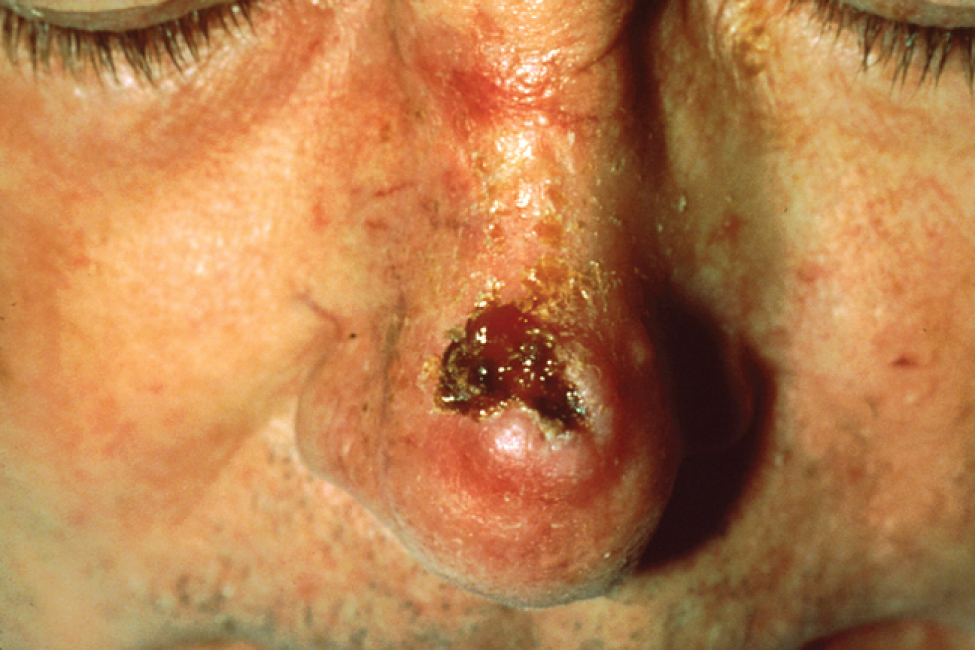 Melanoma
A melanoma is a cancer characterized by the uncontrolled growth of melanocytes, the pigment-producing cells in the epidermis. Typically, a melanoma develops from a mole. It is the most fatal of all skin cancers, as it is highly metastatic and can be difficult to detect before it has spread to other organs. Melanomas usually appear as asymmetrical brown and black patches with uneven borders and a raised surface ( [link] ). Treatment typically involves surgical excision and immunotherapy.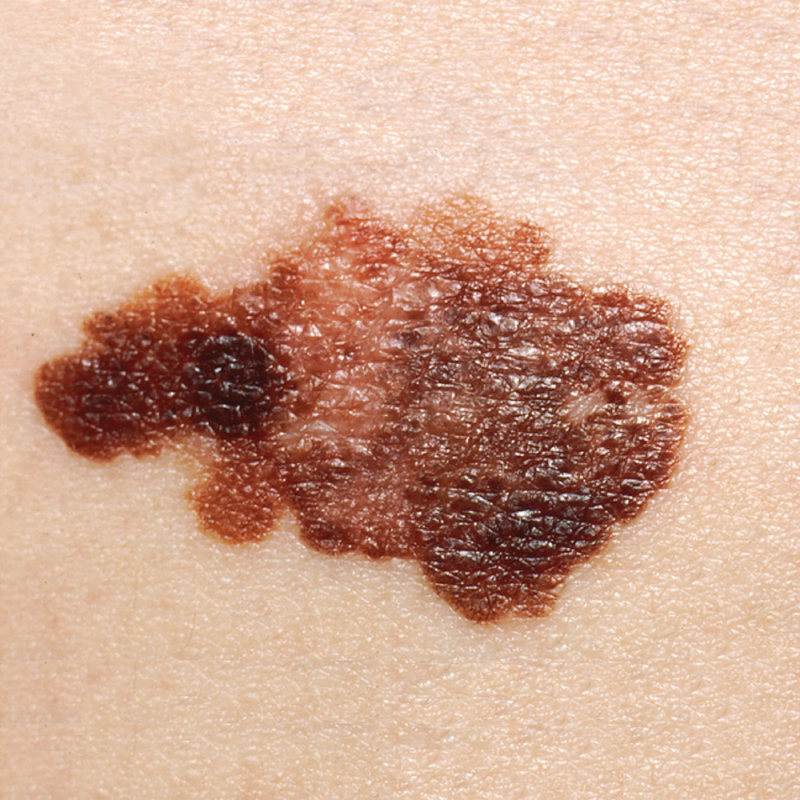 Doctors often give their patients the following ABCDE mnemonic to help with the diagnosis of early-stage melanoma. If you observe a mole on your body displaying these signs, consult a doctor.
A symmetry – the two sides are not symmetrical
B orders – the edges are irregular in shape
C olor – the color is varied shades of brown or black
D iameter – it is larger than 6 mm (0.24 in)
E volving – its shape has changed
Some specialists cite the following additional signs for the most serious form, nodular melanoma:
E levated – it is raised on the skin surface
F irm – it feels hard to the touch
G rowing – it is getting larger
Skin disorders
Two common skin disorders are eczema and acne. Eczema is an inflammatory condition and occurs in individuals of all ages. Acne involves the clogging of pores, which can lead to infection and inflammation, and is often seen in adolescents. Other disorders, not discussed here, include seborrheic dermatitis (on the scalp), psoriasis, cold sores, impetigo, scabies, hives, and warts.
Eczema
Eczema is an allergic reaction that manifests as dry, itchy patches of skin that resemble rashes ( [link] ). It may be accompanied by swelling of the skin, flaking, and in severe cases, bleeding. Many who suffer from eczema have antibodies against dust mites in their blood, but the link between eczema and allergy to dust mites has not been proven. Symptoms are usually managed with moisturizers, corticosteroid creams, and immunosuppressants.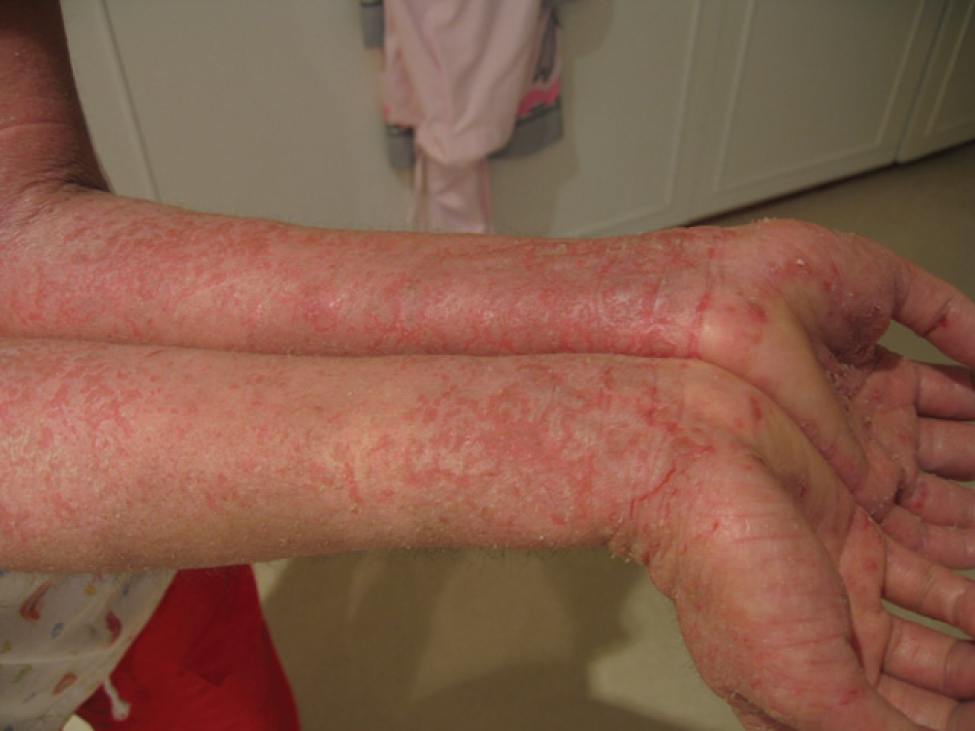 Acne
Acne is a skin disturbance that typically occurs on areas of the skin that are rich in sebaceous glands (face and back). It is most common along with the onset of puberty due to associated hormonal changes, but can also occur in infants and continue into adulthood. Hormones, such as androgens, stimulate the release of sebum. An overproduction and accumulation of sebum along with keratin can block hair follicles. This plug is initially white. The sebum, when oxidized by exposure to air, turns black. Acne results from infection by acne-causing bacteria ( Propionibacterium and Staphylococcus ), which can lead to redness and potential scarring due to the natural wound healing process ( [link] ).