It was at this time that the NCATE approached CPEA with a proposal to study what would become "criteria for theaccreditation of graduate programs of study which prepare school administrators" (Moore, 1964, p. 27). As Moore (1964) described thework of this group he noted that, "Perhaps the most significant work of the Committee revolved around the establishment (throughpolitical/professional sanctions) of standards for the preparation of school administrators" (p. 27). It is noteworthy as well, torecognize the founding of the UCEA as an outgrowth of the CPEA. The Kellogg Foundation, which had supported CPEA's founding as aconsortium of eight elite universities, agreed to extend funding to include an original group of thirty-three universities with thepurpose "to improve the training of school administrators, stimulate and coordinate research, and distribute materialsresulting from research and training activities" (Campbell, Fleming, Newell, Bennion, 1987, p. 14).
Although one might consider the development of the ISLLC standards a framework and starting point for educationaladministration curriculum development it was, in actuality, a logical extension of work, and thought, that had gone on for morethan thirty years within the field. The overall effect of the ISLLC standards focused on program development and the articulation ofwhat principals should know and be able to do. They also brought some national uniformity to the standards movement. On the whole,the standards addressed preparation at the pre-service level. They were minimal expectations/requirements that established a frameworkthat informed university programs preparing educational leaders at the Master's degree level. Figure 2 reflects these factors.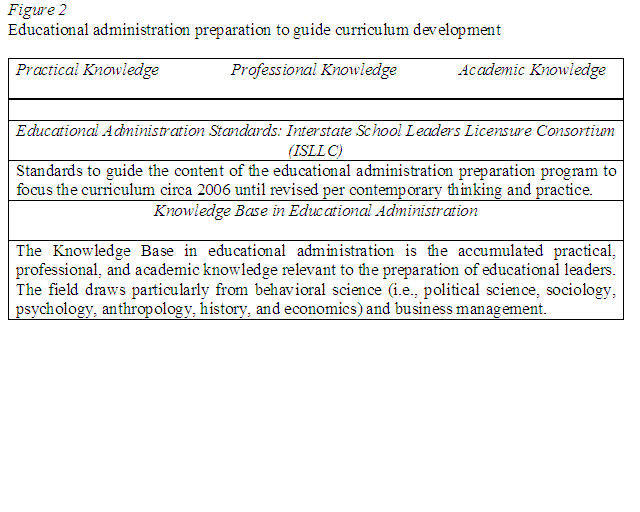 One must keep in mind that the ISLLC standards are a snap-shot of an era and must continue to be revised toreflect contemporary thinking as school, society, and education evolve and change. They are limited in their scope to reflect andnot define the complete knowledge base of educational administration. They address what the profession considers to beentry level skills, abilities, and knowledge. They do not encompass the entire knowledge base and do not address, in depth, areas thatone expects to find in a specialist or doctoral degree.
The Interstate School Leaders Licensure Consortium (ISLLC) standards moved educational administrationpreparation to consider contemporary ideas about leadership and learning. As Murphy (2005) stated, "(T)he objective of the ISLLChas been to yoke the Standards to important leverage points for change. The goal has been to generate the critical supportnecessary to move school administration out of its 100-year orbit and then to reposition the profession around leadership forlearning" (p. 180). These standards are applied (enforced some would say) on preparation programs through state and nationalaccreditation programs.
The ISLLC standards focused educational administration preparation at the master's degree level and gaveprograms a lens to view the curriculum for pre-service content. The other side of the argument is that they dumbed down the curriculumand reduced the educational administration program to a narrow interpretation of the knowledge base. More damning to English(2005) is that the ISLLC standards have no grounding in research to validate what they guide principals to know and do. One must takethe view that having these standards was the culmination of a long march by the field to better frame what principals should know andbe able to do. Although many might disagree over which standards are more or less important, it is clear that standards helpedprovide clarity for professors of educational administration as they planned programs and individual lessons.