This module examines an unpublished letter by José Martí within the context of his larger life and writings.
José martí: a letter to the board of advisors for key west
Of the many fascinating documents held in the 'Our Americas' Archive Partnership (a digital archive collaboration on the hemispheric Americas), José Martí's 1893 letter to the Board of Advisors for Key West stands out as particularly special. This observation is borne out by the fact that the archive itself is named after one of Martí's most famous essays. He published "Our America" in 1891, after years of residence in the United States. A Cuban exile, he spent the entirety of his adult life agitating for Cuban independence from Spanish imperial power. During that time he produced an impressive body of work, including numerous poems, essays, and even a serialized novel. Returning to Cuba in order to participate in an armed insurgency, he died in 1895 on the battlefield at the hands of Spanish colonial forces. He is regarded now as a founding father of Cuban nationalism as well as an early participant in the search for a broader Latin American identity. His centrality to Latin American studies goes without question, while his writings have positioned him as a crucial figure within both history and literature classrooms concerned with the Americas. Christopher Abel's biography, José Martí: Revolutionary Democrat , provides a useful analysis of both his life and his legacy (bibliographical information provided at end of module).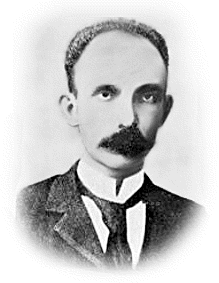 Writing under the authority of the Delegation of the Cuban Revolutionary Party (CRP), which he helped found, Martí penned this 1893 letter (which is held at Rice University) in an attempt to raise funds for the newspaper El Yara , published in Key West by a group of Cuban exiles. He spent the final years before his death traveling throughout the United States, Central America, and the Caribbean, garnering support (financial and otherwise) for the procurement of Cuban sovereignty. Moreover, he bore an especially close relationship with the Cuban community in Key West, as detailed by C. Neale Ronning in José Martí and the Émigré Colony in Key West. Donating a substantial sum from the coffers of the CRP, Martí goes on in the letter to ask that the public recognize the necessity for El Yara and publications like it to remain solvent. He was acutely aware of the difficulties inherent in maintaining a daily paper, his own Patria having served for years as a vehicle for Cuban exiles and expatriates wishing to speak out against the injustices in their home country. The letter reveals a deep faith in the power of newspapers to bond a community together and to renew constantly the revolutionary drive: "This resolution must account for the costs and difficulties of running a strictly honorable newspaper, the only Cuban paper which, fueled with nothing more than the fervent patriotism of its editor, provides emigrants with the voice of unity, and Cuba with the voice of the revolution everyday. Do not be afraid of honoring those who merit it!"