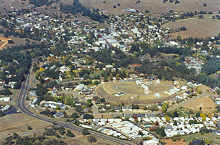 Contamination has also been an issue in areas surrounding fabrication plants. Drinking water was found to be contaminatedwith trichloroethane and Freon, toxins commonly used in the semiconductor industry, in San Jose, California in 1981 [12]. These toxins were later suspected to be the cause of birth defects of many children in the area. The culprits were Fairchild Semiconductor and IBM. The companies'underground storage tanks were found to have leaked tens of thousands of gallons of the toxic solvents into the ground. Thereare a number of semiconductor-related EPA cleanup sites in Silicon Valley, and there have been concerns raised about the cumulativeair and groundwater pollution in Silicon Valley, as well.
Another area of concern is the eventual fate of discarded electronic systems such as computers, pagers, mobilephones, and televisions that contain semiconductor devices. Personal computers in particular are especially problematic becausethey become obsolete fairly rapidly and lose almost all of their market value within five or ten years after their date ofmanufacture. Tens of millions of PC's are sold in the United States each year, and they pose an environmental risk not only throughtheir sheer bulk in city dumps and landfills but also because their semiconducting devices often contain significant amounts of heavymetals, including lead and other potentially hazardous substances.
Why don't we hear more about this on the news?
Across the United States, approximately 60% of the manufacturing facilities for semiconductor devices arelocated in six states. These states listed in descending order are California, Texas, Massachusetts, New York, Illinois, andPennsylvania. The industry appears to be concentrated in these particular locations in part because they are near the primaryusers, transportation routes, and experts in the field, but people of all ages in all fifty states are impacted by semiconductortechnology. Consumerism of semiconductor products is only expected to increase in coming years. Apple, for instance, expects to havesold 23.6 million iPods, devices that rely on semiconductor technology, by the year 2006.
If semiconductors are so ubiquitous in our day-to-day lives, why is there so little awareness about theserious environmental and health risks that are involved in their manufacturing process? Part of the problem is that little is knownabout the long-term health or environmental consequences of exposure to the chemicals that are used in the process. Because thesemiconductor industry is still relatively new, not many studies have been conducted on this topic, and existing data is ofteninconclusive. This being said, some scientists predict that the cancer rate in the silicon chip industry will rise significantly inthe future because cancer can take as long as 20-25 years to manifest itself in populations of exposed workers.