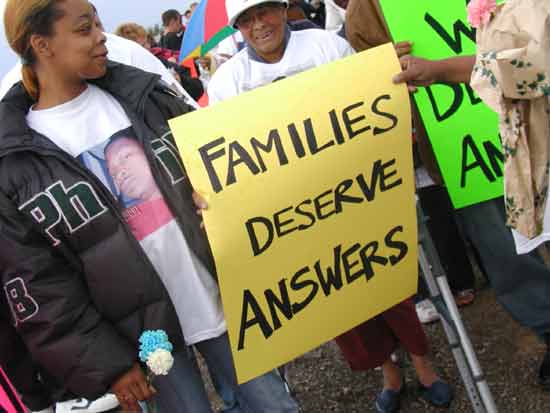 The main problem in prosecution is that the industry does not have a single overarching and definitive process for manufacturing, and it is difficult to pinpoint one particular compound as causinga certain health problem because some plants use as many as 300 chemicals. Also, many of the manufacturing processes take place inclosed systems, so exposure to harmful substances is often difficult to detect unless monitored on a daily basis.
Executives and spokespeople for the semiconductor industry maintain that any chip workers' cancers andother medical problems are more likely due to factors unrelated to the job, such as family history, drinking, smoking, or eatinghabits. They also say that over the years, as awareness of chemical hazards has grown, they have made efforts to phase out toxicchemicals and to lower exposure to others. They insist that they use state-of-the-art process equipment and chemical transfersystems that limit or prevent physical exposure to chemicals and point out that the substances used in the semiconductor industryare used in other industries without a major health or safety problem.
What environmental risks are involved?
In theory, attention to cleanliness is in the manufacturer's best interest not only from a health perspective butalso from an economic. Many chemicals used in the production process are not expensive in and of themselves; however, the costof maintaining these materials in an ultra-clean state can be quite high. This encourages the close monitoring of usage, theminimization of consumption, and the development of recycling and reprocessing techniques. Also, the rising costs of chemicaldisposal are prompting companies to conduct research into alternatives that use more environmentally friendly methods andmaterials. Individual companies and worldwide trade associations were active in reducing the use and emission of greenhouse gasesduring the 1990's, and the industry as a whole has substantially reduced emissions over the last twenty years.
Nonetheless, there has been a history of environmental problems linked to the industry in Silicon Valley andother technology centers. To begin with, a tremendous amount of raw materials is invested in the manufacturing of semiconductors everyyear.
Moreover, a typical facility producing semiconductors on six-inch wafers reportedly uses not only 240,000kilowatt hours of electricity but also over 2 million gallons of water every day [9]. Newer facilities that produce eight-inch and twelve-inch wafers consume even more, with some estimates going as high as fivemillion gallons of water daily. While recycling and reusing of water does occur, extensive chemical treatment is required forremediation, and in dry or desert areas such as Albuquerque, New Mexico, home to plants for Motorola, Philips Semiconductor, AlliedSignal and Signetics, Intel, and other high-tech firms, the high consumption of water necessary for the manufacturing ofsemiconductors can pose an especially significant drain on an already scarce natural resource [10]. The existence of economic mainstays including the mining industry and the established presences of Sandia National Laboratories andthe Los Alamos National Laboratory make New Mexico an attractive location for high-tech tenants. However, the opening of fabricationfacilities in the state leaves its farmers and ranchers in constant competition with the corporations for rights to water consumption.On average, the manufacturing of just 1/8-inch of a silicon wafer requires about 3,787 gallons of wastewater, not to mention 27pounds of chemicals and 29 cubic feet of hazardous gases [11].