Additionally, PSAC had little input into Johnson's national defense priorities, the Department of Defense being perceived as morecompetent to deal with such issues. Moreover, Johnson's personal interest in defense matters focused less on strategic issues than on the bewilderingguerilla war in Vietnam, for which PSAC had no ready solutions. Worse, in Johnson's eyes, PSAC members represented the academic community, which was amongthe most vociferous critics of the Vietnam War.
Decline of federal research support
Since creation of the Office of Naval Research in 1946, the military had been among the most important supporters of universitybasic research. That support declined significantly in the early 1970s, partly because of the political activism of university scientists during the Johnsonand Nixon years.
Another important factor was the "Mansfield amendment" to the fiscal year 1970 Department of Defense Appropriations Act.Sponsored by Senator Mike Mansfield (D-MT), with the strong support of Senator William Fulbright (D AK), it banned military support of university research thatdid not directly relate to specific military objectives, the rationale being that the Department of Defense had too much money for R&D and was monopolizing too much research, including basic research in mathematics andphysics, to the detriment of the civilian science and technology agencies. Although the Mansfield amendment expired at the end of fiscal year 1970, thedepartment remained reluctant to support university basic research for many years.
Total federal R&D expenditures measured in terms of constant dollars, which had increased continuously since World War II, peakedduring fiscal year 1967 and thereafter declined through fiscal year 1976; constant-dollar federal expenditures for basic research peaked during fiscalyear 1969 and declined through fiscal year 1975 (Fig. 2). Much of the decline in basic research expenditures was due to declining appropriations inthree agencies: the Department of Defense, whose constant-dollar basic research expenditures declined by 30 percent between their peak 1970 value and their 1975low point; NASA, whose constant-dollar research expenditures were cut in half between 1969 and 1976; and the Atomic Energy Commission (and its successor, theEnergy Research and Development Administration [ERDA], then the Dept. of Energy[DoE]), whose expenditures for basic research were reduced by 36.8 percentbetween 1967 and 1974.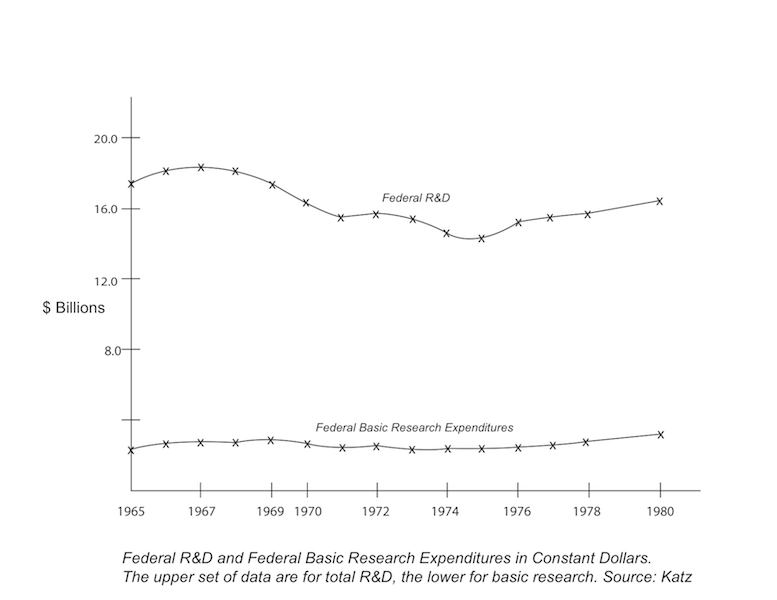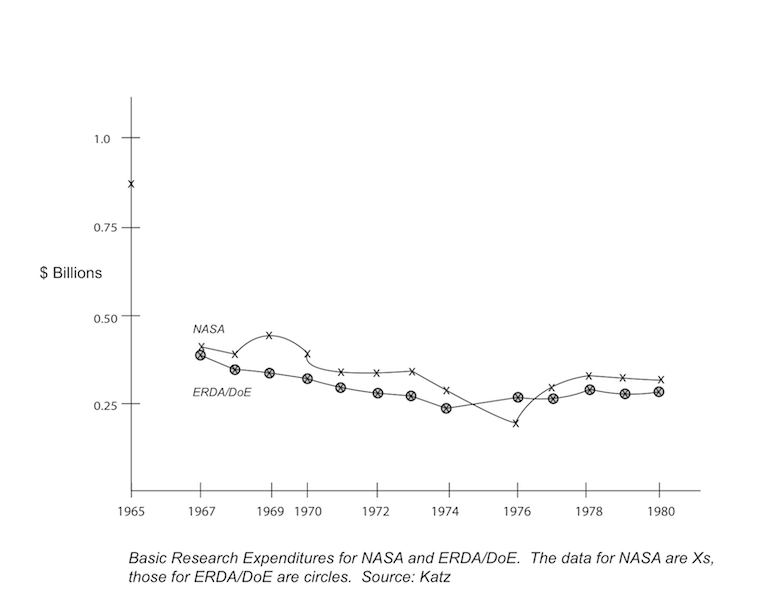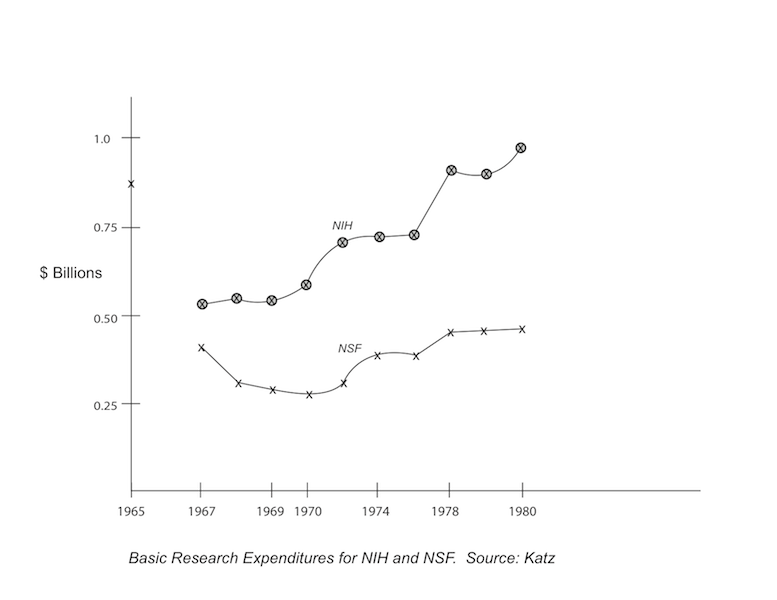 Only in the last case canreductions be attributed directly to presidential displeasure. The Department of Defense reductions were caused by the Mansfield Act. NASA's were a small part ofdrastic reductions in its total budget after the successful moon landing in July 1969; the Nixon administration, Congress, and the general public lost interestin manned space research after that event.