The twiddle factor array will always have unity in the first row and first column.
To complete [link] at this point, after the row DFT's are multiplied by the TF array, the length- DFT's of the columns are calculated. However, since the columns DFT's are oflength , they can be posed as a by array and the process repeated, again using length- DFT's. After stages of length- DFT's with TF multiplications interleaved, the DFT is complete. The flow graph of a length-2 DFT is given in Figure 1 and is called a butterfly because of its shape. The flow graph of thecomplete length-8 radix-2 FFT is shown in Figure 2 .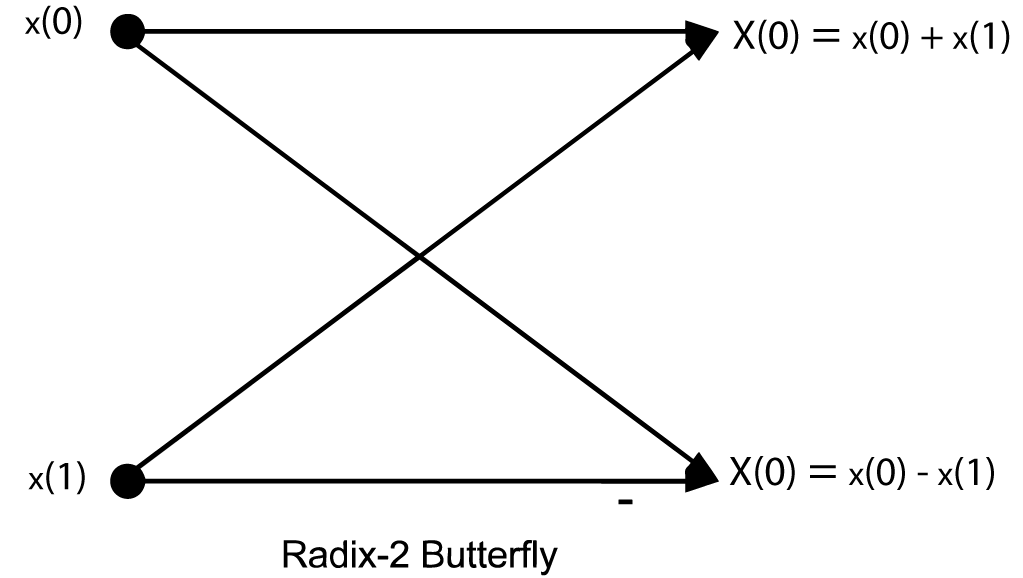 This flow-graph, the twiddle factor map of [link] , and the basic equation [link] should be completely understood before going further.
A very efficient indexing scheme has evolved over the years that results in a compact and efficient computer program. A FORTRANprogram is given below that implements the radix-2 FFT. It should be studied [link] to see how it implements [link] and the flow-graph representation.
N2 = N DO 10 K = 1, MN1 = N2 N2 = N2/2E = 6.28318/N1 A = 0DO 20 J = 1, N2 C = COS (A)S =-SIN (A) A = J*EDO 30 I = J, N, N1 L = I + N2XT = X(I) - X(L) X(I) = X(I) + X(L)YT = Y(I) - Y(L) Y(I) = Y(I) + Y(L)X(L) = XT*C - YT*S Y(L) = XT*S + YT*C30 CONTINUE 20 CONTINUE10 CONTINUE

A Radix-2 Cooley-Tukey FFT Program
This discussion, the flow graph of Winograd's Short DFT Algorithms: Figure 2 and the program of [link] are all based on the input index map of Multidimensional Index Mapping: Equation 6 and [link] and the calculations are performed in-place. According to Multidimensional Index Mapping: In-Place Calculation of the DFT and Scrambling , this means the output is scrambled in bit-reversed order and should be followed by anunscrambler to give the DFT in proper order. This formulation is called a decimation-in-frequency FFT [link] , [link] , [link] . A very similar algorithm based on the output index map can be derived whichis called a decimation-in-time FFT. Examples of FFT programs are found in [link] and in the Appendix of this book.
Modifications to the basic cooley-tukey fft
Soon after the paper by Cooley and Tukey, there were improvements and extensions made. One very important discovery wasthe improvement in efficiency by using a larger radix of 4, 8 or even 16. For example, just as for the radix-2 butterfly, there areno multiplications required for a length-4 DFT, and therefore, a radix-4 FFT would have only twiddle factor multiplications. Becausethere are half as many stages in a radix-4 FFT, there would be half as many multiplications as in a radix-2 FFT. In practice, becausesome of the multiplications are by unity, the improvement is not by a factor of two, but it is significant. A radix-4 FFT is easilydeveloped from the basic radix-2 structure by replacing the length-2 butterfly by a length-4 butterfly and making a few othermodifications. Programs can be found in [link] and operation counts will be given in "Evaluation of the Cooley-Tukey FFT Algorithms" .